The Empire: Dino Morea And Kunal Kapoor Talk About Their Upcoming Web Series; Drashti Dhami Shares How Excited And Nervous She Was As She Transitioned From TV To OTT-EXCLUSIVE
As the new web series The Empire is all set to premiere on Disney+ Hotstar, stars Drashti Dhami, Dino Morea and Kunal Kapoor spoke about how they prepared for their respective roles in SpotboyE's Just Binge Sessions.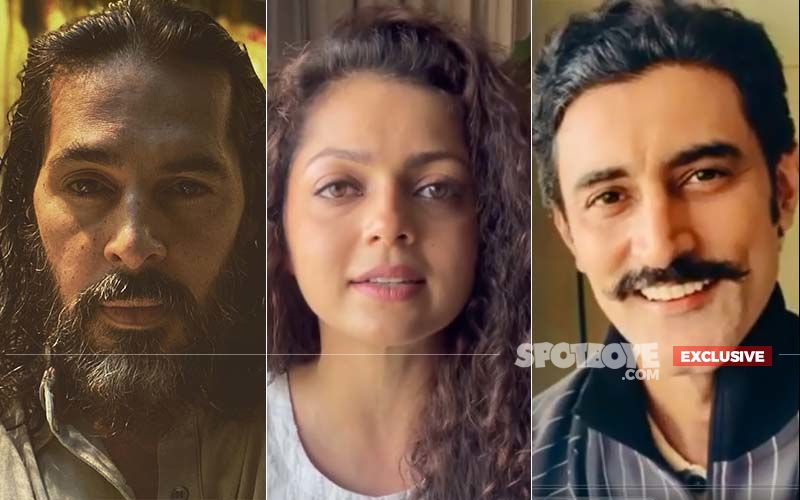 Disney+ Hotstar's new web series The Empire, which is based on the chronicles of the Mughal Empire, is grabbing all the right attention from cinephiles. Right from its larger-than-life characters to its costume and of course, the look-and-feel of the series, everything about it is making fans excited and intrigued. But to bring the vastness of the saga on celluloid is not a piece of cake. As The Empire's release date is nearing, its stellar starcast Drashti Dhami, Dino Morea and Kunal Kapoor spoke about how they prepared for their respective roles in SpotboyE's Just Binge Sessions. Drashti who is a popular TV actor also spoke about her drastic transition from Telly world to OTT.
Drashti enjoyed her journey to the fullest, though initially she felt the OTT world was a little slow as compared to the TV industry where one has to devote 12-16 hours a day to shooting. "In fact, it was very different because, on TV, I'm so used to that lifestyle, I'm so used to that pattern of working that I didn't have any problem working so many hours. If I enter the set, I get ready in 20 mins and I'm ready to shoot, ready to roll," she said, adding that she takes 2-5 minutes to byheart her script well.
Talking about the transition from TV to OTT, Dhami continued, "It was very different here, firstly, everything here was very slow. On the first day of my shoot, I felt like this was very slow. On TV, I used to tell them 'please give me at least half-and-hour to eat', here it's like you eat, rest, (do) touch-up and I'm like this is too time-consuming. Yes, I was very nervous because this was a very different set for me, different people that I'm working with. But on TV, if I enter the set, I would at least know 10 people who I have worked with in the past. But here it was different because I have not worked with anyone before."
Considering Drashti's mother tongue is Gujarati, she said it was a task to get the pronunciation right. Speaking about the Urdu language, she said, "It (script) was in Hindi and Urdu but for me, Urdu was very difficult and Gujaratis anyway have a lot of problem with pronunciations and usme koi Urdu dede wo bhi bole 10 din mein karke aao, so, I was clueless on day 1."
Drashti added that she sat with others and observed how others were speaking their lines.
"It was way calmer, intense but very loud when it came to acting. When it comes to TV, it's always like to do it (acting) a little more. So, those things were difficult for me to not move and act. So, whenever I used to go back home initially, I used to tell Neeraj (husband) or my family at home, 'I think I didn't act today.' But then I understood that this is nicer, this looks different, it feels more real. The joinery has been different but I really enjoyed it," she concluded.
Speaking about Urdu pronunciation, Dino has been always assumed to have a problem with Hindi or Urdu, considering his father is Italian, mother is an Indian and he was raised in Bangalore. Ask Dino if he took any diction classes, and he says there's a misconception. "I can read and write in Hindi perfectly. As a matter of fact, when I used to learn Hindi in school, my Urdu was far better than my Hindi, my pronunciation in Urdu helped me a lot in this show." To this, Drashti added he reads his script in Devanagari script, and not Roman Hindi.
Dino added there was a misconception among people as they think he would not know Hindi because his father is an Italian. "I would admit that I was weak (in speaking Hindi) initially but I have worked on it, so, all I'm doing is working and making my language better. Once you have comfort over the language, your acting becomes easier."
Talking about the preparation to get into the character, Dino revealed that he had a fair knowledge of history but he referred to a book and the script to understand the history. He mentioned that the script and book were so well written, he went through it thoroughly instead of referring to any other portals for more information.
Kunal Kapoor seconded that and added he only referred to the script while shooting the series. He really didn't dwell on what really happened but followed the script.
Kunal also seemed to be mighty impressed with the director of the series, Mitakshara Kumar. This happens to be her debut directorial project, and looks like she has hit the ball out of the park with taking this up. "It was wonderful to work with her. She is amazing. When you enter her sets, you feel this is all so meditative. It is all so quiet, so relaxed. She herself is very calm - surprisingly for a person who's directing such a big show. She's incredibly detail oriented. She knows how every costume should look on every character. When you arrived at the set, you'd know every nook and corner has been looked into. At the same time, she's very stubborn too... about what she wants. She will push you. And that's amazing. It's good to have a director who can push you and make you give your 100 per cent. It was a wonderful experience working with her," Kapoor said.
Drashti concurred, and said it was the first time she was working with a director who knew exactly what she wanted.
Created by Nikhil Advani, The Empire also stars Shabana Azmi and Aditya Seal in pivotal roles. It is based on the book Empire of the Moghul: Raiders from the North by Alex Rutherford. The eight-episode series traces the saga of emperor Babur, 'from the valley of Ferghana to Samarkand and beyond'. The magnum opus is slated to release on August 27 on Disney+ Hotstar.
WATCH THE INTERVIEW HERE:



Image source: Instagram/thedinomorea/kunalkkapoor/dhamidrashti/disneyplushotstarvip