The Family Man 2 Actor Sharib Hashmi: 'JK And Srikant Are Buddies, But Manoj Bajpayee Sir Is My Guru And I Am His Student'- EXCLUSIVE VIDEO
The Family Man 2 actor Sharib Hashmi, who is basking in the success of the recently released show, talks about his chemistry with Manoj Bajpayee, the response to the show and more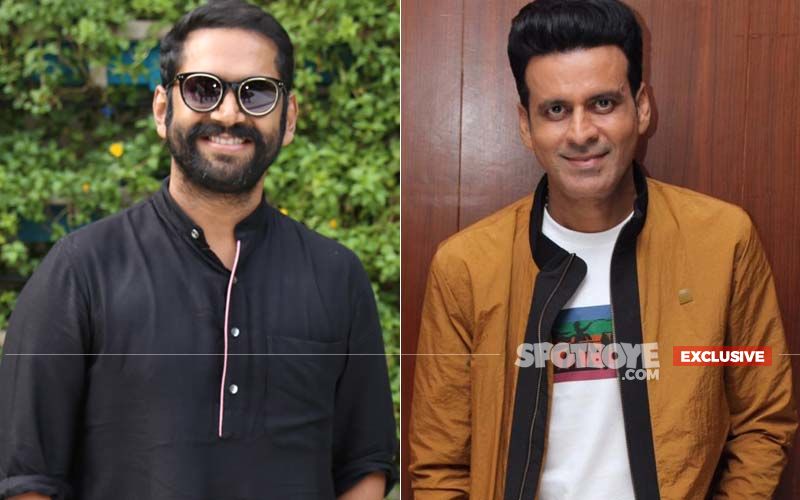 Sharib Hashmi is a phenomenal actor, who has time and again proven his mettle on screen, with projects like Filmistaan, Jab Tak Hai Jaan, Asur and Scam 1992. He is currently enjoying all the love and praise he has been getting for his lovable portrayal of JK Talpade in the recently released The Family Man 2, and what is getting more praise is his chemistry with Manoj Bajpayee in the show.
In an exclusive conversation with Spotboye.com, the actor talks about that and more. Read excerpts from the interview:
How has it been dealing with all the love and praise that the show is getting?
I am on cloud nine right now. There is a lot of excitement and happiness and I am overwhelmed about the response. My phone has not left my hand since the show's release since I am getting so many congratulatory calls and messages. People are giving it so much love and appreciation, that it feels like our efforts and hard work have paid off.
Now, JK is such a lovable character in The Family Man. Is there any similarity between him and you from real life or something that you have learnt from him?
I am not that intellectual to think about such things like what can I learn from a character. I am a very simple actor who just knows how to do his work honestly. I don't intellectualise my work and am just happy if my director is satisfied with it
Your chemistry with Srikant aka Manoj Bajpayee is one of the USPs of the show. It is even maybe more appreciated than Manoj sir's chemistry with Priyamani. Are you the same off screen as well?
Our off-screen bond is also very special. JK and Srikant are buddies but Manoj sir is my guru and I am his student. I am very junior to him so I have a lot of respect for him and his craft and as much love as well. But we also have the same kind of fun in real life that JK and Srikant have on screen. I love spending time with Manoj sir and I don't even realise how the time passes when I am with him. We both enjoy each other's company and we talk a lot about films, world, life and whatever is happening around us. He is such a sorted person and after working with him I just feel that mera jeevan safal ho gaya.
Spoiler Alert, but in one of the episodes towards the end you give a scare about JK's fate in the show. So, did you get any concerned calls or texts from people checking up on that?
I got a lot of messages from people who were watching the episodes one at a time. They would ask me what was going to happen, and if I would offer to tell them, they would say no as they also wanted to maintain the suspense. A fan messaged me saying that he was praying ki uski umar bhi JK ko lag jaye.
In this season, we also got to see your flirtatious chemistry with Umayal (played by Devadarshini). Do you see any future there in that relationship in the next season?
The future will be decided by Raj & DK and our writer. I am just a puppet in their hands and will do whatever they want. I hope that track develops but right now, I have no clue on how they are planning to approach season 3.
Season 2 finale has a tease of season 3 in the end. Did you know about that from before?
No, I had no idea about it. We completed shooting for the whole season 2 in February 2020 and the monster that Covid-19 became in India, it happened in March 2020. It is the brilliance of Raj and DK that they incorporated this situation into the story. Now, how they tackle this and use it in the story, that is something even I want to watch as an audience.
So, when did you get to know about it?
I saw it at the same time the rest of the audience saw it.
Now since season 3 is already announced, is there anything in particular that you'd want to see for JK next season?
I would like to see a lot of things, but as I said, I am a puppet of the writer and director. I have no worries regarding my character. Even if I make some assumptions about it, Raj & DK and the writers might have planned something else. And their plan will obviously be way better than whatever I would plan for myself. I completely and blindly trust them. I don't feel the need to doubt their capabilities. They gave me a much important role in season 2 and such amazing storylines to be a part of, so I am really thankful to them and I don't want to get in the way of their work. Wo jo karenge kamaal karenge.
Has there been any update on when you start to shoot season 3?
No clue about that yet. It's too early to speak about season 3.
All the web shows that you have been a part of on OTT, have all been successful, be it The Family Man, Asur or Scam 1992. Do you feel like you have a touch of gold when it comes to digital mediums?
I don't know about that but I have been really fortunate to be a part of some beautiful projects. I never planned it because if I could, I would have done it three years before. This is destiny, God's grace or the audience's love, I don't know but things are starting to finally fall in place and I have no contribution to it.
Do you hope to continue that success streak with Tigmanshu Dhulia's Six suspects?
I hope so. I have no idea of what will work or not, but I just hope that people appreciate all my work.
Samantha Akkineni's character in the show is shown as such a badass. Was she the same off screen as well?
She is completely different off screen. Even her roles in her films before had been very different and Raji was a complete ball game from all of them and her in real life. There is no connection between Raji and Samantha. She is such a jovial person who mingles with everyone and has no attitude of being a star. She is a lovely co-star to have.
DO you remember any memorable incident from the shoot of season 2?
A lot of memorable things happened on set but I remember that when we were in Chennai, Manoj sir made Bihari mutton for the whole cast and crew. And getting to eat that delicious Bihari mutton in Chennai was something else only. It was like a mingle of North and South.
You worked with Samantha in The Family Man 2 and now you are working with another South actress Rashmika Mandanna in Mission Majnu. Did you notice any difference in approach of South actresses than the Hindi actresses?
I didn't observe them as closely to note any difference. These things are very internalised and personalised, so you can't judge someone's working style. I did not have many scenes with Rashmika, but we stayed in the same hotel so we met frequently and she was a great company to have. I am just grateful to be getting such great opportunities to work with such beautiful people.
When Tandav released on Amazon Prime Video, the controversy around it affected the show's performance. So, when the Tamil controversy happened with The Family Man 2, were you ever scared of how it may affect the show?
I had no fear and I don't want to comment anything on it, as once you see the show, all your doubts will go away. I just have been getting a lot of love from Chennai and I have loved the Tamil language since childhood. I am a big fan of Kamal Haasan sir, Illayiaraja sir, SP Balasubhramnyam sir, AR Rahman sir and Mani Ratnam sir. So, I am just happy that due to The Family man 2, I got to travel to Chennai for the first time.
Since you love Tamil so much, would you like to do a Tamil movie soon?
I'll jump at that opportunity. I'd love to do a Tamil, Malayalam or Telugu film.
You have Mission Majnu, Dhaakad, Six Suspects in the pipeline. Apart from that have you signed anything new?
I have signed a couple of projects but I can't discuss them yet. For one of them, I have to go to the US for the shoot. So, let's just see how things go.



Image source: SpotboyE archives