The Family Man 2 To The Bombay Begums; 5 BEST Web Series Of The First Half Of 2021
From Manoj Bajpayee and Samantha Akkineni starrer The Family Man 2 to Pooja Bhatt starrer The Bombay Begums, here's a list of 5 best web series of the first half of 2021.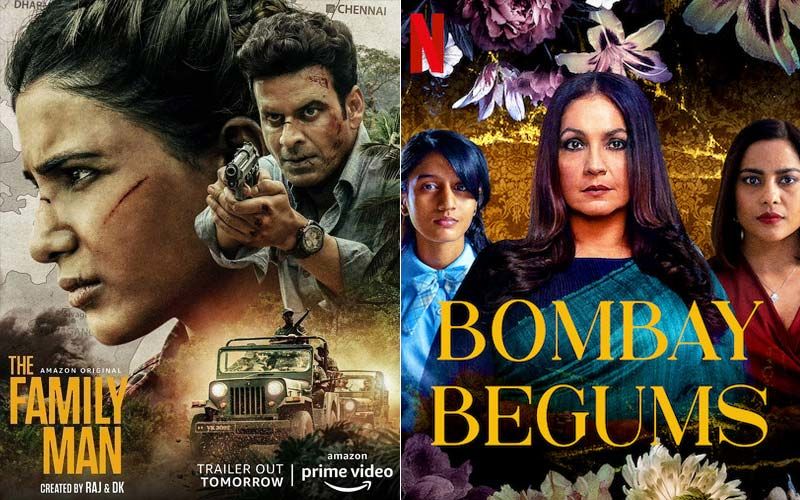 Given the COVID-19 pandemic, there are many web shows and films that were released on OTT platforms. Talking about web shows, in particular, while some managed to entertain, there are some that failed to excite and impress. Speaking of that, here are 5 best web series of the first half of 2021.
1. The Family Man(Amazon Prime): The new season of Family Man escapes The Curse Of The Second Season. I mean, gawd, look at what happened to Mirzapur 2. The Family Man 2 is a lean mean, sexy, dramatic and topical piece of work that shows a natural organic growth from season 1. Though it runs into 10 episodes there is not an ounce of flab, as the sprawling yet taut narrative moves across a luscious labyrinth of global terrorism (helmed by the chilling presence of Samantha Akkineni) and domestic warfare.Ah, domestic strife! Our unlikely hero Srikant Tiwari is still at it. His wife(played by the underused Priyamani) is still sulking and his children Vedant (Atharv Tiwari) and Dhriti(Ashlesha Thakur) still think their father is a bit of a fool. Little do they know. Incidentally, or maybe not so incidentally,this time Srikant's daughter has a pivotal part to play in the plot's emphatic action. Super-skilled writing and an alert narration that catches the drama even as it falls, make this a constantly watchable sequel with actors from every generation pitching in with performances that sweep the storytelling forward into a sinfully engaging swoop of adventure and drama. Indeed the only good that comes out of crime against mankind such as terrorism is that it yields some terrific art, instant or otherwise.
2. The Bombay Begums(Netflix): Like them or loathe them, hug them or hate them, spurn them or 'sperm' them….The 5 women in Bombay Begums(one of them, just entering puberty) leave a lasting impression. This is a series like no other, replete with plot twists that will keep you watching until the very end.And when the 'end' comes, you want to know what these ladies will do with their lives after we leave them. Would they continue to be so fabulously flawed? Or would they…ummm… mend their ways to become faithful to their spouses? Would they stop thinking of good sex being preferable to a good marriage? It is very difficult to like these women but it isn't difficult to love them. They are so robust, so vivacious, passionate and self-assertive, they won't rest easy until they attain self-actualization which here has different connotations for different women.Different strokes for different fucks, I guess.
3. The Underground Railway(Amazon Prime): After spending 10 precious hours of my life on Barry Jenkins's certifiable masterpiece, I was rendered numbed and speechless. I can only say this for those who have yet not seen this monumental classic: go for it immediately, your life and your understanding of human suffering will be profoundly enriched.Set in the 19th century in the thick of slavery in the plantations of Southern USA, The Underground Railroad is the story of a very young very determined girl named Cora(Thuso Mbedu) and her repeated resilient attempts to escape slavery. I don't know how much Cora suffered within herself. But her physical torture is beyond endurance for us .Some of the episodes came with a warning about the graphic violence. Still, nothing, absolutely nothing prepared me for the savagery of the violence perpetrated on the black people. God, it seems, is busy elsewhere.In case you have forgotten how cruel humankind can be to the weak, The Underground Railroad is a rude reminder. A savage nudge to the power games that continue to commandeer relationships between the rulers and the subjects , the latter now known in democratic countries as the electorate.Call them by any name,Cora for that matter. The urge to suppress, subjugate and disempower the underprivileged is not a thing of the past. This is what makes Cora's brave run a true hero's tale.
4. Chakravyuha(MX Player): Applause Entertainment's Chakravyuha, based on Piyush Jha's crime bestseller, fills that space on the web which we want filled: the crime-investigation drama. Filled with a cornucopia of twists and turns the 8 episodes take on a tropical zone of mal-appropriation: the internet. Cybercrime is given a rapidly advancing treatment as Inspector Virkar, who as played by a clean-shaven Prateik Babbars wears a perpetual expression of disgust as though his uniform were two sizes too small for him, investigates the death of two cyber blackmailers followed in the third episode by the brutal assassination of the prime suspect. In this way, the well-crafted series keeps steps ahead of viewers' expectations. By the time we come to the midsection of the rapidly mutating plot we know who the main brain behind the gruesome crimes are.And Vikar's romantic liaison with a therapist(Simran Kaur Mundi) is of no interest to us.
5. Grahan(Disney-Hotstar):
Produced by JAR Pictures,the 8 episodes have a certain consistent momentum in the storytelling, and though it moves through two time zones, actually three, the plot never becomes a jumble of unnerving frisky jumpcuts , as serials about multi -time passages tend to. The story is pronouncedly dramatic. And that's how it should be, considering the improbable brutality of what transpired on those 3 fateful nights when Sikhs were pulled out of their homes and burnt alive. Bokaro was one of the cities that was most harshly affected by the genocide. This is where Grahan is set. Shot on location, Kamaljeet Negi's cinematographer captures that frozen-in-time quality of those small North Indian towns which have never grown up.There are no two ways about the crime-thriller genre getting a refreshing new twist in the 8-episode spread with just enough thrills to keep you hooked to the last.
Image source: Instagram/bajpayee.manoj/ IMDb