The Underground Railroad And Kala - 2 Savage Masterpieces On Amazon Prime Video
Two Masterpieces on Amazon Prime Video that you shouldn't miss out on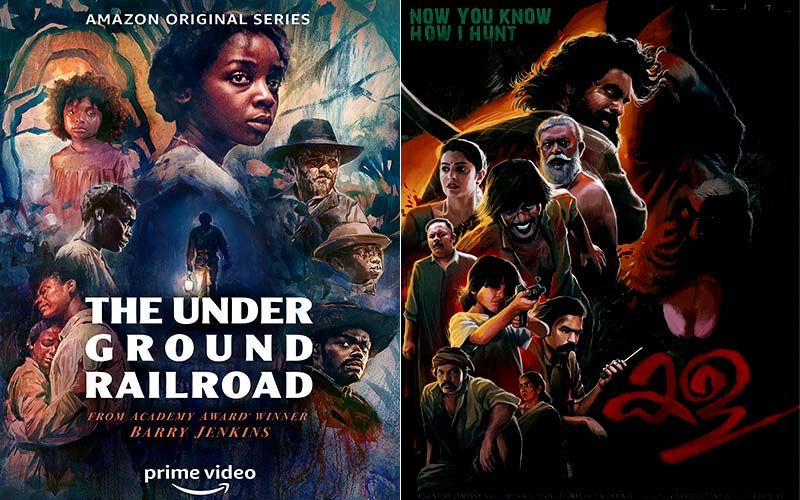 The Underground Railroad: After spending 10 precious hours of my life on Barry Jenkins's certifiable masterpiece, I am rendered numbed and speechless. I can only say this for those who have yet not seen this monumental classic: go for it immediately, your life and your understanding of human suffering will be profoundly enriched. Set in the 19th century in the thick of slavery in the plantations of Southern USA, The Underground Railroad is the story of a very young very determined girl named Cora (Thuso Mbedu) and her repeated resilient attempts to escape slavery. I don't know how much Cora suffered within herself. But her physical torture is beyond endurance for us. Some of the episodes came with a warning about the graphic violence. Still, nothing, absolutely nothing prepared me for the savagery of the violence perpetrated on the black people. God, it seems, is busy elsewhere. In case you have forgotten how cruel humankind can be to the weak, The Underground Railroad is a rude reminder. A savage nudge to the power games that continue to commandeer relationships between the rulers and the subjects, the latter now known in democratic countries as the electorate. Call them by any name, Cora for that matter. The urge to suppress subjugate and disempowered the underprivileged is not a thing of the past. This is what makes Cora's brave run a true hero's tale.
By now you must have guessed this series is not for the weak-hearted. Many times I was seriously tempted to give up watching the sheer brutality on screen. But The Underground Railway won't let you go. Barry Jenkins whose study of black homosexuality in Moonlight won him the Oscar for best picture, heaps the horrors unvarnished. But here's the thing: the violence is not done for effect. When Cora is whipped mercilessly every whiplash falls on all of civilization, back white brown yellow….The shame of Cora's violation is for keeps and for all. All of civilization would bear the scars of her wounds until civilization exists.
Be warned. The heroine in The Underground Railroad gets no justice or redemption. For that, you will have to wait for lesser cinematic experiences, the ones that offer false hope. Barry Jenkins has no solace or salvation to offer his heroine. In fact Cora's hunter, the slave catcher is a far more powerful character than Cora. You won't be able to take you eyes off Joel Edgerton as the slave catcher or for that matter young black Chase W Dillon as Edgerton's trusted boy-Friday. These two represent red-hot evil. They remind us that good only triumphs in the fictional world.
The Underground Railroad is a work of ceaseless wonder. It brings Colson Whitehead's novel to shimmering life, creating images that are from the book and yet far beyond. Pain, suffering, trauma and nervous anxiety are its guiding forces. But the presentation is macabrely magical. You can't take your eyes off Cora's suffering. This work of art legitimizes suffering as the predominant elixir for artistic excellence.
Kala (Malayalam): The sheer brutality of the one-to-one battle to a bloodied finish between estate owner Shaji (Tomino Thomas) and the unnamed adversary (Sumesh Moor) from the underprivileged sections is a metaphor of the class-war.
To begin with , this is a scuffle between the haves and have-nots which takes on a very personal and brutal tone when Shaji, a bit of a wastrel and a wheeler-dealer though a caring husband and father, gets into a fight with a local low-caste brute whose dog he has killed.
Now the unnamed underdog wants Shaji's dog. You know an eye for an eye and a woof-woof for a woof-woof. As the plot progresses the class war is narrowed down to two grownup men slumming it out by slamming each other like two angry coconuts ready to explode.
Evidently the director enjoys the Chinese martial arts films which specialize in one-to-one combats. We even see Shaji's son watching a Jackie Chan film on a video tape (is this the 1990s?). This endless pointless combat film shot in the cinematic greenery of Kerala, resembles a Bruce Lee or a Jackie Chan film. The violence is underlined by a tone of menacing anger referencing centuries of inequality based on the class and caste system. Inequality breeds ire, we get that. But that reference, I am afraid, is lost in acres of a stylishly edited two-man gang war which after a point begins to appear ridiculously and disturbingly gratuitous.
The first-hour is devoted to establishing Shaji's troubled relationship with his father (Lal, brilliant as ever) and his sexually charged relationship with his wife (Divya Pillai). The intimate sequences between the pair filled with cigarette smoke(smoking is not injurious to the characters, they do it non-stop) and kinetic passion bears no relevance to the plot as it hurls into a violent anarchic combat between two men behaving like boys fighting in the school playground .
The hour-long fight which stretches from the foliage-thick plantation to inside Shaji's home gives us two heroes and none of them is on screen. It is cinematographer Akhil George and editor Chaman Chakko who must have had a really tough time following the two violent men through their one-to-one warfare.
It's a miracle how the pair survives after the way they batter and bludgeon one another. The bigger miracle is how this pretext for a stylishly free styled scrimmage has impressed some critics who obviously think raw is beautiful. Not always. Not when the intention of the film is to mix Shyam Benegal's social protest with Sylvester Stallone's Rambo. Not when the underdog is made to snarl and make faces suggesting a deep-rooted psychological apathy.
When the fight is about to reach a climax, the unnamed underdog played by Sumesh Moor (over-acting till his jaws must have hurt) suddenly imagines his opponent as a pig awaiting slaughter. 'Porking' fun at the class difference, eh? Good luck to a world where men settle scores with their bare fists. The cops ,I guess, are busy elsewhere.
Image Sources: YouTube/Amazon Prime Video India, IMDb