Villain And Guest In London: Two Films On OTT Space Where The Actors, Mohanlal And Kartik Aaryan Respectively, Outshine The Material
Here's looking at two films on OTT space where the actors - Mohanlal and Kartik Aaryan respectively - outshine the material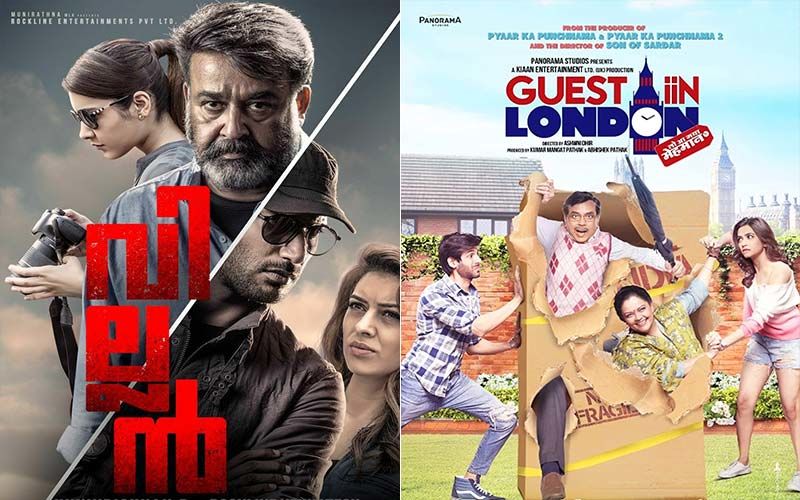 Villain (Malayalam, MX Player): The thing about Mohanlal is he sees things that others can't. And he makes us see things that other actors cannot. Last year in the very watchable thriller Oppam, he played a blind man whose powers of perception far outstripped those blessed with eyesight. Since Oppam, Mohanlal has done five other films. I missed four of them. But I am glad to catch up with the amazingly prolific and versatile actor in this thriller with balls and heart where he is a cop on the verge of retirement yanked back to duty after a series of murders rocks the city.
This is not a novel premise to work a thriller around. Dozens of Hollywood suspense thrillers have its cop-protagonist reluctantly getting into the investigative mode just when they would like nothing better than to put up their feet in their living rooms with a bowl of popcorn and watch DVDs of old Clint Eastwood or Mohanlal flicks, depending which way your taste swings.Villain works fine as long as it doesn't begin to lean on Hollywood prototypes. The indigenous strain is well woven into the thriller.
There is an element of inextinguishable anxiety in Mohanlal's recent performances, a man calm on the surface only because the other option is so terrible it could induce a catastrophic emotional geostorm. Villain builds on Mohanlal's power to express rage and grief without letting go. This time he plays his cat-and-mouse game on a sleek chessboard where the pieces are laid out neatly, a little too neatly, with all the plot points and emotional tropes indicated to us from afar. We really don't need to strain our intellect or tap into our literary resources, although Shakespeare is casually brought up in a conversation.
For company, Mohanlal has Vishal Krishna, a remarkably engaging and intelligent actor who makes the bumper sticker wisdom of his rhetorical dialogues sound like lines borrowed from the latest episodes of Everybody Loves Raymond. I am not too sure if everybody would love Vishal Krishna's Shaktivel, a smooth-talking doctor, and a portrait of moral ambivalence who stores some surprise that he lets out in the later portions of the plot.
This is a strong part for a co-star in a Mohanlal film and Vishal makes the best of it.
Villain has a certain grip on its narrative. Although its thrusts at profundity amidst the bouts of homicidal assault are to be taken with a pinch of salt, it nonetheless exudes a distant sophistication in its storytelling.
Guest In London (Amazon Prime): First things first. The most welcome thing about this tragic-comedy about unwelcome guests is the comic timing of Paresh Rawal and Kartik
Paresh and the neglected Tanve Azmi put in spirited sometimes boisterous , sometimes subdued but never uneven performance as an over-friendly Punjabi couple who insist on inflicting their scorching overbearing warmth on a young couple with commitment issues in London, played by a superbly wide-eyed Kartik Aryan and Kriti Kharbanda (who needs to be seen more often), who have no choice but to bear with the unwanted guests' intrusive presence in their home and with his… errrr, farting.
For some strange reason, the script, otherwise devilishly deft in the way it blends bacchanalia and backchat with somewhat serious issues, is obsessed with flatulence. Rawal's character speaks about and indulges in it constantly and there is a lengthy mushaira session over whiskey and pakodas where the theme is…. fart.
This fetish for flatulence destroys much of the film's otherwise well-intended potshots at contemporary relationships which tend to be weighed down by the stress of staying afloat. There is a touching interlude where the oldest neighbour (the veteran Vishwa Mohan Badola) in suburban London passes away and his sons have no time for his funeral.
Or when Kartik's slimy boss hits on a hapless Chinese employee, Paresh intervenes firmly. It's a sequence done with conviction, though tiresomely lengthy and repetitive.
Yup, Rawal knows how to hold a scene together even if it (the scene) overstays its welcome. And Kartik and Kriti stand up well to his histrionic binging. On the other hand, the ever-dependable Sanjai Mishra is curiously out of sorts as a Pakistani neighbour. There are some cringe-worthy racist jibes about skin colour, Indo-Pak relations and Chinese dominion and a distastefully long and painful sequence involving a mistaken case of infant abuse that could have been avoided.
But there is more to like than hate in the awfully titled Guest In London (who would want to do a comedy film with such an insipid title?). Let me tell you, it's not easy to generate sustained laughter without offending any individual or community. Writer-director Ashwini Dheer succeeds in doing so to a large extent.There are frequent flings with farce in the plot that yield some solid laughs.
Image Source: YouTube/Panoramastudios/TimesMusicSouth, IMDb