Avrodh 2 REVIEW: The Series Is A Gripping And Revealing Defence Drama That Is Cannily Constructed And Intelligently Plotted, A Compelling Watch!
Avrodh: The Siege Within Season 2 (SonyLIV, 8 episodes) is adapted from Shiv Aroor and Rahul Singh's book, India's Most Fearless 2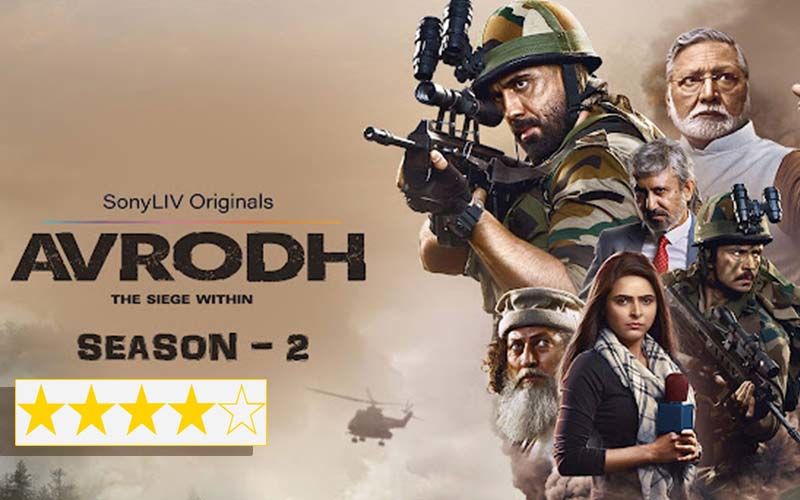 There was a time when Bengali actors' stardom was restricted to their home state. No more. Abir Chatterjee, one of the most interesting contemporary star actors of Bangla cinema, makes his Hindi debut in the second season of Avrodh, Applause Entertainment's taut political drama which lays the blame for terror activities in India squarely on our neighbours.

There is no beating around the proverbial bush here. Like Season 1, Season 2 plunges us into the vortex of Pakistan's proxy war with India. We are introduced to the old characters, like the Prime Minister's two trusted political allies played by Neeraj Kabia and Ananth Mahadevan. The rest of the cabinet remains pretty much fastened to the fringes.
Oh yes, the Prime Minister is in safe hands. He was played by the brilliant Vikram Gokhale in Season 1 and is replaced by an equally accomplished veteran Mohan Agashe in the second season. Post-Modi-fication Agashe looks credible explaining softly to the cabinet why demonetization is compulsory.
Adapted from Shiv Aroor and Rahul Singh's book, India's Most Fearless 2, Avrodh Season 2 takes us back to the politics of 2016 when demonetization was introduced overnight and Pakistan was hellbent on vitiating the Indian economy with fake currency. The surgical strike strikes this season of Avrodh, off-camera.
Playing an income tax officer with an army background named Pradeep Bhattacharya, Abir Chatterjee makes an impressive Hindi debut. He is understated and clued-in and carries the show effortlessly to its ambiguous ending. And yes he speaks fluent Hindi.
From the rest of the cast Aahana Kumra as Praveena Shehnaz, Pakistan's agent in India is strong but underwritten. The cat-and-mouse game between Abir and Aahana could have been given more space in the sprawling yet tightly edited series.
Some incidental characters needed to be more fleshing out. Sanjay Suri and Rajesh Khattar plotting and planning India's downfall from Pakistan are suitably sinister. In Episode 3 Suri, straightfaced, speaks about reviving the Mughal era in India.
No, he is not joking. Cannily constructed and intelligently plotted, Avrodh's Season 2 makes for a compelling watch. The action scenes are maturely staged, and the military activities ring true. The performances specially Abir Chatterjee and Aahana Kumra, hold the plot together, sealing some of the gaping wounds.
Rating: **** (4/5)
Image Source: Instagram