Bemisaal, Shakti and Saudagar - Three Neglected Amitabh Bachchan-Starrers
If you want to see Amitabh Bachchan's finest performances try these.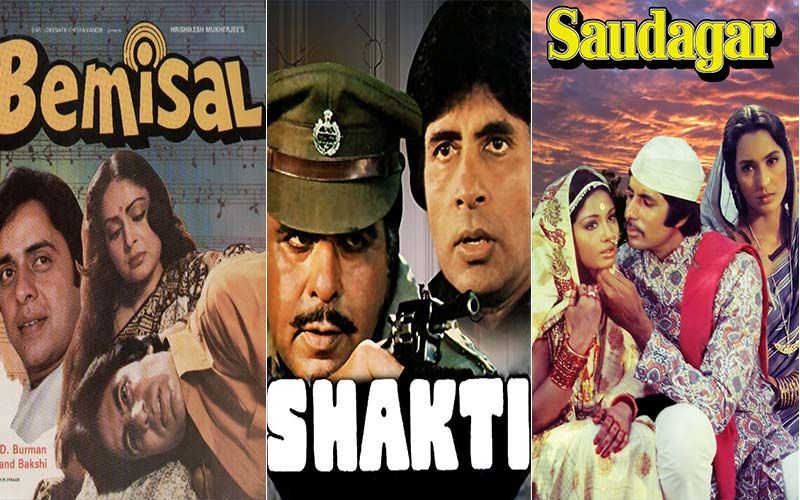 We all swear by his swagger in Zanjeer, Deewaar, Amar Akbar Anthony and Satte Pe Satta. But if you want to see Amitabh Bachchan's finest performances try these.
1. Bemisaal (1982): Based on a Samresh Basu novel Bemisal is the story of curiously cynical do-gooder. The Big B plays Sudhir, a delinquent orphan taken in by a kind government officer (Om Shivpuri) who brings up Sudhir and his own biological son Prashant (Vinod Mehra) as equals. Later, much later, on his deathbed after a sudden heart attack he tells his Bahu Kavita (Raakhee), "My son is weak. But whenever you're in a crisis you can blindly depend on Sudhir." Prophetic words, those. As the exceptionally eventful plot moves forward we see how slyly Sudhir keeps stepping in to bail out his benefactor's son. But here's what makes Bemisal a unique and refreshing tale of sacrifice and self-annihilation. The sacrifices made by Sudhir are never apparent until much later when the passage of time shows the true enormity of how much Sudhir gives away to the friend whose father gave him back a childhood that would have otherwise been squandered on the streets.
There is a message on adoption in Bemisal. Om Shivpuri says, "I was advised, 'Get a dog. Never bring a street-child home.' I didn't listen to anyone. It was the best decision of my life." As played by Bachchan, Sudhir emerges as a smirking enigma. Not just misunderstood by those who love him, but he also quite enjoys being perceived as being quite the opposite of what he really is. The role of the closet-martyr is done by Bachchan with exceeding intelligence and sensitivity. We are never allowed to feel sorry for this noble sacrificing soul. The Big B never glorifies his character's generosity of spirit.He bleeds internally. He cries silent tears. He gives and he gives. Because that's the only way he lives.
Most unique is the relationship that forms between Sudhir and his friend Prashant's wife Kavita. He calls her 'Sakhi' throughout the film and flirts outrageously with her in front of her husband and even her father-in-law. He tells her his deepest secrets including those about his secret flings. Finally when he goes to jail and, in the film's most memorable sequence, she comes visiting him in his favourite white saree with a red border, Sudhir lets Kavita, and us, have a peep into that fortified heart of his.
2. Shakti (1982): Though Sholay continues to be Ramesh Sippy's signature work it is to many of his admirers an inferior work to Shakti which he made 7 years after Sholay became a landmark and benchmark for successive generations of Indian filmmakers. But sorry, Shakti, it is for me. And it's not just about the historic union of the mighty Dilip Kumar with his greatest successor Amitabh Bachchan. It's a lot more. The sheer velocity of the screenplay, the structuring of the father-son conflict, the deeply contoured sketching and execution of the characters as they hurl towards an amazing nemesis, simply make Shakti the most powerful script that the awesome twosome Salim-Javed ever wrote. This is a far superior screenplay to the duo's other celebrated Bachchan films including Zanjeer and Deewaar. This was one of Dilip Kumar's last really great performances. Like the rest of the humanity from the entertainment industry, the Big B and director Ramesh Sippy were in awe of the mighty Dilip Kumar. But they never allowed their reverence to come in the way of keeping the plot and characterizations balanced. The father-son conflict never gets tilted.
3. Saudagar (1973): This is the most morally bankrupt character Mr B has ever played. Moti is a man so lowdown and dirty he marries a graceful widow (the mythic Nutan) uses her for business purposes and then dumps her to marry his shallow sexed-up sweetheart (Padma Khanna). Playing a toddy extractor, the Big B actually got into a dhoti and climbed the palm tree. I've never seen his transformation into a character being so complete in any other film. Directed by Sudhendu Roy Saudagar deserves to be rediscovered. It is a certifiable classic.