Bhoot Police Review: Saif Ali Khan And Arjun Kapoor's Bang-On Chemistry Adds Flavour To The Story
Here is our review of the horror-comedy Bhoot Police, starring Saif Ali Khan, Arjun Kapoor, Yami Gautam, and Jacqueline Fernandez. The film releases on 10 September on Disney+ Hotstar.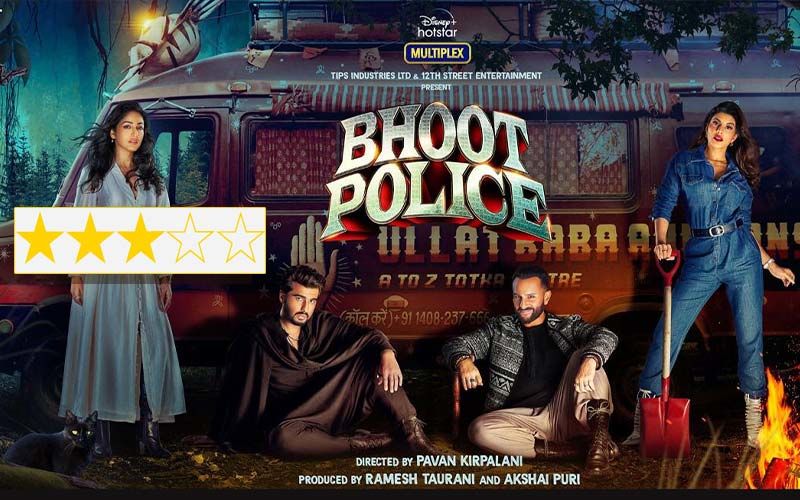 The film talks about two brothers, Vibhooti and Chiraunji who are tantric, the business of these two is to endure with ghosts and exorcise them. The film continues with its spooked and comic-filled journey, whereas the two enter a mad horror jungle, which has the existence of an evil called 'WitchKandi'. As the plot enters the jungle the real fun-ride of horror and humor begins.
'Bhoot Police' carries an equal equation of fear and comedy. The storyline of the film was to the point none of the scenes were hyped or overpulled. Undoubtfully, the film was carried forward with Saif and Arjun's bang-on chemistry, their equation and tuning were something which added flavor to a mediocre penned story.
As per the genre, the film contained a lot of VFX animation, and I must say that the VFX editing was so good and appealing to the story that it somewhere brought a pristine shine to the film. The editing throughout the end was very clean, sharp, and brilliant. Talking about the performances, Yes Saif-Arjun's fresh Jodi is outstanding, but Saif Ali Khan's freakish tantric character is just commendable. 'Bhoot Police's' Vibhooti will surely make you remember 'Go Goa Gone's' Boris but in a real gold way and not a copy of that character. Arjun Kapoor's performance as a supporting actor to Saif Ali Khan was amazing, but as Chiraunji, Arjun has done
justice to his character.
Yami Gupta and Jacqueline Fernandez have also given justice to their characters and have played beautiful roles. The film also had Javed Jaffery and Rajpal Yadav, who were abruptly wasted. Such comic monarchs would have cast them in roles that were appropriate for their ability, as the characters they performed were not at all fitting or providing value to the screen.
Director Pawan Kripalani has done a great job, the portrayal of the story was simply good, but not outstanding. The director has creatively and smartly presented the story, but still, the plot had the potential to gain more than this. In a film of this sort, the dialogue plays a crucial part, and Sumit Bhateja has done an outstanding job composing snappy and massy phrases. The dialogues throughout the movie were fantastic and exciting to watch on screen.

The entire film was overall good, but the makers still missed adding the 'wow' factor to the film. Also, they have hinted that they could be a possibility of a sequel to this mad-cap story. Well, I won't call the film too scary or too funny but it didn't make me doze at all.
Image source/Arjun Kapoor Instagram