Binge Or Cringe? Falling Inn Love Review: A Rom-Com With A Message
Falling Inn Love, Netflix's latest rom-com looks like a bubblegum romance film, but manages to give out an important life lesson. Here's our review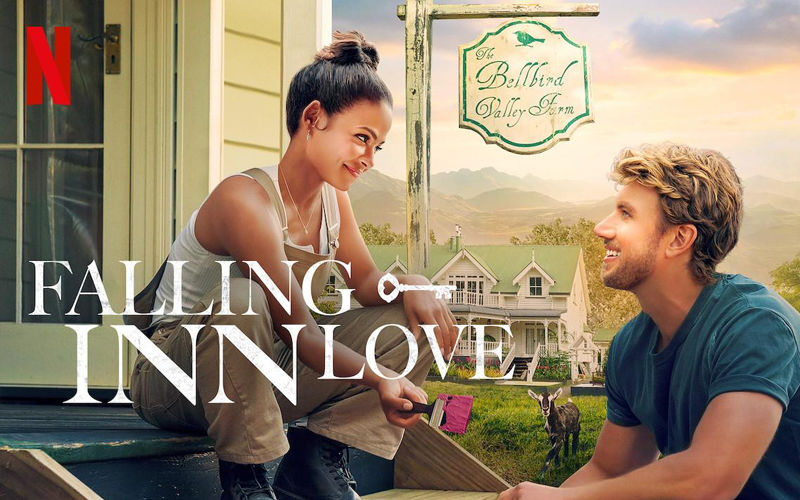 The latest addition to Netflix's library of feel-good romantic comedies is Falling Inn Love. The last one we saw, Always Be My Maybe starring Ali Wong was a good film to catch when you were feeling blue. Falling Inn Love's trailer itself showed us that this one wasn't just the typical boy-meet-girl kind of film and true to that, it wasn't.
The premise of Falling Inn Love is quite interesting. Gabriela (Christiana Milian) works at a design firm and has a boss who can be best described as insufferable. She also breaks up with her boyfriend. Soon after, she enters an online contest and wins an inn in New Zealand! Pretty outrageous, right? An excited Gabriela lands up there and is shocked to find an inn which is on the brink of ruin. She decides to renovate the place with the help of a cute contractor called Jake. There is also a possible love story brewing there, but there are ideological differences to be bridged first. Will it be a happy ever after for them?

To get the comparisons out of the way first, Falling Inn Love reminds us of the heart-warming film, We Bought A Zoo starring none other than Matt Damon and Scarlett Johansson, where they renovate a dilapidated zoo. The film is beautiful and Falling Inn Love is similar in that sense where there is a sense of rebirth with renovating a physical place which ends up changing the people associated with the place.
The film does end up feeling predictable, but rom-coms aren't really otherwise. But one of the most important things the film manages to teach us is to work a little less and live a little more. Away from the hustle and bustle of city life and her stressful career path, Gabriela finds herself and we could all do with learning a thing or two from that.
Falling Inn Love is streaming now on Netflix
Our verdict: Binge-worthy


Image Source:- youtube/netflix/facebook