Binge Or Cringe: Rejctx Review: This Kubbra Sait And Sumeet Vyas Starrer Bites Off More Than It Can Chew
Zee5's latest original series, Rejectx held promise. While the show gets some things right, it fails to hit all the right notes. Here's our review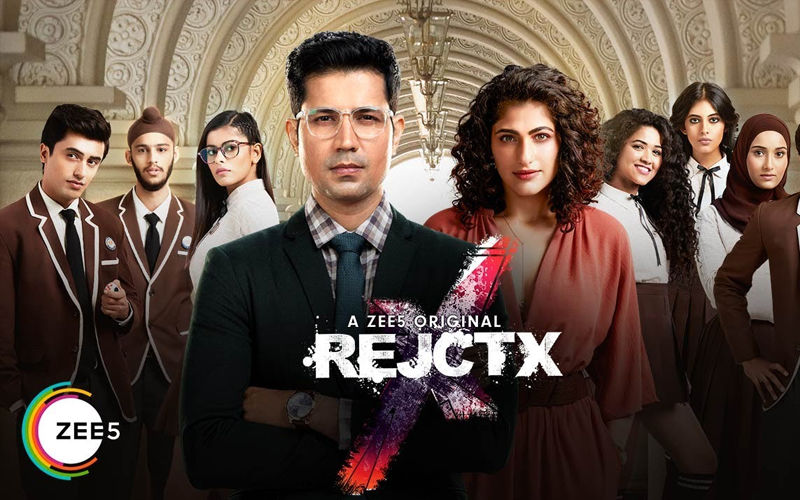 In a lot of ways, Zee5's latest show, Rejectx, is India's answer to dark high school dramas like Netflix's 13 Reasons Why and Sex Education. Gone are the days when our only representation of teenage life was the likes of High School Musical, and makers all of the world have realized that teenage angst is real. Goldie's Behl's show, Rejectx, also brings a milieu of issues to the table, but does it seem like he is ticking things off a checklist?
We meet a group of friends in high school. Like any other teenager, they are each plagued by some sort of problem – body image issues, sexual identity, bullying, a dysfunctional family. This makes them social rejects of sorts and they find their voice in creating an underground music movement. Things get murky when one of the students disappears mysteriously and getting to the bottom of his disappearance becomes the theme for the rest of the show. The students are supported by their Vice Principal (played by Sumeet Vyas) and the student counsellor (played by Kubbra Sait)
Jefferson World School, our setting for the show, some of the characters and the talent competition organized by the Vice Principal is oddly reminiscent of Student Of The Year. But the similarities end there, Rejectx cuts through the fluff and takes us to darker and deeper places. In some places, Rejectx grips you and in others, you are left wondering where the makers are taking you.

In terms of the performances, barring a couple of them, the students are the weakest link. We wish stronger actors were cast to play these pivotal roles. Kubbra Sait and Sumeet Vyas are expectedly brilliant in their respective roles – you almost look forward to their scenes. For a musical, Sneha Khanwalkar's soundtrack for Rejectx is not as lovely as you'd expect it to be. Rejectx also has a lot of sex scenes – some of which seem out of place.
Rejectx is a highly watchable show, but we wish the writing was more nuanced, the characters more relatable. It cannot be discounted, however, that this is a brave attempt and in the Indian context, it could be considered a more real version of 'Remix'
Our verdict: Blah-worthy


Image Source:- youtube/zee5