City Of Dreams Season 2 Review: This Series About Absolute Power And Corruption Is Worth Watching
Subhash K Jha reviews the political web series, directed by Nagesh Kukunoor. He has given the thriller four stars. Read on to know what he liked the most.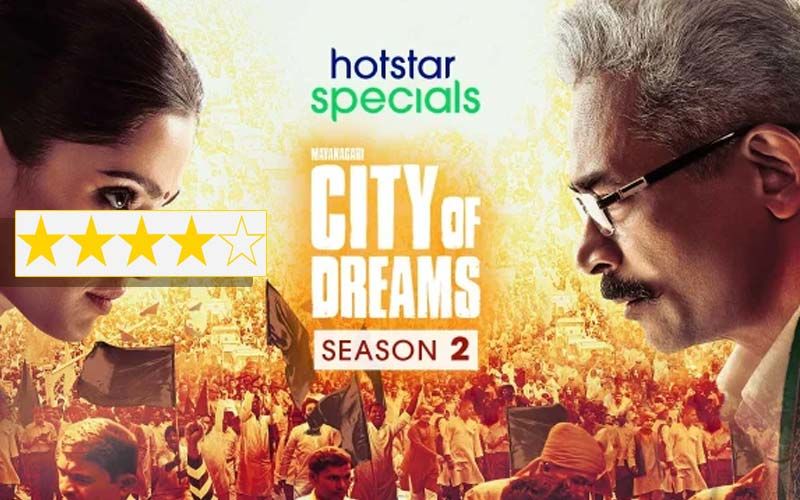 "Power is just an illusion… aakhir mein sirf rishe bachte hain," the indefatigably ambitious Poornima Gaekwad, now fighting her own wily father for the chief-ministership of Maharashtra, tells a friend, a very special friend whom she has abandoned in her flurry to fly high.
City Of Dreams is about power, politics and personal losses, not strictly in that order. The series retains its compelling core even while introducing new interesting characters who grow as the yawning arc of Maharashtra's politics opens up to multiple interpretations. We all know who 'Saheb' Amey Rao Gaikwad (played by the brilliant Atul Kulkarni) is, right? The reference to the tiger in the bedroom that comes up towards the climax of the series is a dead giveaway.
But who the hell is Poornima Gaekwad modelled on? Nagesh Kukunoor and his co-writer Rohit Banawilkar weave in and out of fact and fiction creating a riveting political pastiche that proves what we already know: absolute power corrupts absolutely. The line dividing the world of politics and crime in City Of Dreams is so thin - it is almost non-existent.
The simmering cornucopia of characters are forever in the danger of slipping through the cracks. And many of them do. Poor Purushottam (so poignantly pathetic as played by Sandeep Kulkarni). As Poornima Gaekwad's trusted lieutenant, he finds himself falling into the honeytrap. Flora Saini is curiously tragic and seductive as the moll who ensnares and destroys poor Purushottam. I loved her sequence at the end where she comes to meet Purushuttom's simple trusting wife who asks the pretty lady if her husband had an affair with her. Without blinking, Flora denies it.
Sometimes a lie is worth many times more than the truth. Even Mahatma Gandhi thought so. Not that there are any Gandhian politicians in this intricately conceived game of power and deceit. Our heroine herself is no saint. She has the blood of her own brother on her hands from Season 1. Now in Season 2, she pays the heaviest price possible for a woman and mother.
One of this season's great joys is to watch the amazing Priya Bapat play the estranged wife to a political activist Mahesh Aravale (Addinath M Kothare, well played). And before we shout 'Aandhi' , Kothare himself describes himself as Sanjeev Kumar in Gulzar's film and even hums Tere bina zindagi se koi to his estranged wife.
The series balances out the clichés of political corruption with refreshing bouts of characterisation. Virginal and vibrant in Season 2 is Tanya the idealistic overweight daughter of a corrupt builder (Shishir Mishra) who runs an independent anti-crime organization with her likeminded friends and teaches her spoilt bratty privileged stinking-rich fiancé (Akshay Rathee) a lesson in conscientious citizenship. Let's just say if Farida Jalal in Bobby was a socio-politically committed young woman, she would be Tanya.
Shriyam Bhagnani as Tanya is a revelation. Both the character and the actress are outstanding in their firm allegiance to honesty. But the series clearly belongs to baap-beti Priya Bapat and Atul Kukarni. There is something very special about Ms Bapat. Her face gives away nothing while conveying the oceanic turbulence of a woman who questions her commitments as daughter, wife, mother and a politician constantly.
As for Atul Kulkarni, whether on a wheelchair or out of it dancing with his grandson or sharing mutton with his enemy, he is constantly doing unexpected things with his character. The same goes for Eijaz Khan as Wasim Khan, the cop who must bear the double burden of assuaging his conscience and calming down his raging community when politically induced riots are unleashed .
Even the smallest of characters leave an impact. Divya Seth enters in the fifth episode. She conveys so much of her character's political cynicism in so little time! Or the young boy who plays Rashid lured into acts of terrorism by forces which know how to exploit public sentiments. Luckily, City Of Dreams is not guilty of exploitative compulsions. Apart from the unnecessary profanities, the series makes not one false move.The running joke about a news anchor who doesn't allow any guest on his show to speak is hilarious. Right, Arnab?
If absolute power corrupts absolutely, is this series about absolute power and corruption worth watching? Oh, absolutely!
Image source: Hotstar