Ek Thi Begum: Anuja Sathe's Performance Is Convincing To Bits; Watch Out For This Hard-Hitting Tale Of Revenge And Betrayal
MX Player super-thrilling Ek Thi Begum is now streaming live, read on to know about the show's riveting plot and amazing performances, episode by episode.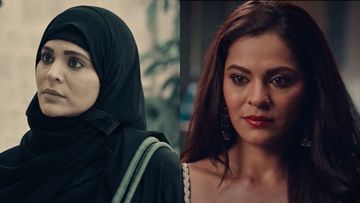 There's a saying 'Hell hath no fury like a woman scorned'; this begum's untold story is an epitome of this saying. Set in the 1980s in Mumbai, a time when organized crime was at its peak, MX Original Series - Ek Thi Begum chronicles the life of a beautiful, gutsy woman Ashraf Bhatkar aka Sapna. Life as she knew it changed when the city's biggest don Maqsood turned responsible for the death of her husband Zaheer Inspired by true events, MX Player brings viewers the story of begum Ashraf aka Sapna who turned femme fatale and vowed to avenge her beloved's killer. The riveting series is now streaming on MX Player.
Episode 1
It uncovers Zaheer Bhatkar's life as an underworld don and his massive animosity with the members of Maqsood gang. Zaheer gets into a shootout like the situation with the Maqsood gang and the Nana Mhatre gang and it eventually ends up taking Raghu Mhatre's life. Watch to know what happens next.
Episode 2
Amidst all the chaos, Zaheer and Ashraf get a ray of hope as the latter expects her baby. Soon after, the duo decides to celebrate the good news; however, it gets messed up as Nana Mhatre attacks to avenge Raghu's death. They eventually escape with Zaheer deciding to quit the dangerous underworld for his unborn child's safety.
Episode 3
Zaheer arranges a meeting with Maqsood in Dubai after he decides to quit underworld. While Nana Mhatre is looking to take his revenge from Zaheer, Maqsood sets an elaborate trap for Zaheer while sitting in Dubai. Unaware of what the destiny has in store for him, Zaheer returns to Bombay; however, was it the end of his troubles? Watch to know
Episode 4
Zaheer gets kidnapped while on his way home, and all of this in front of Ashraf. Inspector Tawde has Zaheer in his custody and decides to take advantage of the situation for his profit. Inspector Tawde demands a huge ransom from Zaheer's family in exchange for his safety while taking another huge sum of money from Nana Mhatre for killing Zaheer. Eventually, Zaheer manages to fight back and he fights hard but Nana Mhatre gets the better of him and Zaheer gets brutally killed by Nana Mhatre.
Episode 5
Ashraf's toughest phase begins, as she didn't only lose her husband but also her baby due to shock. Driven by her grief and rage, Ashraf realizes that she has nothing to lose and becomes determined to have her revenge for her dead husband and her child. She comes in contact with a journalist named Anjali for help.
Episode 6
Ashraf starts feeling threatened for her life and decides to take the help of the law. She files a case against Inspector Tawde and Nana Mhatre for conspiring against her husband and for killing him. Ashraf fights tooth and nail in the court of law against the injustice but ends up facing defeat due to the connections that a gang lord like Nana Mhatre has with various corrupt politicians.
Episode 7
When Ashraf sees that all her legal avenues have been shut tightly because of the politicians being corrupt and the law being in their control, she decides to take the matter in her own hands. After failing to get a chance of meeting Bhai Chavan, the enemy of Maqsood, Ashraf is driven even further by her anger and she decides to have her revenge by herself. She decides to enter the world of the underworld and make her connections, and for that, she decides to assume a new identity of Sapna and joins a dance bar as a dancer to get close to the men who she may use to her advantage.
Episode 8
A shooter from the Nana Mhatre, Swatya, the gang visits the bar to find Sapna there. He develops an instant liking for her. However, seeing her intimately dancing with Bhai Chavan's man Tandel fills him with jealousy and upon investigation, he opens fire on him. After shooting Tandel, Swatya takes Sapna home with him. Sapna, aka, Ashraf challenges him to shoot inspector Tawde.
Episode 9
Swatya arrives with intent to kill Tawde and Bhoir. He opens fire and sub-inspector Bhoir gets severely injured. While Tawde goes to Nana on the lookout for Swatya to kill him, Ashraf sets out to the hospital Bhoir is admitted to and kills him. Nana Mhatre then meets with Sawtya and tells him to flee before Tawde gets to him. Later, Ashraf lays a perfect trap for Swatya and calls him to a hotel room, to get him killed.
Episode 10
After her plan fails, Ashraf gets caught in tuff with Swatya. After a lot of struggle, Ashraf escapes the situation after someone unexpected rescues her. A grieving Nana summons Sapna to question her about Swatya's death. She plays her smart game once again and informs Nana Mhantre about Bala Mama. As all her culprits get killed one after the other, someone unexpected comes to meet Sapna at the bar.
Episode 11
Anjali meets Ashraf and warns her about her decision. Ashraf tips off Bala Mama's location after trapping him in her honey trap. He is killed brutally by Nana Mhatre's men. With this, Ashraf manages to enter Nana's den.
Episode 12
Ashraf, disguised as Sapna, reaches to the home minister, Ganpat Rao Kadam, wherein she finds vital information and a huge amount of drugs. She calls Vikram Bhosle and informs him about the same. As Vikram takes the killers of the union leader in custody, he goes to Nana Mhatre's residence to raid it. He is shocked to find Ashraf there.
Episode 13
Ashraf leaks the news of the Home Minister's arrest to the media and the reports of him involved in the big scam travel fast. Nana Mhatre orders Tawde to fetch information of Sapna. After knowing the full truth about Ashraf, Vikram gets married to her. Ashraf meets with Anjali and plans to go to Sharjah to set sail to her final plan.
Episode 14
Ashraf decides to kill Maqsood in Sharjah while he enjoys the India-Pakistan cricket match, though will she succeed? Catch the episode.
Along with Anuja Sathe, Ek Thi Begum also stars Ankit Mohan, Chinmay Mandlekar, Rajendra Shisatkar, Resham, Abhijeet Chavan, Pradip Doiphode, Vithal Kale, Nazarr Khan, Vijay Nikam, Anil Nagarkar, Suchit Jadhav, Raju Aathavale and Santosh Juvekar among others in pivotal roles.
image source: mxplayer
They say the best things in life are free! India's favourite music channels 9XM, 9X Jalwa, 9X Jhakaas, 9X Tashan, 9XO are available Free-To-Air. Make a request for these channels from your Cable, DTH or HITS operator.