Gulabo Sitabo Review: Amitabh Bachchan-Ayushmann Khurrana A Powerful Duo Leave Us Wondering Why Weren't They Paired Earlier?
Check out our exclusive review of Amitabh Bachchan and Ayushmann Khurrana's Gulabo Sitabo, which is all set to hit your OTT screens this Friday!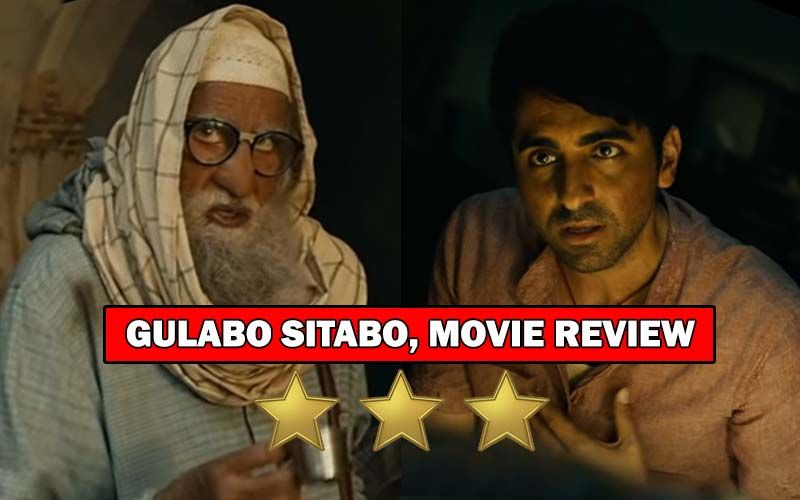 Gulabo Sitabo, a 123-minute-long film, revolves around Mirza (Amitabh Bachchan), stinginess personified, and Baankey (Ayushmann Khurrana). The film sees Baankey and his family as tenants in Mirza's Fatima Mahal, a haveli that is legally owned by Mirza's wife Begum. Well, that premise was already established in the trailer that was released weeks before the film's OTT premiere. The film majorly chronicles the tu tu main main between a calm tenant and the most khadoos makaan malik he has ever witnessed.
The script didn't pretend to play to the gallery – it portrayed what it wanted it and worked at its own pace. Of course, when it comes from the National Film Award-winning writer Juhi Trivedi, there is very little room for it to falter. She has brought in a sense of authenticity to the writing and the diction which is her trademark style. The set up has it's own pace, some may call it slow, but Lucknow being the backdrop I am not complaining. In a true Shoojit Sircar-Juhi Chaturvedi film, there are incidents that create situations and situations that end up creating unforgettable scenes by actors on celluloid err on your TV screens. Normally we have the leading heroine and the hero's chemistry to talk about but here the two actors, both who are National Film Award winners, have created such a beautiful but irritating hate-hate relationship that shows how Mirza and Baankey are made for each other in a weird way.
Coming to the performances, both Ayushmann Khurrana and Amitabh Bachchan have got into the skin of their characters with utmost ease and conviction. Senior Bachchan AKA Mirza is playing a character from his own backyard. Big B has Uttar Pradesh running in his blood and so playing Mirza from Lucknow makes us forget The Amitabh Bachchan he is. Now, many actors live to tell the tale of their first scene ever that they have shot with Bachchan Sahab and sure Ayushmann Khurrana would also have a story to tell. But Khurrana with 8 years in Bollywood stands tall in front of Amitabh Bachchan who already has 51-years of film institution behind him. Shoojit Sircar films are always 10/10 when it comes to the character artists who play a great deal in taking the story forward. Vijay Raaz, who plays the role of an ASI officer is impressive and so is Bijendra Kala a lawyer. Both leave you asking for more whenever they spell their Lucknowi magic onscreen. Shrishti Shrivastava as 'Guddo' (Baankey's sister) holds her own as a feisty young woman around big established names.
In a nutshell, 2 actors, 1 writer and 1 director, all recipients of National Film Award have dished out excellent performances and are ready to take you on a 'not so nawabi' joy ride. We give the film 3 out of 5 stars!
image source: instagram/team spotboye