Happiest Season Movie Review: This Same-Sex Romantic Comedy Is A Treat For All The Kristen Stewart Fans
Here's our review for Happiest Season starring Kristen Stewart, Mackenzie Davis, Alison Brie, Aubrey Plaza, Dan Levy, Mary Holland, Victor Garber and Mary Steenburgen. Directed by Clea DuVall.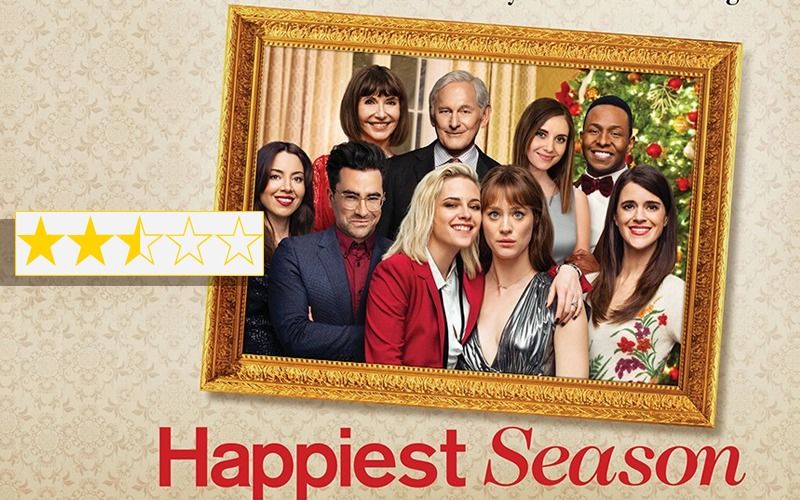 No matter how big a fan of the Twilight Zone star Kristen Stewart you are, there is no way you can avoid feeling disappointed by this over-sweetened Christmas confection about an orphaned lesbian Abby who decides to accompany her lover Harper to visit her conservative family for Christmas.
The keyword here is 'conservative'. The fact that Harper's father is an ambitious politician and her mother a fastidious prude are plot points to pad up the sympathy-quotient in Abby's favour. The premise is wafer-thin, and the sweet even-tempered tone relentlessly suggests there is nothing more complicated in life than keeping secrets from your loved ones when that is actually not the case in real life.
Still, despite the simplistic tone, Happiest Season does have its share of agreeable occurrences. The environment is plum-pudding comforting, the film is shot in red-wine colours, and the tone is festive and mellow. If you are not looking for deep social comments on the hardships of a same-sex relationship, this one with its quaint hide 'n' seek formula(at a certain point Abby is actually seen hiding in a closet) will keep you smiling till the end. No profound revelations on life love and commitment. But nothing absurd or offensive either.
The performances are surprisingly modest. Kristen Stewart looks a little distracted, maybe the Christmas cooking after pack-up is on her mind. Mackenzie Davis as her lover seems more involved if not exactly amply evolved. My favourite character and performance is by Dan levy, as Abby's best friend. Levy has the best lines and most amusing retorts in a film that seems to not want to offend anyone in this season of bonhomie.
The veteran Mary Steenburgen as MacKenzie's mother is hyper and hammy, as if trying to compensate for the lack of vivacity in the proceedings. Happiest Season may not be the happiest film you will see this season, but it's still worth a one-time watch.
Image source: Instagram/happiestseason