Haseen Dillruba Review: Hormonal Heroine In An Off-Kilter Crime Drama
Haseen Dillruba starring Taapsee Pannu, Vikrant Massey and Hashvardhan Rane releases on Netlfix today and we have our detailed review out just for you. Read up and decide if you want to add this movie to your weekend watching list or not.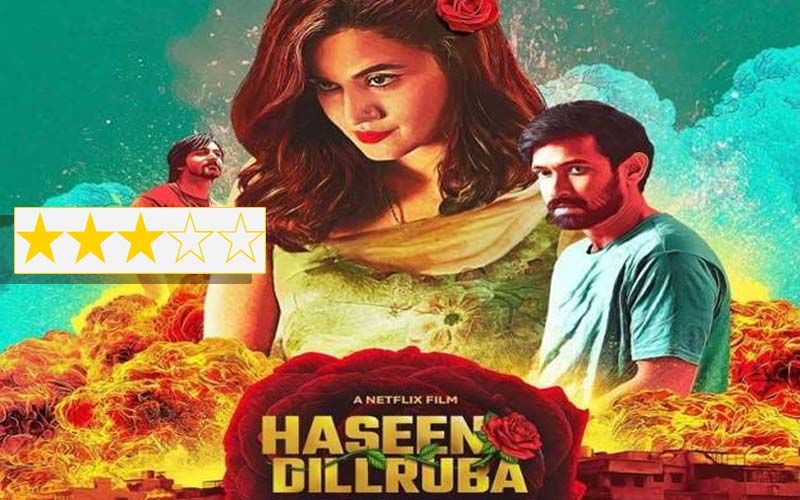 It's interesting to see how an avant-garde writer like Kanika Dhillon is pushing the Hindi Film Heroine over the edge. She can now crave for things like non-vegetarian food and satisfying sex without being slut-shamed. It's okay to be a slut now. The new post-'Covet' guidelines are deliciously applicable to the heroine in Haseen Dillruba. Rani Tripathi, nee Kashyap, is the kind of hormonal heroine who gives the smalltown slut a bad name. In a sequence straight out of a pulp novel written by her favourite author Dinesh Pandit, Rani walks up to a girl who's (innocently?) talking to her husband and confides that they(Rani and her husband) have had sex only once since their marriage a month back and it ended in a squishy fiasco.
"Lady to lady main aapko bataa rahi hoon," Rani tells the disgusted girl(whoever she might be). This crass attempt at being brutally frank about her appetites, be it for sex food or later murder, makes Rani a counter-deified oddity, an anomaly, a square among circles. She certainly doesn't fit in as Rishu's husband. Rishu! He is a problem. You see, he is not a wife-beater or a sleazebag. He loves his wife to death, which in the context of the way the plot pans out, is quite an ironic description of Rishu's …Errr..undying passion for his unfaithful, untrustworthy, despicably unwifely wife. While the set -up is intriguing and seductive in its sleazy undertones, the detailing in the art direction of a riverbank fictionalized smalltown named Jwalapur(Allahabad? Varanasi?) is unsubtle: the wife's two suitcases from her recent wedding are strategically placed next to the bed in the couple's bedroom. The neatness mocks the mess that Rani and eventually her cornered husband make of their marriage. Jayakrishna Gummadi's cinematography manoeuvres through the cramped space of a smalltown home stealthily searching out the sleaze.
Rishu, the husband is problematic to the plot. His innate decency and his determination to be a good husband to his truant errant and eventually unfaithful wife puts the marital moral alignment into a fix. How to justify Rani's lustful betrayal when her hormones start to act up? Or her earlier description of her husband as 'phuski' a two-minute-noodle insult that Rishu overhears. It is here that Rishu's decency caves in. In the most savagely Noire-comic passage of the narration, Rishu is seen growing murderous towards his wife. As he tries to cause her grievous bodily harm, their marriage is self-healing. You know the one about hurting the most the one you love the most? Hold on to that thought as the Rani-Rishi marriage burns and crashes and repairs in a mode that is at once pulp-fictional and consciously sloppy. The plot is fraught with dangerous curves, as dangerous as Taapsee Pannu's swinging walk as she defiantly steps out of her smalltown housewife's orbit to fancy-cut her father-in-law(Daya Shankar Pandey) 's hair, show the middle-finger to her bullying mother-in-law(Yamini Das) and fuck her husband's beefy cousin(Harsvardhan Rane).
Cop Aditya Shrivastava tries to make sense of the crime of passion, which outwardly seems as lurid as the novels of Rani's favourite Dinesh Pundit. He is the voice of reason in an echo chamber of treason. Like those pulp Hindi novels that were a staple part of train journeys in the 1970-the 80s, Haseen Dulruba entails an acquired taste to be enjoyed. Rani's hormonal crimes are not easy to accept. She is fatal and flawed. But damn sexy. Taapsee delivers yet another titillating tongue—and-taang-in-cheek performance, rendering Rani a slut hard to slot. Vikrant Massey as her dutiful husband is outstanding. He is his wife's little lamb who turns into a man-eating lion when pushed to the wall. With a twitch of his mouth and a flicker of an eye, Massey makes Rishu a nice reliable man who can transform into a creature of caprice. Harshavardhan Rane's immoral hunk is a well-played stereotype. But the film belongs to writer Kanika Dhillon and director Vinil Mathew who create a universe so denuded of a moral centre you fear it will topple over the edge under the weight of its own giddy hormonal urges. Directed by Vinil Mathew. Haseen Dilrubu gets 3 stars!
Image Source: Imdb, youtube/netflix/t-series