Helmet Review: Aparshakti Khurana And Pranutan Bahl's Social Drama Is A Cold Splash To A Hyped Genre Film!
Here is our review of Helmet starring Aparshakti Khurana, Pranutan Bahl, and Abhishek Banerjee. Directed by Satram Ramani the film releases today on Zee 5.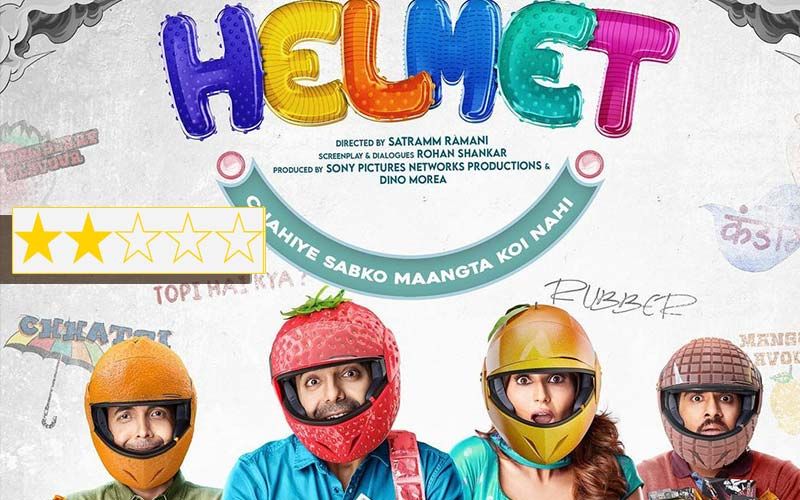 The film is about being ashamed of buying a condom and using it which is a social issue. The storyline of the film is extremely intriguing, and we were all really excited after seeing the trailer, but now that I've seen it, all of my expectations have been dashed. Apart from Aparshakti, the film also features Pranutan Bahl, Abhishek Banerjee, and Ashish Verma.
Lucky alias Aparshakti Khurana and his love interest Rupali (Pranutan Bahl) have their love story denied by Rupali's family owing to Lucky's financial situation, exactly like every other stereotypical Bollywood film. Lucky and his friends decide to rob a truckload of electrical goods after being turned down for all of the jobs and money lending options. They were apparently successful in doing so, but to their disappointment, the gang ends up with boxes that contained condoms rather than electronics. After much contemplation, they finally decide to sell condoms to the public after creating their own firm, Helmet.
The film went on a very lame and dull track for the first 30 minutes, after which the tale began to make sense. The makers apparently failed to include the essence that is essential in this genre. The film was billed as a comedy, but trust me when I say that none of the words or scenes added anything to the situation that made me chuckle. Gopal Mudhane and Rohan Shankar would have contributed more punch lines that would have gone over like a tonne of bricks, but that didn't happen.

In terms of direction, newbie Satram Ramani failed to bring together a plot with a lot of potentials. The scenes were also forced into the film at some point. Bringing up a highly vital and societal matter like condom purchase humiliation required a lot of Mirch- Masala, which was lacking in the film. 'Helmet' lacked the charm of social norm comedy films like 'Vicky Donor,' 'Dream Girl,' and 'Dostana.'
In terms of the cast, Aparshakti Khurana badly failed to depict a significant lead character in the film; his expressions were the same throughout the film in every scenario. Pranutan Bahl's character was likewise underdeveloped; she could have given her role more oomph. By playing effectively in the film, supporting actors Abhishek Banerjee and Ashish Verma were able to propel the film forward.

Well, I really had high expectations from the film since the trailer was released. However, after watching the film I can only sum it up in few words, the film lacked a huge chunk of humor, which was very much required.
Image source/PranutanBahl/Instagram