Ikkat Review: Nagabhushana and Bhoomi Shetty's Movie Does Make You Smile Once In A While
Nagabhushana and Bhoomi Shetty's Ikkat does make you smile once in a while. At best, it is mildly humorous. At its worst, it is loud and cheesy.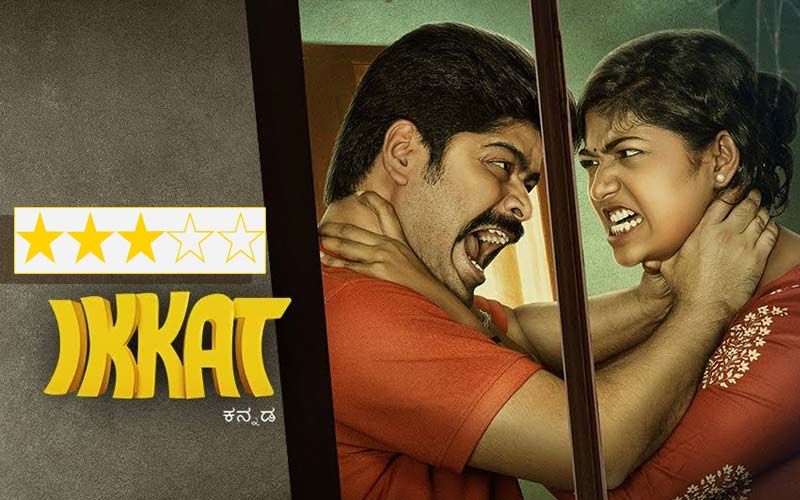 Covid is now big business in our movies. But somehow to generate humour out of the pandemic is not an easy task. Not when the frowners will inevitably accuse the co-directors of trivializing a worldwide crisis.
Well, to hell with the party-poopers! Ikkat, the first funny comedy I've seen in the Kannada language, thumbs its nose at the naysayers. It takes well-aimed posthots at the terrifying predicament of couples who during the lockdown were left to their own devices, mainly sex, during the lockdown. Hence, the baby boom. The working class couple in Ikkat played with broad unsubtle strokes of satire by Nagbhushan and Bhoomi Shetty are not into baby-making.
They have other problems to deal with when Prime Minister Modi announces a lockdown. It'd be easy for him to talk of sampoorn lockdown. The ones to take the brunt of the crisis were nuclear families forced to stay together for weeks.
A dismayingly irritating uncle (Sunder Veena), the bin bulaye mehmaan drops in. He will remind you of Paresh Rawal in Atithi Tum Kab Jaoge. Except that this uncle is far broader and bristling with a comic synergy. Every actor is into broad burlesquing, which is not a bad thing in this case, considering the plot about coping with unwanted guests during lockdown is leaden with the spirit of an over-the-the-top humour which somehow never crosses the line of decency except when the riled wife rhetorically asks not once but twice, "What is there in our house that is long in size?"
Is she talking dirty or am I imagining it? Bhoomi Shetty as the wife has excellent comic timing. Her faint resemblance to the great Sridevi made her more interesting to me. But her expressions of disdain, dismay and disgust are bang-on. Nagabhushan as her bitter-half reminded me of Laxmikant Bherde. However, the two actors playing unwanted guests in the tiny house are originals. They have to be. To replicate their comic synergy and satirical expressions would be impossible.
While the writing gets progressively clumsy with the ending being more like a sudden unplugging of the heated energy than an actual solution, Ikkat does make you smile once in a while. At best, it is mildly humorous. At its worst, it is loud and cheesy. The humour regarding Janvi's tiktok friend who hides in her closet, under the bed ,etc gets annoying like a house guest who overstays. That apart, if you are looking for broad humour during these turbulent times, Ikkat is just the pill that you will find hard not to swallow.
Image source: Youtube/ AmazonPrimeVideoIndia, Instagram/filmy_corner_