Liar's Dice Review: This Unsung Masterpiece Is Nawazuddin Siddiqui And Gitanjali Thapa's Best Work Till Date
Liar's Dice is a staggeringly beautiful film. This is Nawazuddin's finest performance to date. But the film belongs to Gitanjali Thapa.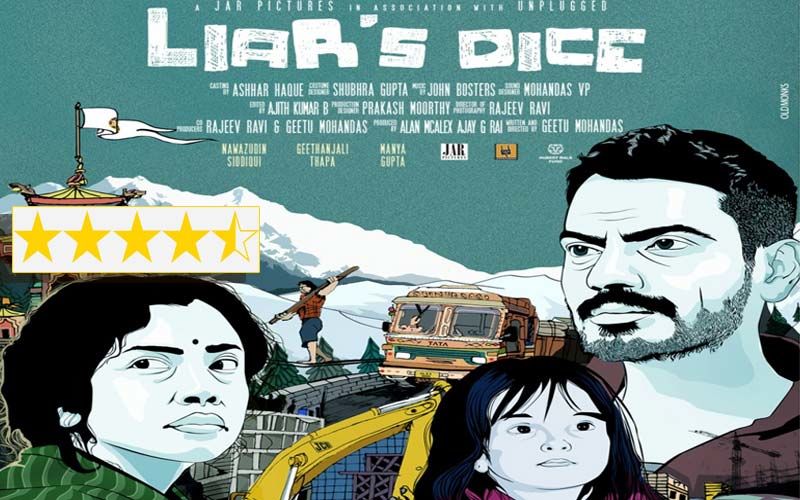 Is Geetu Mohandas the finest female filmmaker of India? Moothon and now, Liar's Dice(which was actually made earlier) are evidence of an extraordinarily sorted directorial vision. Here is a filmmaker who understands relationships to their core and depicts them on screen with an intimidating intimacy.
There are not-so-great performances in great films. Then there are some outstanding performances in utterly mediocre films, for example Sridevi in Judaai and Rani Mukerjee in Nayak. But the most satisfying viewing experience is the once-in-a-blue moon great cinema with great performances.
Liar's Dice, which was made in 2012, never got a commercial release, not even in the arthouse circuit because it is not pretentious enough to qualify as arty, nor anywhere close to being formulistic enough to qualify as a mainstream product.
Liar's Dice is what it is - an elegiac supple splendid exploration of the culture of migration wrapped up in the road-movie genre. It is also a film about extreme poverty. The heroine Kamla doesn't have proper shoes for the arduous journey she undertakes to find her missing husband. The food, when it appears, on the table (the 'table' being just an idea) is meager, sporadic, bread torn out of its plastic and chewed on.
Director Geetu Mohandas, who lately won herself enthusiastic praise for her Malayalam masterpiece Moothon, puts four characters into crowded buses and jeeps. As Kamla leaves the relative safety of her Himachal village to look for her missing husband, first in Shimla and then in Delhi, her journey transmutes into a survival story. Danger lurks everywhere, And the mysterious man who takes on himself the task of protecting Kamla and cute little daughter Manya(Manya Gupta,adorable) doesn't seem very reliable himself.
The trenchant drama shows Kamla as vulnerable but strong. You can see life has hardened her pretty face. She guards her child and the child's pet goat (a character so vital its loss is mourned by the film) with a feral ferocity. She is the embodiment of all the goddesses in our mythology and yet she is too poor to afford travelling footwear. Such are the ironic contradictions of life at the grassroots in our society.
Liar's Dice is a staggeringly beautiful film. Cinematographer Rajeev Ravi captures the silent snow capped mountains and the bustle of Jama Masjid with muted reverence. Not a single frame is meant to make us stop and gawk. There is too much to be done, a journey to be completed… Who was to know that Kamala's quest for her missing husband would end with such a rude jolt?!
On the surface, Liar's Dice is a damsel-in-distress story with a tall dark mysterious stranger appearing out of nowhere to protect the woman and her child. But look closely. Beneath the ordinary surface, there are extraordinary forces at work, tugging and pulling at the plot's edges telling us that life is not a bed of roses for the wretched of the earth.
This is Nawazuddin's finest performance to date. He makes his character, named Nawazuddin, both enigmatic and creepy, avaricious and noble, covetous and generous. He is both a savior and a predator. But the film belongs to Gitanjali Thapa. Her haunted, anguished nervous but determined face will stay with me forever. The National Award that she won for her performance is richly deserved.
Hats off to producer Ajay Rai for investing in this unsung masterpiece.
Image Source: Instagram/seyirdefterim_mab, youtube/IFFK - International Film Festival of Kerala, imdb