Lines Review: Hina Khan's Film Is An Appealing, Beautiful Love Story Of Spirit And Tenacity
Here is our review of Lines starring Hina Khan and Farida Jalal. It is a Hindi film and is helmed by Hussein Khan and produced by Rahat Kazmi, Tariq Khan, and Zeba Sajid. The film is releasing on the Voot Select app.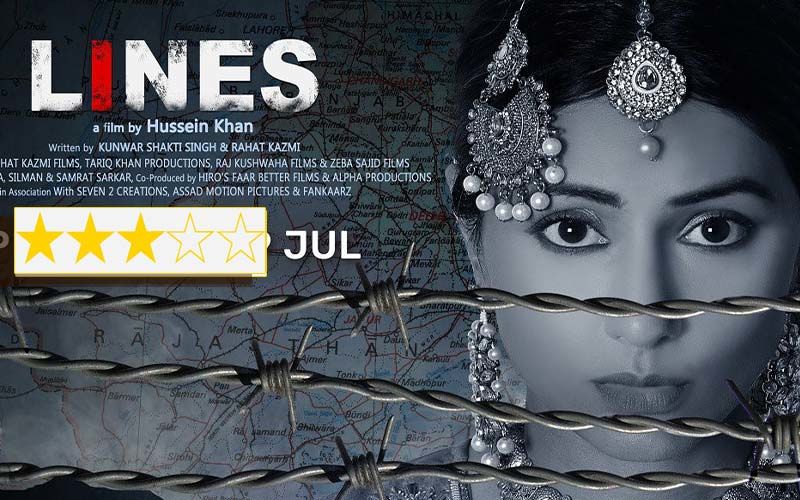 Hina Khan starrer and Globally acclaimed filmmaker Rahat Kazmi's much-awaited film 'Lines' has finally been released on Voot Select. Along with Hina Khan, Rishi Bhutani and veteran Actress Farida Jalal are also seen in the film playing vital roles.
The film is based on a very serious and powerful genre. A love story that blooms under a terrified atmosphere of India - Pakistan border. Hina Khan, who plays a strong young girl, overcomes challenges with a lot of courage and strength. Nazia (Hina Khan) is a powerful innocent girl who was born and raised on the country's border LOC, where she lives with her mother and grandma. Apart from struggling with campsites and bullet fires, Nazia wants to fulfill her grandmother's dream, which is to meet her sister who stays in Pakistan.
She eventually obtains a root to contact with her grandmother's sister's grandson Nabil in Pakistan and surprises and fulfills her Dadi's request by calling both of them. The plot continues with Nazia falling in love with Nabil and marrying him. Due to Nazia's Indian citizenship and Nabil's Pakistani citizenship, the couple had to separate until further papers could be obtained.
During the frantic process of getting the paperwork processed, the Kargil War breaks out, exacerbating the situation, leaving the couple separated and without communication.
The climax of the story occurs when Nazia decides to illegally cross the border and meet her loving husband Nabil. Her family, for some reason, accepts and supports her decision. Nazia leaves the house and is accompanied by Milton, who promises her that she will be able to cross the border safely.

Nazia runs to reach her husband and we see her disappearing behind the bushes. There is then a burst of gunfire, and Nazia's fate remains unknown. On the other hand, Nazia's mother is confident that her daughter is alive and has arrived safely at her destination. Nobody knows whether she did or did not do it.

As a director, Hussain Khan goes completely 'desi' and he uses color to depict the tones of his characters especially Hina Khan who is larger-than-life in her own way throughout. The film has surely marked up the scales and delivered a powerful story with loads of emotions. It has been well written by Kunwar Shakti Singh and Rahat Kazmi.

Hina Khan has undoubtedly proven to be a pleasant surprise in the flick. The actor had effectively portrayed her character as a brave innocent young girl who has faced and overcome many hardships in her life. Throughout the film, she has been the focal point. Veteran actor Farida Jalal, on the other hand, was an excellent moral support character for Nazia in the movie. Her acting, more than her dialogues, exudes purity. Other characters were also excellent in their roles. Rishi Bhutani has also played a promising role in the film, bringing a lot of depth to it.

The film has been internationally acclaimed and the poster of the film was launched at Cannes. Since then the film had a lot of expectations and must say, the makers have surely done a great job. The direction could have been a little better but still a great effort.

All in all, 'Lines' seems to be a good film and one should go and watch it to witness the pain of border people.







Image source/Twitter/HinaKhan