Natkhat Review: Vidya Balan Slaps The Patriarchy With This Simple Yet Sturdy Story!
Here is our review of the recently released short film Natkhat starring Vidya Balan and Sanika Patel. It is been directed by Shaan Vyas and written by Vyas and Annukampa Harsh. The short film is currently streaming on Voot Select Film Festival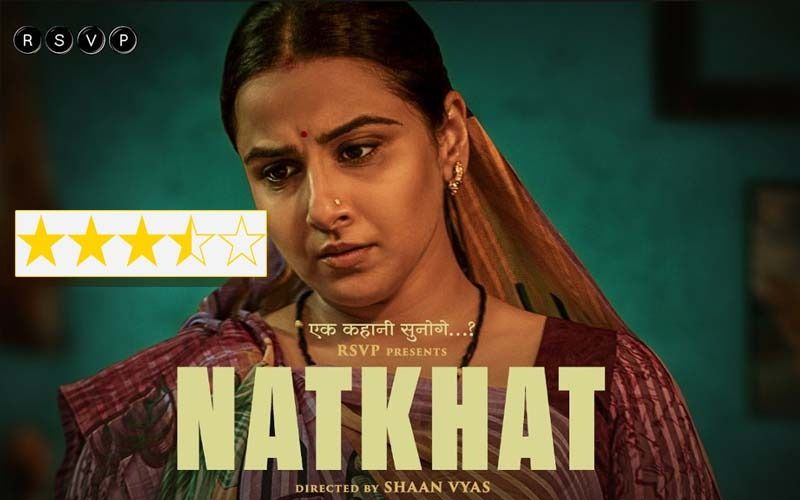 Big words in small mouths! Yes, it can be said. You don't always have to shout to make someone understand or give a lesson. This is the way that Vidya Balan follows in 'Natkhat'. In just 33 minutes, the short film showed the skeletal appearance of patriarchal society. Hindi word 'natkhat' which means mischief, there is nothing that can be done about this 'naughtiness'! But what is the benefit in the end? The question was raised by a short film directed by Shaan Vyas.
Sonu (Sanika Patel), who is on the edge of becoming a brat, is at the center of the plot. There's a scene where the men of the family are eating at the table and the woman of the house is serving them, if you are a person of today's, generation and believe in equality, this scene is going to boil your blood. While talking, the language used by these men describes that they consider themselves superior and women should be below their knees. In the same way, when Sonu learns this behavior and talks in the same language, his grandfather says he's learning these things from the TV instead of thinking even for a minute that whatever he's learning is from his elders.
On the other hand, Sonu's mother (Vidya Balan) listens to him talking in a language like, "if a girl is not agreeing to something you say, you just pick her and take her to the jungle alone and everything will be sorted". She then takes the easy step of telling her child stories rather than shouting or hitting him to make him understand that the path he's following is wrong.
Director Shan has chosen Sanika Patel for the role of Sonu in the film. His smooth acting is eye-catching. There is nothing new to say about Vidya's performance, strength is inherent in her. Vidya has played the role of a woman who is crushing the mill of her father-in-law's house, who is not even allowed to open the veil in front of other men. However, the mother does not consider it necessary to protect her child. He has to go to war against society. No one could have imagined such a character without knowledge.
And, while it isn't excessively pushy or sophisticated, it is forthright in a quite appealing way. The cinematography, particularly the framing of the scenes, was a joy to behold, and most importantly, the acting and background score came together poetically to elaborate on the virtues and analogies between women and birds - and rulers and the young ones.
More than describing the persistence of domestic violence and gender roles in marital marriages, Natkhat perpetuates the notion of effective child-rearing at home as a potential solution to the social menace created by those everyday elements, and thanks to its dreamy narratives, superlative performances, and a compelling score, the message comes across fairly well.
All in all, after watching this film, it may cause discomfort to many. How gender arrogance is plaguing society can be felt in every verse.
It is definitely a must-watch!!!
Image source/Instagram/Vidya Balan