Potluck Review: Ira Dubey, Cyrus Sahukar, Shikha Talsania's Series Is A Posh Modern Family Drama With Potful Of Entertainment
Here is our review of Potluck a dramedy which released today on Sony Liv. The eight episode series stars Shikha Talsania, Harman Singha, Ira Dubey, Cyrus Sahukar, and others.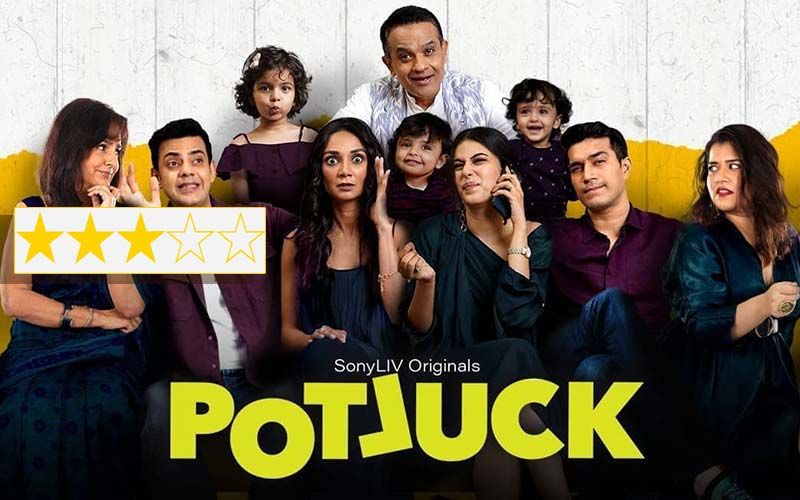 A heartwarming series of vibrant and modern family, who come together every weekend for a potluck. The whole fam - drama is of 8 episodes, the series holds a bunch of star cast including Shikha Talsania, Harman Singha, Ira Dubey, Jatin Sial, Kitu Gidwani, Cyrus Sahukar, and Salonie Patel. The not-so-over drama series 'Potluck' is streaming on Sony Liv from today onwards.
The story of Potluck is all about a nuclear, urban family, who's younger generation is busy making a modern lifestyle. Govind Shastri (Jatin Sial) the father of the Shastri's wishes to bring back the family together again remembering his kids' childhood. The indulged feeling of missing his kids, makes Govind lie to his family and complains of bad health, he then proposes the idea of a weekend potluck. The family includes his two sons Vikrant (Cyrus Sahukar) and Dhruv (Harman Singha) with their respective wives Akanksha (Ira Dubey) and Nidhi (Salonie Patel), and their daughter Prerna (Shikha Talsania), who is an aspiring writer. All of them somehow agree with the idea of a Potluck and hence the weekend table of Shastri's turns with twists and lots of food.
Each episode of 'Potluck' shares a different angle of family members and their individuality, showcasing the solitary struggle of contemporary issues and still holding the family bond.
In Indian cinema, family drama is something that has been carried forward for ages. 'Potluck' is similar to that, a fresh, crisped, and entertaining story of a crazy family. The first episode might be a little crazy for you, but going forward the plot will definitely keep you glued to it. Being a family drama genre, the story still holds the emotional weightage and the modern culture drama in the series.

Director Rajshree Ojha has brilliantly lightened up the genre of family drama. The plot was beautifully drawn onscreen adding the pinch of acute and needful flavour to it. When one talks about family drama it is very much important to give value and detailing to every character, which the director has utterly done.
Moving forward, the dialogues in the series were quite simple and sophisticated yet they gave a lot of importance to the scene. Writers Ashwin Lakshmi Narayan, Bharat Misra, and Gaurav Lulla have beautifully penned the series with a lot of leisure and elegance.
The performances overall were absolutely fantastic. Talking about the cast, usually, a huge casting makes a mess, but in 'Potluck' you will definitely feel every character of the series. Shikha Talsania has bravely carried a young aspiring writer and a promising daughter's character throughout the series. Cyrus and Ira will surely make you feel like a real-life couple juggling with their kids and career. If you are a parent you will certainly understand and connect with their characters. Harman and Nidhi have also played their young, married, and carrier-focused characters smoothly. Coming to the parents part, Jatin Sial and Kitu Gidwani has also been promising throughout as classy yet peppy parents.
The family light-hearted drama is a simple story of a crazy family, which one should surely watch. The story will make you laugh at times and also will make cry out silently in pride.