Saajan Bakery Since 1962 Review: The Aju Varghese And Ranjita Menon Starrer Is Other Side Of Sooraj Barjatya
Here's our review of the film Saajan Bakery Since 1962. The film stars Aju Varghese, K. B. Ganesh Kumar, Lena, and Ranjita Menon. It is directed by Arun Chandu and is currently streaming on Amazon Prime Video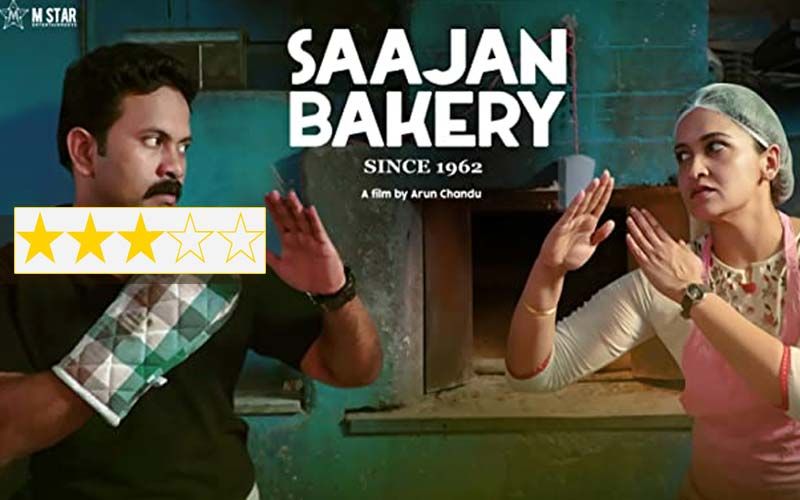 When it comes to the regional repertoire, Amazon Prime is constantly breaking the glass ceiling, bringing to its audience cinema from the South with an immediacy that makes language redundant. After the very successful boxing film Sarpatta Parambarai in Tamil, Amazon brings us this heart-warming film in Malayalam about a family that owns a bakery, bickers together but stays together. It's a film that moves in a direction opposite to Sooraj Barjatya's Hum Aapke Hain Koun and Karan Johar's Kabhi Khushi Kabhie Gham.
The cloying sweetness of families hugging kissing eating and defecating together, makes way for a genuine portrait of family fissures and cracks and how they are cemented by an all-encompassing sense of kinship that is not easy to cling to.
Ever since their father abandoned them and the bakery business, siblings Bobin (Aju Varghese) and Betsy (Lena) have been running the family business, baking buns and cakes, while barely being able to stand each other's company.
Betsy sees Bobin for what he is: selfish, uncaring and irresponsible. She has problems of her own. She has been separated from her husband who is not a drunken lout, thank God. He left because Betsy is hard to live with. But somewhere in her fractured heart Betsy is hopeful of a reconciliation.
Enter Merin (a sparkling Ranjita Menon) who begins to get fond of Bobin. Some of the film's most balmy interludes are the ones where Merin wooes Bobin sending him loving text messages. It is stalking in reverse, if you ask me. But who cares! Certainly not Merin, who has her heart set on Bobin.
Kudos to the writer and director for letting the woman take the courtship lead rather than have her passively willing. The narrative never fumbles while showing the siblings at war with each other, and with themselves. The rhythm of life in the drudgery of existence is never broken. What I liked the most about this film is that it never loses sight of the real world even while dabbling in the alternate reality of cinematic devices, like courtship, romance, breakups, songs, family bondings …All through, the director maintains a resolute grip over the grammar of his storytelling thereby ensuring that the film remains true to life even as it assumes cinematic postures.

In Malayalam cinema, the actors don't seem to act. This is true of Sajan Bakery Since 1962 where even the smallest role is redolent with realism. K B Ganesh Kumar as Bobin and Betsy's uncle is such a natural I felt I knew him first-hand. Check out the veteran who plays the owner of a rival bakery (Jaffar Idduki). If you catch him "acting" as he spews gyan on honest labour to Bobin over cream buns, I promise to refund your money.
Image source: Amazon, Youtube/Muzik247