Thaen Review: It Is 'Tribal' In Paradise
Here is our review for Thaen starring Tharun and Abarnathi; Directed by Ganesh Vinayakan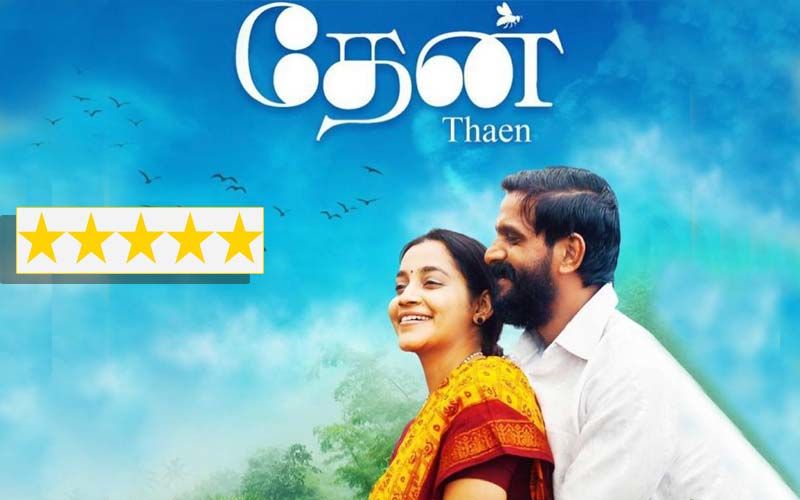 A friend cribbed, "It's good But Gawd, why is it so melodramatic?!"
I will tell you why. Because life for those who eke out a living below the poverty line is one ongoing soap opera. There is scorn and sarcasm, abuse and taunts, all coming from people in authority belittling the poverty of the poor to hide their own guilt at not having done what they are elected for.
Watching Thaen (meaning Honey) with tearsoaked eyes I came to the conclusion that the poor have no hope They dare not fall ill. For, there is no healthcare for the moneyless. The same story of poor hapless villager watching his wife die due to medical negligence was seen in Rajen Kothari's Das Kapital Ghulamon Ki Rajdhani.
Thaen is far more passionate and angry. There is a little memorable scene where our hero Velu(played by Tharun) is told that his seriously ill wife's MRI will cost Rs7,000. Velu blinks incomprehensibly, as though he has just been told there will be an alien attack in the next hour if he doesn't pay.
What do the Velus of the world do when their loved one falls ill in a society that is incurably sick? Sick and rotting with the cancer of corruption. Insensitive to all except their own needs. As Velu runs with folded hands from pillar to post, something snapped inside me. I was overpowered by a feeling of deep guilt and resentment.
Resentment, because I refuse to believe that Velu is not a real person. That the invisible man with perpetually folded hands is an actor playing Velu. That this is a film and not a secretly recorded extended video of what happens to the poor when they fall seriously ill.
"She is almost dead," the doctor pronounces in a what-else-do-you-expect-you-pennyless-piece-of-shit tone. Velu stands looking bewildered, lost, hopeless.
Sometimes he wails loudly, pleading with God for help (silly man, he doesn't know God is busy elsewhere). He sobs inconsolably , a sound that pierces my heart as I write about it. His wife is dying on the floor of a hospital ward breathing her last, the last bed having gone to apolitician's relative .
Velu has no knowledge of what to do. They ask him to get an adhaar card. He has never heard of it.Living an idyllic sparse life up in the mountains with his beloved wife Poongodi(Abarnathi) and his mute little daughter, Velu's little princess, how was he to know that fate would fling such a fearsome misfortune on him?
Velu, who only wished well for everyone, is cursed by the worst disease in the universe.
Poverty. Poverty makes Velu invisible. He stands for hours in front of a lowly despicable clerk with his folded hands. He goes unseen.
"Do you have any identification? How do we know who you are?" the clerk asks wrily.
Velu is nobody. He doesn't matter . He is no one's concern.
Thaen is often very crude in its tone. Its selfrighteous message of how we need to provide healthcare for the poor can become unbearable beyond a point.But after a while I was not look for 'cinema' in Velu's plight. I was looking for some redemptive flicker of hope in his desperate predicament.
But nothing. No hope. By the time Velu was pleading with the ambulance drivers to take his wife's body back up to the mountains I was weeping copiously. I weep now as I write this for all the invisible Velus of the world. When did garibi hatao change into garib hatao? When did we stop hoping for Velu?
Thaen prods us awake roughly, reminding us that we have forgotten the poor.
The last most harrowing interlude sees Velu carrying his beloved wife corpse on his shoulder all the way from the city to his home on the mountains, his little flabbergasted girl following her father's plodding journey obediently.
Try getting this image out of your head. I dare you.
Image source: Instagram/actortharunkumar