The Forever Purge Review: Ana De La Reguera And Tenoch Huerta's Film Is A Chilling Riveting Reminder Of Migrant-Phobia
Check out our review of Ana de la Reguera and Tenoch Huerta starrer The Forever Purge.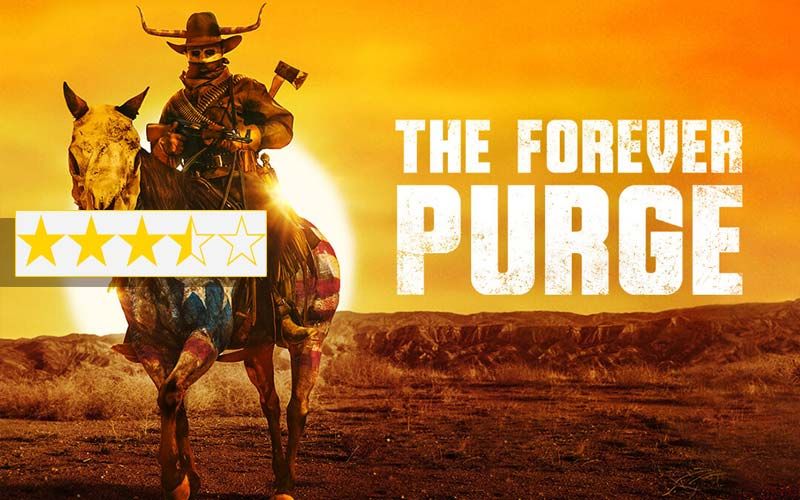 This is it! The ultimate fear if migrant-phobia (to coin a term) given the kind of chilling immediacy that makes every second of the viewing experience nail bitingly urgent. I confess I had not seen any of the earlier films in the 'Purge' series. This one stands tall as a one-off experience. It just knocks your socks off. Its terrifying, pacy, heart-in-the-mouth jaw-dropping dystopian and disquieting in its ominous message about the growing intolerance that has seeped into the American Dream.
The brilliantly-written screenplay imagines America in the not-too-distant future when the Government gives its citizens the freedom to 'purge' their country of outsiders for just 24 hours. What if after those 24 hours the urge to purge continues to surge? What if the state-sanctioned mayhem won't stop?
Anarchy and bloodshed rule the chaotic landscape, a blood-dimmed tide is lost, as writer James deMonaco (who has written all the five Purge films and directed the first three) visualizes a land soaked in hatred and bloodshed. The smartly brutish screenplay zeroes in on a farm owned by an American family where a Mexican couple Adele (Ana de la Reguera) and Juan (Tenoch Huerta) join hands with the farm owners to escape into Mexico.
The film is designed as a showcase of evaporating hostility as the two segregated communities and races race towards relative safety. Of course the stress is on manufacturing rapid car chases and the stimulation of a nervous energy that serves the suspenseful motivations of the script.
If only the actors were less prone to act. These are players who want to get noticed over the dystopian din. They secrete a sexy swagger in their desperate escape.
To the film's credit The Final Purge keeps the suspenseful spirit alive till the end. Even though the prologue clearly lets us know who survives the purge urge, we are nonetheless a gog as to how the fleeing heroes will fare at the end. Though not overt in its repudiation of America's anti-migration politics, the film is stoutly behind the migrants,deriving a kind of arresting immediacy in the survival game that audiences won't hesitate in embracing.
There are plenty of shootouts, enough to give the film the look of a John Wayne Western. The work of frenetic execution also conceals an unannounced chutzpah that confers on the actors a passport to feral hijinks. Maybe The Forever Purge qualifies as a fast paced potboiler. No harm in that, as long as the message doesn't drown in the mayhem. It doesn't. Mexico never seemed more visitor-friendly. And American never more unwelcoming.

Image Source: Instagram/thepurgemovie, yotube/universalpictures, imdb