The Tomorrow War Review: Chris Pratt Puts Up A Good Show With Impressive Looking Aliens And Engaging Action Sequences
Here is our review for The Tomorrow War, starring Chris Pratt in the leading role along with Yvonne Strahovski, J. K. Simmons, Betty Gilpin. The film, directed by Chris McKay, is streaming on Prime Video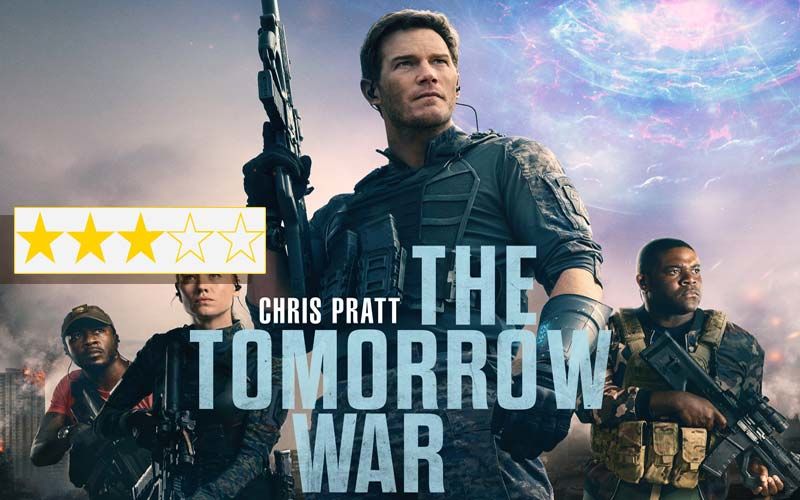 Filmy? Yes! Dramatic? Yes! Long? Hell, yeah! But even with all of this, Chris Pratt's latest sci-fi drama, The Tomorrow War is an entertaining watch. Directed by Chris McKay, this one is about an alien invasion 30 years later in the future, which needs to be corrected today (2022). Like a sci-fi movie should, The Tomorrow War does give you an adrenaline rush with the alien stuff, however, 45 mins into the film.
Chris Pratt (Dan Forester) opens the film with a gimmicky shot as he is being transported 30 year ahead into a world where the human race is about to get wiped off the face of earth by the creatures called Whitespikes!
Why him? Well, it's just not him but the folks on earth who run governments across the globe, come together to decide that civilians will also be sent as 'draftees' in batches to fight this war, as we need all hands on deck. After COVID-19 and the conspiracy theories around it, nothing comes as a surprise to me, so I did accept this too on face value.
Dan shines in this mission, thanks to his army background, and finds a solution to the problem along with his daughter, Muri, who he meets as Colonel Forester in 2051. The father-daughter duo kick some butts and finally get a toxic liquid ready as the remedy to kill the aliens, which Dan takes back to 2022 for mass production in order to pin the aliens down before they attack 30 years after.
What I liked the most in the film? The aliens! The VFX is tremendous and the money spent on it speaks clearly on the screen. Action sequences are designed in an engaging manner and it holds your attention. There are a lot of comic breathers that add the punch as a few interesting characters and of course Chris, bring in the humour effortlessly. The concept and the plot of the film is interesting however it's long duration of 2 hours 18 mins boggs down the screenplay at a few places.
Chris has an experience of charming his way in these sci-fi dramas. Let's just say, he doesn't disappoint in the Tomorrow War either. Yvonne Strahovski, who plays Dan's daughter Muri, is a total badass (in 2051) and she does overshadow Chris in a few scenes.
So, The Tomorrow War is surely worth a watch. It is entertaining, visually engaging, will hold your attention till the end and that's why I say it's Bingeworthy and rate it 3 stars.
Image Source: Instagram/thetomorrowwar, youtube/amazonprimevideo, imdb