Unpaused Review: Directed by Raj-DK, Nikkhil Advani, Tannishtha, Avinash Arun and Nitya This Anthology Gives Us Reason To Be Thankful For Lockdown
Unpaused, an Amazon Prime anthology is the best thing that could happen to us during the lockdown. Directed by Raj-DK, Nikkhil Advani, Tannishtha, Avinash Arun and Nitya, this movie is worth a watch.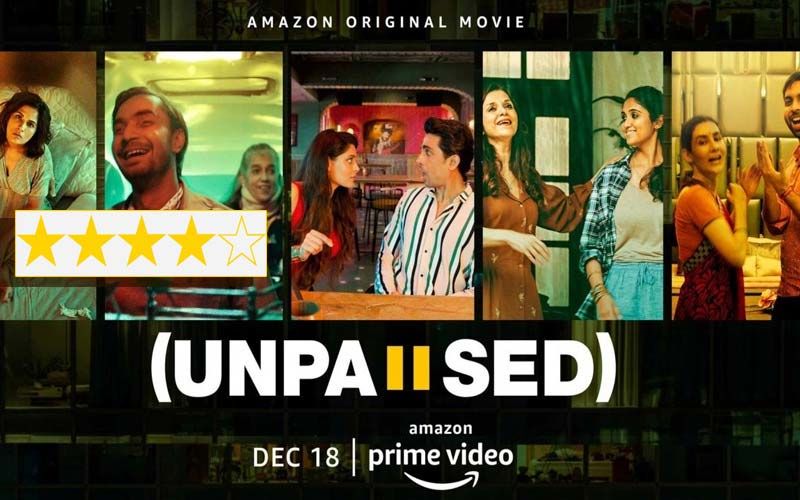 Straightaway, I must say the anthology comes as a welcome surprise. When I heard of a COVID anthology I thought it would one of those let's-make-hay-while-the-sun-shines kinds of obscenely exploitative ventures. Thankfully, the films are born out of compassion rather than greed. The COVID theme flows organically out of the stories, and the characters are never allowed to feel sorry for themselves. These are bright stories burnished with a directorial acumen that elevates the theme from a topical statement to an enduring experience.

In the story Rat-a-Tat (inaptly clever title just because it's got a rat in it) one of my favourite segments of the omnibus, a 65-year old upper-class woman (Lilette Dubey) finds herself getting close to a young feisty Maharashtrian girl who moves in from next door when a rat infests her apartment. A potentially manipulative formula film (two women from diverse generations and culture locked up together in one home) grows into a gentle, warm, engaging study of the human condition when pushed to the wall. In case you had forgotten how accomplished Lilette is as an actor here she is, in full command over a story that needed the two women to feel like a makeshift family. The surprise is Rinku Rajguru, the Sairat girl whose eyes dance as though they know the secret of staying happy during a crisis. Tannishtha Chatterjee directs the two women with that nurturing care that comes naturally to a woman director.
Another gem in the anthology is also directed by a woman. Nitya Mehra's Chand Mubarak about an unlikely bond between a lonely ageing woman and an autorickshaw driver is again buoyed and navigated effortlessly through a tricky maze of overt sentimentality, by the two actors in central roles. Ratna Pathak Shah is superb as a lonely cantankerous autumnal woman trapped under an emotional lockdown. Newcomer Shardul Bhardwaj as the autorickshaw driver is a discovery. Actors and not stars guide these stories to their apt destinies.

The best segment of the anthology is cinematographer-director Avinash Arun Dhaware's Vishaanu, a deeply moving though the stubbornly unsentimental story of a Rajasthani migrant wage-earning couple and their son waiting after the lockdown to be taken home, making a highrise duplex abandoned by its owners their temporary home, as the man makes anxious inquiries on how to transport himself and family to their village. He obviously hasn't met Sonu Sood. So he must negotiate with sleazy ambulance drivers using their vehicles to make money out of miserable migrants.

Through it all, there are the skilled actors Abhishek Bannerjee and Geetika Vidya Ohlyan suffering and dancing their way into viral fame from a posh place to stay and a city that doesn't belong to them. Geetika in a sequence where she makes all the right noises about Mumbai in exchange of food and masks, is a class act, as too when her face crumbles on realizing that the temporary luxury abode must come to an end. Director-cinematographer Avinash Arun (remember his brilliant Marathi film Killa?) shoots the deserted streets of Mumbai and the uneasily lit makeshift home of the couple in colours of poetic resonance. This segment is a certifiable masterpiece.
The Apartment with Richa Chadha effectively playing a career woman betrayed by her husband, who decides to kill herself and is saved by a kindly charming neighbour (Ishwak Singh) suffers from a crammed plot. Too much is being said here, in too little time. While the COVID theme hovers uneasily around the characters, director Nikkhil Advani focuses on bringing in the #MeToo movement with Chadha's husband (Sumeet Vyas, in an embarrassingly sketchy role as a sexual harasser) getting over-familiar with all his female staffers. Couldn't this just have been the story of a depressed suicidal woman and her neighbour? Isn't that depressing enough?

Raj and DK's Glitch is the quirkiest segment. Its bright blotchy colours and the unpredictable narrative pattern suggests the hands of directors who want to have fun with this futuristic story of COVID bringing together a hypochondriac (Gushan Devaiah) and COVID warrior (Sayami Kher). After meeting in a virtual bar named 'Men Are From Bars' (ha ha) the duo delves devilishly into their crazy lines and zany situations. It's all very new and also somewhere deep down an anxious attempt to make light of a grim situation.
Unpaused is empowered by a fierce flavour of optimism amidst the current Coronavirus crisis. It's a remarkable anthology filled with hope courage and sunshine. Makes us grateful that at least some good has come out of the terrible crisis.

Directed by Raj-DK, Nikkhil Advani, Tannishtha Chatterjee, Avinash Arun Dhaware, and Nitya Mehra, Unpaused gets 4 stars.




Image source: Instagram/lilletedubeyofficial/bhar_ul_shar/geetikavidya/therichachadha, Youtube/AmazonPrimeVideo