Horoscope Today, April 23, 2020: Check Your Daily Astrology Prediction For Sagittarius, Capricorn, Aquarius and Pisces, And Other Signs
Are the stars lined up in your favor today? Will you be blessed by a good fortune? Find out the astrological prediction and forecast your day.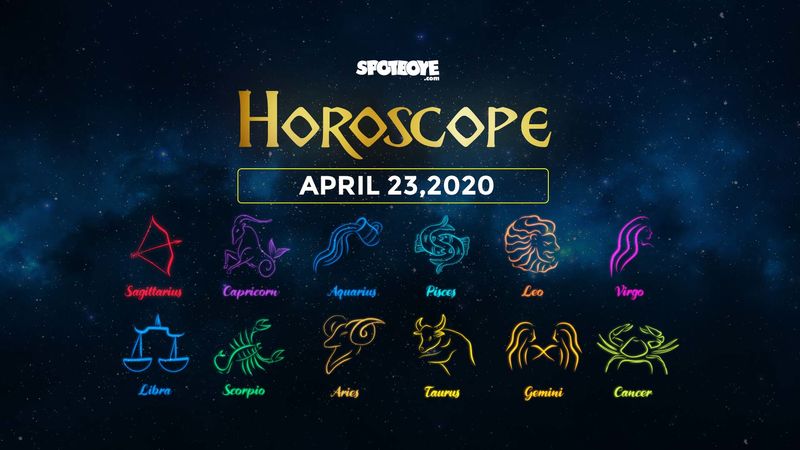 Check out today's horoscope here:
ARIES (Mar 21 – Apr 20)
Do not let your heart play the role of your mind today. Once you resolve underlying emotions you can think clearly!
TAURUS (Apr 21 – May 21)
There is a possibility that if you take up a project or study away from home, you may find success in the same. Do not hesitate to leave your comfort zone.
GEMINI (May 22 – June 21)
Play well on the logic and words and steer clear from deep talks. You may be misunderstood easily today.
CANCER (June 22 – July 23)
Your decision making will give rise to financial returns. Be cautious of middlemen and agents today.
LEO (July 24 – Aug 23)
Keep in mind your spiritual connection and keep steering through the inner tension gracefully. The leadership in you may be challenged today.
VIRGO (Aug 24 – Sept 23)
On the work front, you will receive recognition for your efforts and make a good impression. Your intellect and spiritual connect binds you.
LIBRA (Sept 24 – Oct 23)
Share your feelings with loved ones as you are on the brink of a lot of many possibilities and the indecisive Librian in you cannot choose wisely this time!
SCORPIO (Oct 24 – Nov 22)
Believe only what you see or hear. The gossips may lead you into incorrect judgments and manipulation by a third person.
SAGITTARIUS (Nov 23 – Dec 22)
Keep the momentum going with hard work. The Loans, proposals, fundings, or profits are getting approved today. Good luck!
CAPRICORN (Dec 23 – Jan 20)
Give time to your partner as today is a day you will receive a lot of insights into your personal relationship. This may open doors for the unknown.
AQUARIUS (Jan 21 – Feb 19)
Today your partner goes out of the way to help and support you. The honest efforts and the sheer innocence wins you over!
PISCES (Feb 20 – Mar 20)
You will be respected and praised for your intervention in family matters. You provide guidance to people who are affected.
image source:-spotboyE team