Kangana Ranaut's Office Demolished By BMC: Throwback To 12 Stunning Inside Pics Of The Super Luxurious 48 Crore Manikarnika Films That Once Stood In Bandra
After Kangana Ranaut's dream work space was demolished by the BMC officials today here are throwback pictures of how the spectacular Manikarnika Films office once looked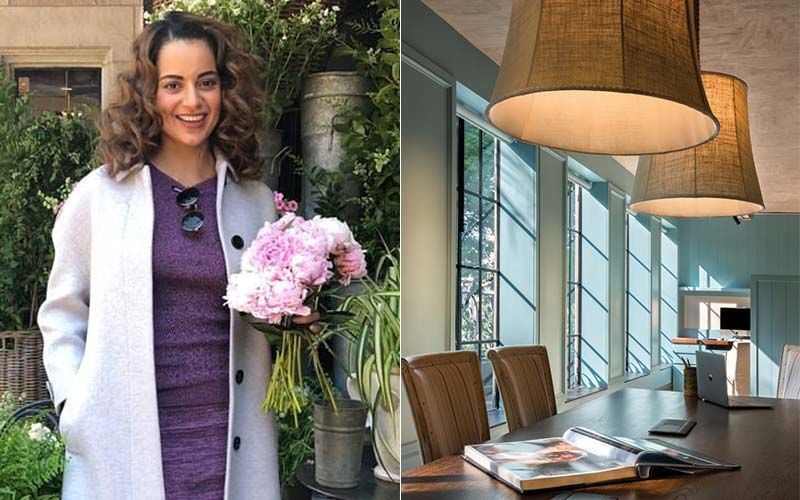 Kangana Ranaut has recently added yet another feather to her hat. After excelling herself as an actress, director and writer Kangana has launched her own production house Manikarnika Films as an ode to her 2019 released film "Manikarnika". Kangana has converted Bungalow number 5 of Pali hill into her work studio by reconstructing and rebuilding everything from the scratch.
Kangana along with celebrity designer Shabnam Gupta have worked on what can be called as a 'dreamy workspace.' Her eclectic workspace looks magnificent with a touch of European style. Kangana has got most of her studio's furniture customized and handmade. The most interesting part of her Pali Hill studio is that Kangana is promoting a plastic free sustainable environment friendly office culture! From the simplistic cafeteria to the inspiring work stations, Manikarnika Films is where one would like to work.
Let's explore the open-to-sky cafe on the ground level to Kangana's private workspace on the top floor. When the exterior looks so serene, one can only imagine the work that went on the interiors.
Play the wild card! Well that's how your everyday work space would look if you were lucky to work with Kangana someday! The rays of sunlight beaming through the windows make this cabin such a refreshing place to work at.
This room will be used as her storyboard where the actress can sit and read her scripts. "Since everything is a reflection of our minds. Everything can be changed by our minds" Says Kangana.
The textured wall, solid wood table, floor lamp and custom chairs together create a grunge effect in this meeting room
Another room to meditate and get your creative minds running, we love these lights which give the studio a aesthetic look.
Adjoined to the previous room, this mediating space is where Kangana and her colleagues would jam. A production house office is definitely incomplete without a makeup room.
The staircase to the studio too has a modern touch with a throwback element in it. Besides looking appetising, Kangana's studip's pantry also has a stylish quotient attached.
Cafeteria is where all the chilling sessions happen and an office is incomplete without one!
Kangana's office has plenty of outside space for colleagues to have their lunch breaks at.
image source:-instagram/team_kangana_ranaut