Navratri 2020: Day 4 Colour, Significance, Goddess Kushmanda Puja Vidhi, Mantra and Shubh Muhurat
All the things that you need to know about the worship of the Goddess Kushmanda on the fourth day of Navratri 2020.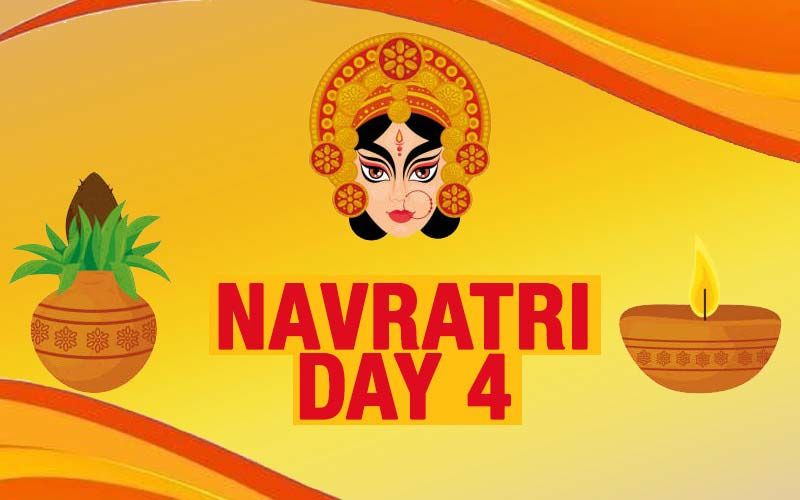 The morning of Chaturthi, the fourth day of Navratri starts with a pleasant smile of Goddess Kushmanda over our universe. As she is worshipped on the fourth day of Navratri, she is the fourth avatar of Goddess Durga. Devotees worship Goddess Kushmanda for health and wealth.
Significance and Colour:
It is believed that Goddess Kushmanda created this whole universe which we live in, with just a faint smile of hers. This gave her the name Goddess Kushmanda, because of her association with Kushmanda (Bali of White Pumpkin) and Brahmanda (Universe). Her idol is portrayed by showing her eight hands, each one carrying different things like Lotus, Chakra, Kamandal, Bow, Arrow, Gada, Akshamala, and a Jar Of Holy Elixir. This gave her another name i.e. Ashtabhuja Devi. Maa Kushmanda bestows health, wealth, and strength. The Red color of this day symbolizes auspiciousness, passion, and anger as well.
Goddess Kushmanda Puja Vidhi:
After their early bath on the morning of this day, devotees worship Goddess Kushmanda by offering her various flowers and foods. This offering may also contain milk, coconut, and various sweets. After the Puja, these offerings are given to devotees as the Prasad of Goddess Kushmanda.
Mantra:
The Puja of Goddess Kushmanda starts with the mantra -
Surasampurnakalasham Rudhiraplutamev Cha |
Sadhana Hastapadmabhyam Kushmanda Shubhad astu Me||
After chanting this mantra devotees chant Maa Kushmanda's aarti -
Kushmanda Jai Jag Sukh Daani|
Shubh Muhurat:
According to the calendar, 06:15 AM to 08:17 AM is the Shubh Muhurat to worship Goddess Kushmanda this year.