Halloween 2021: Outfit Ideas, Nail Art, Hairstyles, Makeup Tips For This Year's Spookfest
Get ready for this Halloween by taking notes from these ideas and looks that we've managed to collect to make you look the baddest in this spooky season.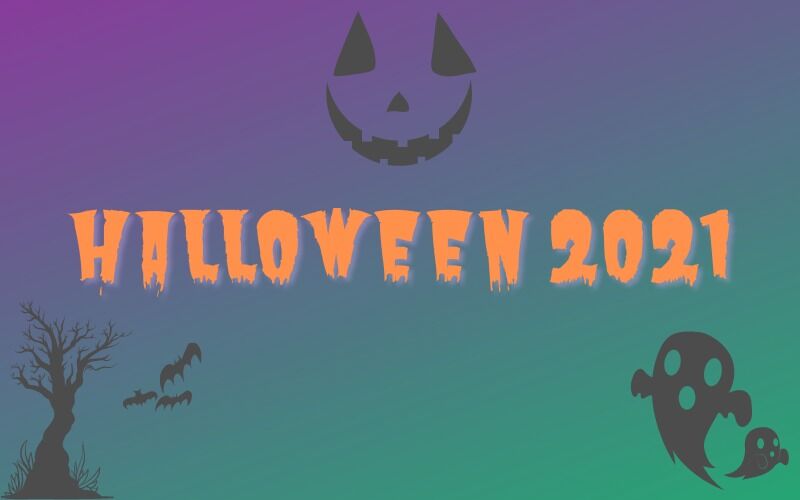 It is almost Halloween, the day to remember those who are no longer with us. Celebrated on October 31st every year, Halloween marks the end of summer and the beginning of the winter season. This day is celebrated to remember departed souls, and people usually dress up as devils, monsters, witches, or other fictional characters.
Choosing outfits, nail arts, hairstyles, makeup might be really hard to choose sometimes. So to not waste your time and make you stand out in the crowd. We have gathered some trending and the most iconic looks of all time.
Outfit Ideas For Halloween
1. Squid Games Doll
As crazy as it might seem the trending Korean Netflix Series, Squid Game has been all over the world since its release in September. If you are also one of the Squid Game lovers, you might already know the infamous "Green Light Red Light Doll". Orange dress paired with a yellow shirt tucked underneath with white knee-high socks paired with black socks and two ponies hairstyle with a touch of scary makeup, Squid Game doll might be one of the best options to dress up as on this spooky seasons.
2. Among Us Game
Playing the social deduction game Among Us? We have a Halloween costume for you! Get your group together and go as "Crewmates" and "Imposters" as you attempt to complete and sabotage tasks on Halloween night.
3. The Nun
A store-bought habit, costume makeup, and some fake overbite teeth should be enough to pull together the supernatural movie The Nun, which took the horror to the Vatican.
4. Squid Games Players and Guards
Here's another recommendation on Squid Game for you! Take your group of friends with you and dress up as the players and guards and enjoy the Halloween night by playing some of the squid games. If you want to match with your partner then dressing up as "player 067 and player 240" might be the best decision you could ever make. As for siblings, dressing up as "The Frontman And The Police officer" would be a great choice.
5. Stranger Things
If you're a big Netflix Series fan you might already know the infamous series "Stranger Things". For this spooky season, you can go for stranger things looks of any character as all of them are iconic.
Halloween inspired Nail Art
This is a simple yet beautiful design that can suit any outfit. It can go with any neutral tones or add a glimmer to your Hollywood looks.
If you're thinking of painting something magical and you're also a Harry Potter fan, that's a double win because this nail art is perfect for you. Go Hogwarts!
Want to ditch the pumpkin? This nail art will make you rethink! Take a look at this perfect Halloween-themed nail art, it'll go on with any outfit that is designed to spook!
Planning to go girly yet spooky? This is the best choice of glittery nails that you can go for this spooky season.
Are you a big fan of the Netflix series "Squid Games"? Look at this nail art for inspiration.
Hairstyles for the spooky season
1. Creative Halloween Hairstyles
If you want to try something new and creative, go and watch this video right now. The creator of the video has combined various hairstyles from braids to buns suitable for the spooky season.
2. Short Hair Hairstyles
If you have short hair and are unsure of what hairstyle to do than you've come to the right place. we have found the best video for your short hair which will help you to stand out in the crowd of people.
3. Movie Theme
If your outfit is based on a movie character and you are not sure of what to do with your hair next, then this video is FOR YOU! Take a look at these beautiful hairstyle compilations and go for whatever you feel is the best. Trust me, all eyes are going to be on you on the night of Halloween.
4. Simple Yet Cute Hairstyles
What's better than an easy yet and cute hairstyle for Halloween? if you're packed with busy schedules and work and are looking for a quick easy and decent hairstyle, then you surely should check out this video.
5. Halloween Hairstyles
Cute, Elegant, Spooky, Simple; This video has everything you have been looking for. Quick! don't miss your chance on learning the most iconic hairstyles of all time. Click on this video, you're in for a ride.
Makeup Tips and Looks
1. Sweet Like Honey
This Halloween, channel your sweet side with this honey pot look. Add some bees and sunflowers to be the sweetest person at the party.
2. 10 Easy Makeup Ideas
Step-by-step tutorials by Stephanie Toms will show you how to achieve skeleton, clown, wildcat, unicorn, and spiderweb Halloween makeup looks.
3. Spider Queen
A smoldering smoky eye and glitzy gothic lips. This Spider Queen makeup tutorial gives you a classic spooky Halloween look.
4. Gothic Witch
A little black lipstick and black eyeliner will do just fine. Drawing a half-moon on your forehead and making your eyes stand out is a simple way to give this look some coziness.
5. Emoji Makeup
For this Halloween, instead of following trends be creative and try something new. Take a look at this "Emoji" inspired makeup look by Mrunal Panchal. You can one of the tiger, stars, galaxy, UFO looks or can create your own new one.



Image Source: spotboye, instagram/morphebrushes/mrunu/jark.nails/classicsbysara/mirall_nails/suellenpnails/corinadelagarza