Happy Dhanteras 2020: Wishes, Whatsapp Messages, Quotes, Status, SMS, Gifs To Share With Family And Friends
On the occasion of Dhanteras 2020, here are some suggestions for Whatsapp messages, Quotes, Status, Gifs that you can share with your family and friends, to make their Dhanteras more special.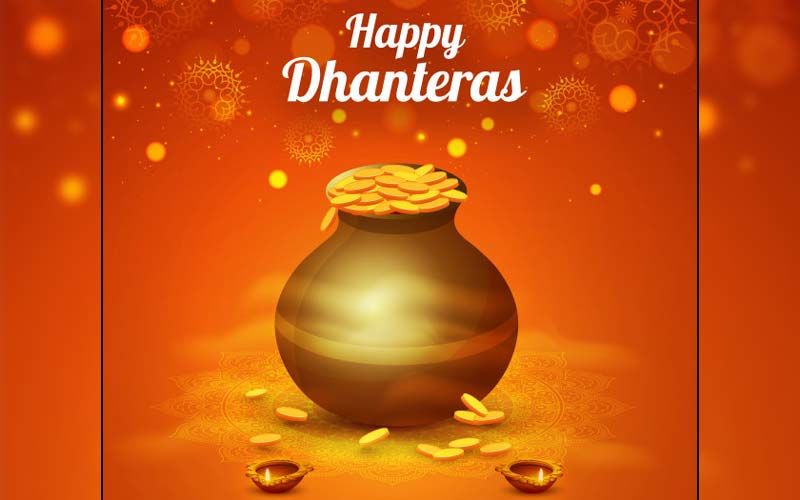 Diwali is the most joyful and energetic festival, celebrated in India. For this five day festival, people get together with their family, friends, and neighbors to celebrate this auspicious festival. People clean their house, wear new clothes, give gifts to each other, offer special Diwali food to each other, and crack fireworks together. Every year this auspicious festival starts with the first day being celebrated as Dhanteras.
On this day, people worship Goddess Laxmi, Lord Kubera, and Lord Dhanvantari for a prosperous and wealthy life ahead. On the day of Dhanteras they do Puja, offer food, chant Mantras while worshiping these deities. Now as people are connected more with the technology and online world. As the world is under a dire situation of the pandemic. People are connected to each other via technology and the online world. And, because they aren't able to meet each other face to face, they wish each other via messages online.
Thus we have come up with some suggestions, that will surely help you in wishing your loved ones on the day of Dhanteras:
WhatsApp Messages:
May Goddess Laxmi bless the recipient of this message with thirteen times Dhan on this Dhanteras. Happy Dhanteras 2020!
May these Dhanteras light up new dreams, fresh hopes, secret avenues, and different perspectives in your life. Wishing you Happy Dhanteras 2020!
May this Dhanteras Celebration bestow prosperity and opulence upon you. May endless Happiness come at your doorsteps. Wishing you a very bright and prosperous life ahead. Shubh Dhantrayodashi 2020!
Quotes:
Sun glows for a day, Candle for an hour, and matchstick for a minute. However, my heartfelt wishes can glow days forever. Happy Dhanteras my dear!
Clean your homes, decorate with candles, make Rangolis, and light up diyas as Goddess Lakshmi is about to come. Happy Dhanteras!!
Dhanteras is the birth anniversary of the God of Ayurveda. On this day, a lamp for God of death is lit outside the home so that any untimely death of family members can be avoided. We wish you a Happy and Prosperous Dhanteras.
Status:
On the auspicious day of Dhantrayodashi, may Goddess Laxmi bless everyone with good health and wealth in abundance.
Dhanteras d=dhan, h=health, a=anand, n=nature, t=talent, e=enjoyment, r=romance, a=aitbar, s=subhagya so HAPPY dhanteras.
Dear Goddess Lakshmi Bless the recipient of this message with thirteen times wealth on this Dhanteras. Happy Dhanteras!
SMS:
May the auspicious occasion of Dhanteras bring along the happiness and health in your life…. Wishing you a warm and wonderful Dhanteras.

May the auspicious day of Dhanteras bring you all the goodness in the world.
May you be showered with a healthy, wealthy, and happy life forever happy Dhanteras to you.

May Devi Lakshmi, the Goddess of wealth shower you with the riches, May Lord Kubera treasure your hard-earned and well-deserved earnings, and may Lord Dhanvantri bless you with good health.

May you be showered with the choicest blessings of Goddess Lakshmi, Lord Dhanvantari, and Lord Kubera. A very Happy Dhanteras to you and everyone in your family.

Image Source: Instagram/beddingtales/jainmithaibhandar, freepik