Happy Dussehra Wishes 2021: Best WhatsApp Messages, Status, GIF Images, And Quotes To Celebrate This Festival Of Prosperity
Happy Dussehra 2021: Dussehra or the popularly known festival Vijayadashami falls on October 15, 2021. Wish your friends and family these, messages, quotes, and images.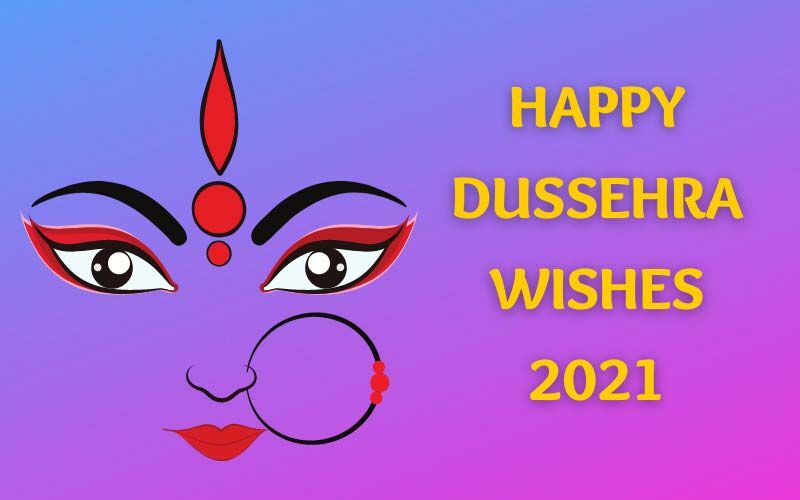 Dussehra is also known as Vijayadashami and this year a long gap, the festivities are back to some extent. On October 15, 2021, mark the end of Navratri with the Dussehra festival celebration. Many communities celebrate this festival with great zeal and enthusiasm. It is a day that signifies the victory of good over evil and the resurgence of hope and faith. Several poojas and spiritual acts take place, as it marks the end of Durga Puja celebrations as well. Grand Ramleelas are organized on Dussehra as, on this day, Lord Ram defeated the evil king Ravana and returned to his glorious kingdom. It was a huge win and in order to honor it, huge effigies of Ravana, Meghnada, and Kumbhakarana are burnt on Dussehra.
Dussehra 2021 will be a rather low-key affair. But you can spread some love this festive season by sending Happy Dussehra wishes, messages, quotes, and images with near and dear ones.
Happy Dussehra 2021 Wishes and Messages
- Today is the day goodness triumphs over evil. Happy Dussehra!
- Dussehra is a promise of prosperity, joy, and success. May Lord Ram bless you & your family with every happiness in the world. Best wishes for all that you do!
- The burning Ravana is the burning of all things evil. May your life fill with positivity after warding off every evil. Happy Dussehra!
- May Lord Rama shower his finest blessings on you. Wishing you a very Happy Dussehra!
- May all the obstacles and troubles in your path disappear with this wish, just like Ravana's Effigy disappears into smoke with Ram's arrow. Happy Dussehra.
- Let your anger burn away today, just like the effigy of Ravana. Have an amazing Dussehra!
- Today is the time to celebrate the victory of everything that is good! Wish you and your loved ones a very Happy Dussehra!
- Let's make this day all the more special by removing all negativity from our lives. Let the world will see the power of positivity! Happy Dussehra!
- Let the golden rays of knowledge and enlightenment empower you. Happy Dussehra!
- Spread joy and happiness by conquering all the negativity within you. We hope you enjoy the great times ahead and fulfill all your dreams.
- Let the joy of this festival embrace you and your family on the occasion of Dussehra!
Happy Dussehra 2021 Status Images, Gifs, and Greetings

Happy Dussehra 2021 Quotes
- "When I despair, I remember that all through history the way of truth and love has always won."- Mahatma Gandhi
- Life is neither good nor evil, but only a place for good and evil.
Marcus Aurelius
- "I hope that real love and truth are stronger in the end than any evil or misfortune in the world."- Charles Dickens
- "The important thing is to teach a child that good can always triumph over evil."- Walt Disney
We wish you a Happy Dussehra & a joyous festive season ahead!
Image Source: Pinterest/yashghai6/shivajadhav8230/agjab