Hina Khan Shares The Ultimate Secret Behind Her Glowing Skin; Her Skincare Routine Is A Must Try During The Quarantine Break
As we all want a super glowing and always fresh looking skin, actress Hina Khan shares the secret behind her radiant and flawless skin. Take a look at the skincare routine!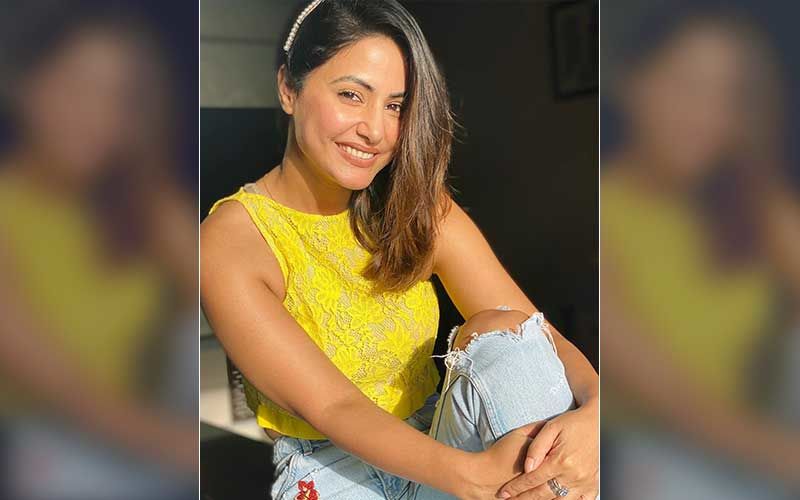 Actress Hina Khan looks beautiful and stunning and there's clearly no doubt about that. The actress constantly shares pictures of her flaunting her flawless skim every now and then with fans on her social media. The actress keeps them hooked with her post-workout selfies which are unmissable. Well, we all wonder how Hina Khan manages to maintain her fresh-looking skin always even with a busy schedule. Now, the dazzling actress finally shares the secret behind her radiant and super glowing skin.
Taking to her YouTube channel, Hina Khan shared the ultimate secret. For starters, the secret behind Hina's glowing skin is nothing but cool and refreshing Aloe Vera cubes. In the special video, Khan gives fans a guide on how to maintain the glowing skin and make the Aloe Vera cubes. Hina Khan shared the video captioning it, "Homemade Aloe Vera cubes for glowing skin! l Skin Secrets With Hina Khan."
The video begins with the actress explaining some benefits of the Aloe Vera plant. Hina then goes on to share the recipe for her Aloe Vera cubes. To begin with, the actress chops off an Aloe Vera leaf from her garden at home and goes on to trim the sides. After trimming the thorn edges from the leaf, Hina cuts the leaf in square cube-sized shapes of equal lengths. The actress takes a plate covered with silver foil paper and places the Aloe Vera cubes on it. Hina then leaves the plate in the refrigerator for a few hours before applying it on her face.
After a few hours, Hina Khan gently scrubs the Aloe Vera cubes on her face in a circular motion. As Hina scrubs the cool and refreshing cubes on her skin, the actress shared how relaxing and comforting it feels.
Meanwhile, as Hina Khan shared her secret to glowing skin, in the very end of the video, the actress mentioned that one can leave the Aloe Vera on the skin overnight or wash it off after some time. Hina's tips for glowing skin were that one makes make sure to use silver foil paper so that the cubes do not stick. The actress also shared that the best time to try this skincare routine is before hitting the bed at night. Also Read:
Katrina Kaif Reveals The Fastest Route To Looking Camera Ready; Shares An Interesting Makeup Hack
Image source: Instagram