International Kissing Day 2021: These Iconic Kissing Scenes Are Hollywood's Hottest Moments On Screen
Must Watch! On International Kissing Day 2021 the iconic kissing scenes from Hollywood pulled the world of romance.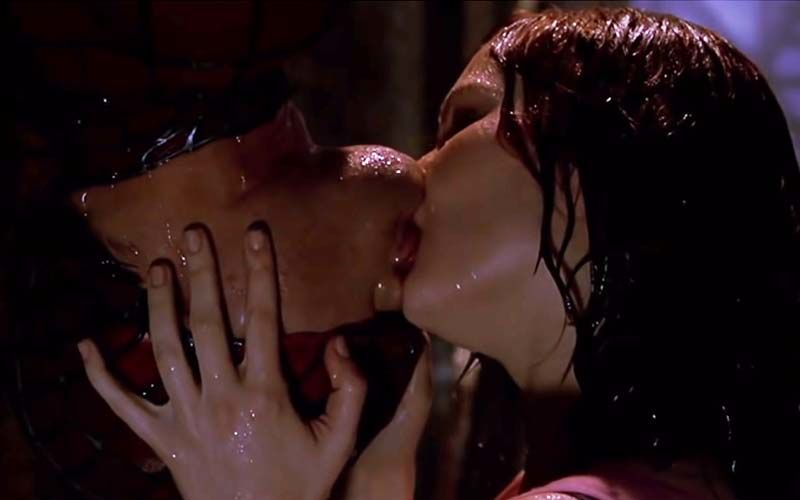 This is the International Kissing Day in 2021 and you would want to pull your beloved close to celebrate! To celebrate the occasion, must watch, are some of the hottest movie kisses ever of Hollywood, watch now — from 'The Notebook,' to 'Ghost,' and more!


On international kissing day a must watch from Clark Gable and Vivien Leigh's exchanges in Gone with the Wind, to Kate Winslet and Leonardo DiCaprio's first peck in Titanic, watch to the sweetheart kiss in My Girl, on-screen romantic duos have been melting hearts with their chemistry for several decades.


1. Gone with the Wind
In the epic 1939 Vivien Leigh's Scarlett O'Hara got kissed by Clark Gable who said "You need kissing badly, you should be kissed, and often. And by someone who knows how." Then at the time of proposing to the twice-widowed Scarlett, he proves he's the man for the job.
2. Titanic
The Hollywood heartthrob director James Cameron who initially planned to cast "an Audrey Hepburn type" to opposite Leonardo DiCaprio to play the female lead in this 1997 epic titled Titanic. Leonardo DiCaprio nearly turned down in Titanic for his role. It's still intrigue to watch him woo Kate Winslet's Rose, even if, as DiCaprio Said in an interview that, kissing Kate is "like kissing a family member." Must watch !
3. The Notebook
"It looks great," Rachel McAdams murmured about the scene in this 2004 film in which she as Allie and Ryan Gosling as Noah finally come together and proposed each other. The director Nick Cassavetes of the "The Notebook" said "We did a lot of takes in the pelting rain. Try to keep your eyes open when you say, You wrote me?' It was actually hurting ... But it was totally worth it." The scene has marked an unforgettable moment in many lives.
4. Breakfast at Tiffany's
In 1958, Truman Capote's original Holly wood movie novella was not directly a love story, so the author of the show was not much excited with the 1961 big screen adaptation. Whereas, he wanted Marilyn Monroe to essay Holly Golightly's role. Eventually, the audiences loved this stylish movie, especially for the final scene, in which Holly - Audrey Hepburn and Paul - George Peppard make a rainy New York City alley seem as romantic as any pink-streaked sunset.
5. 10 Things I Hate About You
The way if you are not at all shedding tears after Kat-Julia Stiles delivers her iconic dialogues in the movie "10 Things I Hate About You, "But mostly, I hate the way I don't hate you, not even close… not even a little bit… not even at all". This nailed the things and became a paintball scene where she and Patrick Verona -Heath Ledger share a messy but lovely first kiss. In the year 2001, in an interview Stiles disclosed that Ledger was her first on-screen kiss. Must watch!
6. Ghost
This is the scene from the Movie Ghost, year 1990 Molly Jensen – Demi Moore is making out with Oda Mae Brown – Whoopi Goldberg. But because Oda Mae is channeling Molly's late boyfriend Sam Wheat-Patrick Swayze, it's Sam that Molly and the viewers get to see the iconic kissing scene.
7. Spider-Man
The trend of the upside-down kiss started by Spider-Man - Tobey Maguire shared with Mary Jane – Kristen Dunst in this year 2002 snap was breath-taking for Maguire, but not for the reasons as one may think. He shared the experience of upside down kissing and said "The whole time I had rainwater running up my nose. Then, when Kirsten rolled back the mask, she cut my air off completely."
As we all are aware that International Kissing Day is celebrated across the globe on July 6. The days when one can make a partner feel loved and happy about the relationship with them. The Coronavirus pandemic makes it tough for those who have been a long distance and can't meet their partners on International Kissing Day. But not to peck, some of these iconic kissing scenes from Hollywood will make your partner's day!
Image Source: youtube/movieclips/ivanf/star/everythingaudrey/warnerbrosentertainment/20thcenturystudiosuk/