Navratri 2020: Day 3 Colour, Significance, Goddess Chandraghanta Puja Vidhi, Mantra and Shubh Muhurat
Here is a collection of all the things one should know about the third day of Navratri 2020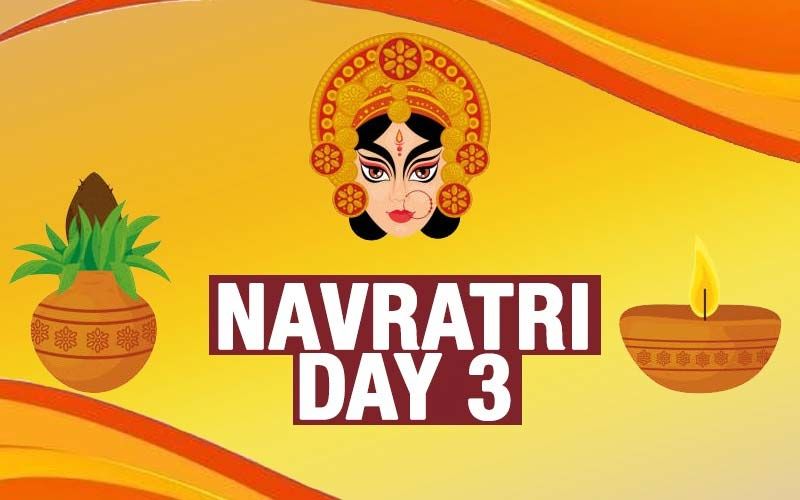 The Tritiya Tithi meaning the 3rd day of the Navratri shines bright with the courage and grace of Goddess Chandraghanta. She is the third avatar of Goddess Durga who is worshipped by her devotees for grace, courage, and bravery. Goddess Chandraghanta is also known as Chandika or Chandrakhanda. She is believed to be the Shakti of Lord Shiva in his Chandrashekara form.
Significance and Colour:
Goddess Chnadraghannta is believed to always be there to defeat the demons in the world. Her portrayal itself represents the bravery as she rides the tiger. She has ten hands in which she holds Trishula, Gada, Bow-arrow, Khadak, Lotus, Ghanta, Kamandal, and holds one hand in Abhayamudra which is the blessing posture. She wears the half-moon on her forehead and has a third eye in the middle of the forehead. It is believed that when provoked, she unleashes her malevolent form known as Chandi. She is considered the embodiment of beauty and grace by Lord Shiva. The ones who worship her are bestowed with grace, courage, and bravery. This year on the third-day White color will be worn by her worshipers. The White color of this day represents peace and purity.
Goddess Chandraghannta Puja Vidhi:
Devotees worship Maa Chandraghanta by placing a shallow clay pan filled with grains. They sprinkle water on the pan to make it moist. Further, they put a Kalasha pot at the base. It is filled with Akshata, Coins, Betel nuts, Ganga jal, and durva grass. They also place a coconut on top which is surrounded by 5 Mango leaves.
Mantra:
Devotees start by chanting Maa Chandraghanta's mantra Om Devi Chandraghantaye Namah. After which they do the Prarthana, Pindaja Pravararudha Chandakopastrakairyuta. Then comes Stuti, Dhyana, Stotra, Kavacha, and finally they end the Puja with the Aarti, Jay Maa Chandraghanta Sukh Dhaam.
Shubh Muhurat:
The best muhurat for Maa Chandraghanta's Puja is between 06:23 AM to 10:12 AM, as per the Drikpanchanga.

To make this auspicious occasion of the Navratri 2020 more special, our Indian's favorite Hindi music channel 9XM and vibrant music label SpotlampE has brought you an original song of the much-awaited 9XM Indiefest with SpotlampE, for the first time. Jab Jab Navratre Aave, with the sweet and soothing voice of the award-winning singer Shreya Ghoshal, this song will definitely set your festive mood on. This is one of the top 5 original songs which is going to be sung by renowned Bollywood singers like Babul Supriyo, Ankit Tiwari, Amit Mishra, and Bhoomi Trivedi. Make sure to check it out!




Image source : Team Spotboye