Navratri 2020: Day 5 Colour, Significance, Goddess Skandmata Puja Vidhi, Mantra and Shubh Muhurat
Here's everything you need to know about Panchami, the fifth day of Navratri 2020.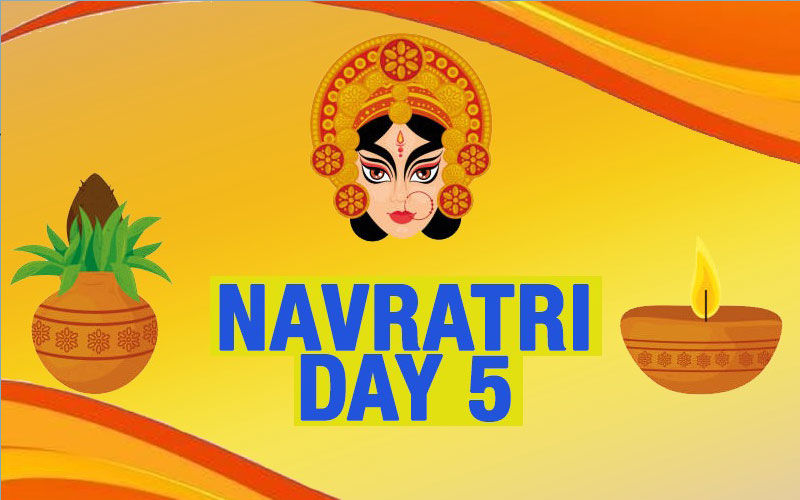 On the fifth day or Panchami of the Navratri, devotees worship Goddess Skandamata, who is the fifth avatar of Goddess Durga. As her name suggests, she is the mother of God Kartikeya also known as Skanda, which gained her the name Skandamata. She is also known as the Goddess Of Fire. She blesses her devotees with wisdom, salvation, and prosperity.
Significance and Colour:
Goddess Skandamata is also hailed as the embodiment of the strength of a mother. She has four hands and a lion as her vehicle. She usually holds lotuses in two hands, with one hand she holds a posture of giving blessings, and in the fourth hand, she holds her son, God Kartikeya or Skanda. It is believed that she blesses her devotees with wisdom, strength, salvation, and prosperity. She holds an ample amount of knowledge and wisdom which she can bestow upon even the most illiterate person if he/she worshipped her. It is said that to gain her blessings one has to have control over all his senses. He also needs to solely worship her by cutting all ties with the world. The one who worships someone properly, Goddesses Skandamata fulfills every wish of him/her. The Royal Blue color of this day represents the divine energy she possesses.
Goddess Skandamata Puja Vidhi:
On the Panchami, devotees worship Goddess Skandamata by offering her Hibiscus flowers, as it is believed that she loves Red flowers. The Puja Thali for Maa contains Betel leaf, a pair of clove, areca nut, Batasha, lotus seeds, raisins, camphor, cardamom, gulal. The devotees do Sadhna (Meditation) of pure Chakra. After which they chant the Stuti (Praises). Then finally worship Goddess Skandamata with the Panchapur Vidhi.
Mantra:
Devotees worship Goddess Skandamata by chanting her Mantra
-Om Devi Skandamatayai Namah
and the Dhyan Mantra
-Sinhasangata Nityam Padmashritkardvya,
Shubhdastu Sada Devi Skandamata Yashswini.
Shubh Muhurat:
The Shubh Muhurat for the worship of Goddess Skandamata is between 06:20 AM to 8:22 AM, this year.
Image Source:Team Spotboye