PM Narendra Modi, Cricketer Virat Kohli, Superstars Amitabh Bachchan And Shah Rukh Khan The Only Indians On Most Admired Men List
The Most Admired Men's List is out and Prime Minister Narendra Modi, Virat Kohli, Amitabh Bachchan and Shah Rukh Khan are the 4 Indians that top the list.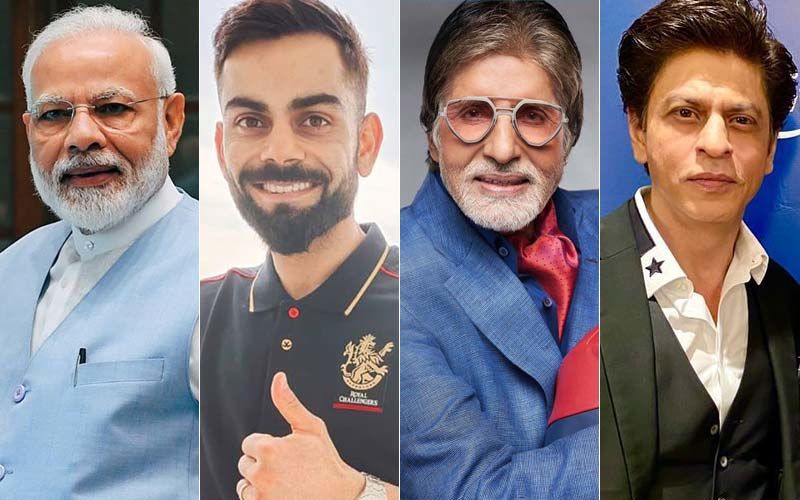 While Indian cricket team captain Virat Kohli is busy with IPL 2020, he has emerged as
the most admired man in India and there is no doubt about that. According to a survey conducted by YouGov, Kohli is the most admired man in India after Prime Minister Narendra Modi, Amitabh Bachchan. But finds a place right above Shah Rukh Khan.
The sample size of the survey was 45000 people from across 42 countries to create the list
of the Most Admired People in the world under two separate categories for men and women. A total of four Indians made it to the list. Prime Minister Narendra Modi is at No 4 position while living legend Amitabh Bachchan is at No. 14. Virat Kohli who is placed
at No 16 has left behind Bollywood Badshah Shah Rukh Khan who is at No. 17.
Check the list here:
Most admired men in the world
1 Barack Obama-Former US president
2 Bill Gates-Microsoft co-founder, philanthropist
3 Xi Jinping-Chinese President
4 Narendra Modi-Indian Prime Minister
5 Jackie Chan-Actor and martial artiste
6 Cristiano Ronaldo-Football player
7 Jack Ma-Alibaba founder
8 Dalai Lama-Tibetan spiritual leader
9 Elon Musk-Tesla founder
10 Keanu Reeves-Actor
11 Lionel Messi-Football player
12 Vladimir Putin-Russian President
13 Michael Jordan-Basketball player
14 Amitabh Bachchan-Actor
15 Donald Trump-US president
16 Virat Kohli-Cricketer
17 Shah Rukh Khan-Actor
18 Pope Francis
19 Recep Tayyip Erdogan -Turkish president
20 Joko Widodo-Indonesian president
American billionaire Bill Gates and Chinese President Xi Jinping is above PM Modi in the
list and US president Donald Trump ranks at 15th place. Former President of America, Barack Obama bags the top position.
YouGov took the nominations from January to March this year. The results were declared
as per the respondents' answer. They were asked two questions, 'who do you truly admire' and 'who do you MOST admire'.
While three women -- Priyanka Chopra, Deepika Padukone and Sudha Murthy have made it to
the list of most admired women in the world.
Image source: instagram