Satyanarayan Katha Gets An Modern Twist: VIRAL Video Shows Priest Reciting Holy Rituals In English Language
In the latest viral video, a Guruji can be seen saying shlokas in English, and this is pique everyone's interest on the internet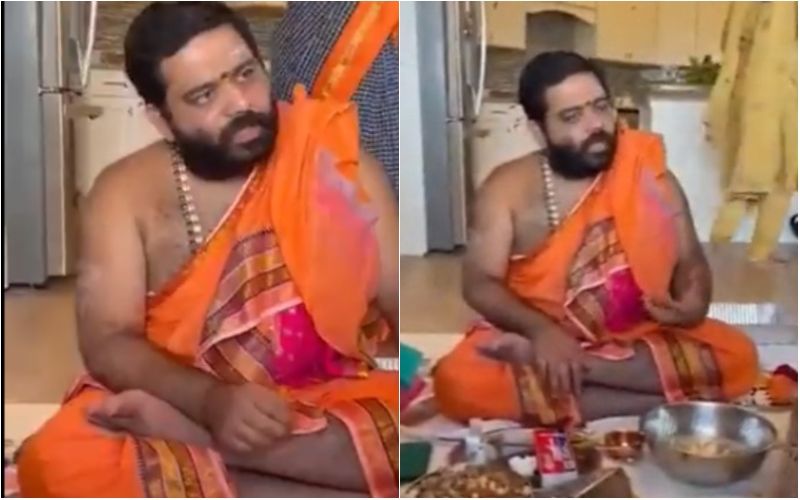 Shravan is considered one of the holiest months amongst Hindus and during the same, a carousel of festivals are aligned. Well, organizing a Satyanarayana Puja during the same month has special importance among Hindus. While it is a common phenomenon across the entire nation, a video of Satyanarayan Puja has been going viral on the internet, and the reason it is equally unique.

In the latest viral video, Guruji can be seen saying shlokas in English, and this is pique everyone's interest. People seemed happy and impressed with the modern priest and his English. However, as usual, some even rendered criticism over the video.
But, we'd argue that it is the best way to grab younglings' attention, who have had hardly any connection to their mother tongue.
The video features that the worshipping and the presentation is rather according to the southern culture. If you observe closely, English is a prominent language down south and hence, it is speculated that this video may be of southern origin.
A Twitter user named Rumani shared the video and captioned it, "Now Bhatji has also upgraded, listen to Satyanarayan's story in English". So far, more than 8 thousand Twitter users have watched this video.
Often the major problem with rituals is that people do not understand the puja and its mantras, so obviously the original purpose of the puja remains inadequate due to this. However, the above video shows how people can be connected while bypassing the language barrier. Interestingly the Guruji can be seen explaining the story of Satyanarayana to the couple sitting in the puja. Even when told in English, the original meaning of the story does not seem to have changed anywhere, that is why many people have praised it.
However, many have criticized the video saying that our culture has tampered but netizens have shown their appreciation for this video pointing out the importance to understand the meaning of Puja than the language.
Image Source: Instagram