Want A Sexy Hot Bikini Bod Like Kourtney Kardashian? Here's Her Guide To Sexy Toned Abs While At Home In 3 Simple Steps
Want to get toned abs and a sexy physique like Kourtney Kardashian? Take a look at her home workout exercises to get a perfect bikini body the during quarantine break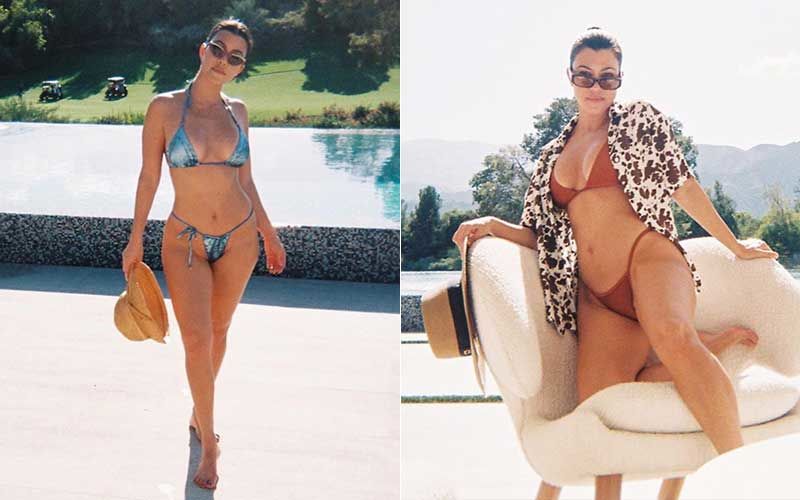 During the lockdown, we all are well aware of the extra pounds we've put on by enjoying home-cooked delicacies. Sitting all day, every day at home, idle, doing nothing other than cooking, eating and binge-watching, the quarantine break has been relaxing as well as unhealthy in many ways with the fast-paced life we've lived for years. But now, since there's soon gonna be a day when we have to get back to normalcy and live that fast-paced life, take a look at home workout exercises to get a perfect bikini body the during quarantine break.
As Poosh founder Kourtney Kardashian has been treating her social media fan base with jaw-dropping pictures of her flaunting her sensuous and fit body in a bikini here's the 3 step guide the reality TV star follows to get toned abs.
With the crunches exercise best to get toned abs, Raised-Leg Crunches is something you must try to get some sexy lower and middle abs. To perform the exercise, start with lying flat on your back and raise your legs, bending your knees forming a 90-degree angle. Then, place your hands behind your head and crunch forward slowly, pushing your upper body towards your knees. While performing Raised-Leg Crunches, it is necessary that your back is flat, the is chin up and shoulder blades are off the ground during each crunch.
For toning your Arms, core, and legs, Jackknife Push-Ups are something you must do. Start with positioning your arms shoulder-width apart and try doing a push-up on a BOSU ball. While you get all set, move your feet open, and then bring them back together as you go back down. One must note that the BOSU ball needs you to get your core muscles working while exercising which makes is best for strength training. Also Read:
Kourtney Kardashian's Booty-Popping Picture Is Heating Things Up On A Blazing Summer Afternoon
Finally, Bicycle Crunches is the last exercise you need to get a bikini-ready body which will tone your middle and upper abs. To perform bicycle crunches one must lie flat on the back and raise your legs at a 90-degree angle with arms right behind your head. Keeping shoulders high and the lower back put up on against the mat, start with moving your legs back and forth in a bicycle motion. With shoulders off the ground, crunching left and right will help you engage your obliques.
Meanwhile, as you follow these 3 exercises to get toned abs before lockdown ends, do just a total of 3 sets of 30 reps every day and you'll see amazing results in no time.
Image source: Instagram/ Kourtney Kardashian