When is Lakshmi Puja 2021? Date, Puja Muhurat And Time, Laxmi Mantra, Puja Vidhi, Significance, History - All You Need To Know
The Amavasya of Diwali is thought to be auspicious in order to placate Goddess Lakshmi, the goddess of wealth and prosperity. Know the Puja Muhurat and Diwali puja schedules.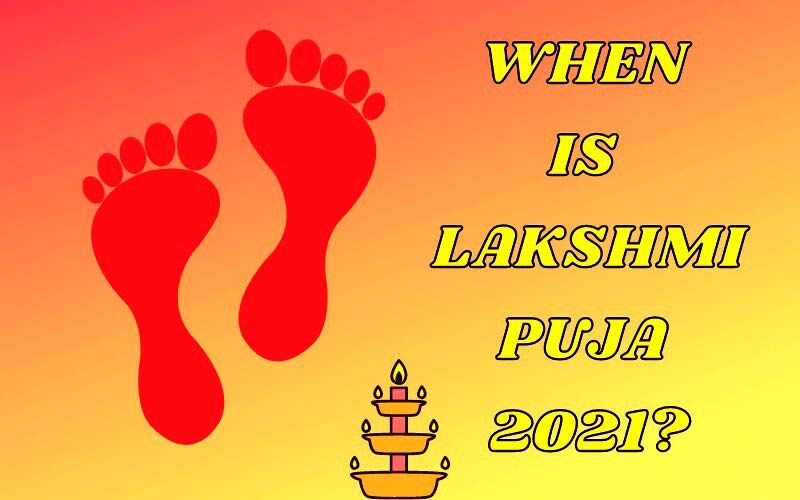 Vijaya Dashami is the time when Goddess Durga and her family are immersed in holy water, so the eastern part of India prepares for Lakshmi Puja, which falls on November 4, this year, which is a Thursday.
Besides marking the return of Lord Ram to Ayodhya and the triumph of good over evil, Diwali or Laxmi Puja is also considered the new year's day in some areas of India, including Gujarat.
Known as the Goddess of wealth and prosperity, Lakshmi is worshipped for prosperity, success and personal virtues. She is worshipped both for spiritual prosperity and material abundance. She helps people resolve the troubles that prevent them from moving forward on their spiritual path or carrying on with their business. She is the destroyer of evils and impediments, and he bestows success to his worshippers. She is also regarded as the God of education, knowledge, intelligence, and fortune.
Lakshmi Puja time / Muhurat
The Lakshmi Puja muhurat falls on November 4 from 06:14pm to 08:09pm.
Pradosh kaal on the same day from 05:36 pm to 08:09 pm.
Puja Vidhi
When the full moon occurs, devotees worship the idol of Goddess Lakshmi by covering it with a cloth. The idol, which is made from gold, silver, copper, or brass, is worshipped in the morning and at night. As a prasad, the kheer provided to the goddess is then offered to her in a silver vessel under the moonlight, and is either consumed by the goddess or given to Brahmins the next day.
On the day of Lakshmi Poojan, You can decorate your homes and workplaces with marigold flowers and Ashoka, mango and banana leaves. It is considered auspicious to keep Mangalik Kalash covered with full, unpeeled coconut at the entrance of your house. Clean the puja place and spread red cloth on a raised platform to install idols of adorned Goddess Lakshmi and Lord Ganesha. Spread white cloth to install Navgraha and red cloth to install Shodasha Devis on the left hand side. It is recommended to conduct Lakshmi Puja during Pradosh Kaal on Diwali.
Laxmi Mantra
1.
Aagachchha Dev-Deveshi! Tejomayi Maha-Lakshmi! Kriyamanam Maya Pujaam, Grihaan Sur-Vandite!
II Shri Lakshmi-Devi Aavahayami II
2.
Ya Sa Padmasanastha Vipul-Kati-Tati Padma Patrayatakshi,
Gambhirartav-Nabhih Stana-Bhara-Namita Shubhra Vasttariyal
Ya Lakshmirdivya-Roopairmani-Gana-Khachitaih Svapita Hema-Kumbhaih,
Sa Nityam Padma-Hasta Mam Vasatu Grihe Sarva Maangalya-Yukta Il
3.
Nana-Ratna-Samayuktam, Karta-Swar-Vibhushitam | Aasanam Dev-Devesh! Preetyartham Prati-Grihyataam II
|| Shri Lakshmi-Devyai Aasanarthe Panch-Pushpani Samarpayami ||
4.
Padyam Grihaan Deveshi, Sarva-Kshema-Samarthe, Bhoh!
Bhaktya Samarpitam Devi, Maha-Lakshmi! Namoastu Te ll
II Shri Lakshmi-Devyai Padyam Namah II
5.
Gangasaraswatirevapayoshninarmadajalaihi Snapitasi Maya Devi Tatha Shantim Kurushva Mell Adityavarne
Tapasoadhijato Vanaspatistava Vrikshoatha Bilvah l
Tasya Phalani Tapasa Nudantu Mayantarayashcha Bahya Alakshmih I
|| Shri Lakshmi-Devyai Jalasnanam Samarpayami ||
May Maa Lakshmi shower her blessings on you. Wish you a Happy Lakshmi Pooja.
Image Source: 9XM Team