Avrodh Producer Falguni Patel Talks About Her Latest Buzzing Military Thriller Web Series
The showrunner of Irada Entertainment, Falguni Patel reveals her recipe to create an awe-inspiring web show.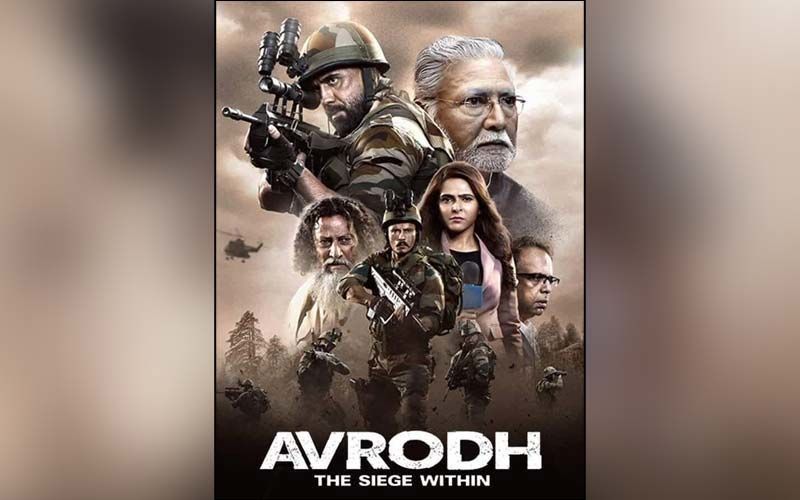 The showrunner of Irada Entertainment, Falguni Patel is a passionate filmmaker with a drive to creating meaningful cinema and awe-inspiring content. Falguni has given us all of it! The spine-chilling thrillers and drama that puts you on the edge of the seat. The 2017 release Irada starring Naseeruddin Shah won 2 National Awards. The regional cinemas Hirkani (Marathi) and Ventilator (Gujrati) also redefined regional films. Falguni's successful OTT web shows like Verdict, Illegal, and now Avrodh has captured hearts with their disruptive style of content. As told by Falguni to a leading newspaper, she thinks, "OTT's are going to be the nexus of modern entertainment, and I want to play a key role in it!". Here's what she talked about in her interview:
You have given stellar content in web series in the past, is OTT the new niche for you?
OTT's have brought in a new dimension in entertainment consumption. With convenient access to the internet, OTT's have become game-changer for the entertainment business. It has opened new business opportunities for producers. Being content-sensitive, they provide immense opportunity to the fresh breed of filmmakers and actors. Irada Entertainment aims to create such refreshing content that excites and entertains our audience. After the success of Verdict, Illegal, and now Avrodh on different OTT platforms we know that OTT's are going to be the nexus of modern entertainment, and we want to play a key role in it!'.
Avrodh is being appreciated by the masses for its gripping storyline and ensemble cast. Can you tell us what went into the research for Avrodh?
It is a great deal of honor and responsibility to recreate this real-life incident on the screen. We have been receiving a lot of appreciation and that's what keeps us motivated to come up with more stories. The legitimacy lies in the details and we thrived to get it right. Avrodh is based on the chapter 'We Don't Really Know Fear' from Shiv Aroor and Rahul Singh's India's Most Fearless — True Stories of Modern Military Heroes. The authors remained a part of scripting, right till then filming was complete. In addition, we also had a team of researchers and consultants to make sure that we stay true to army protocol and practices. The scripting took almost 8 months and even during filming we had an army consultant on set to ensure that we got the finer details correct.
It is said that content creators need to obtain a NOC if they are showcasing any content on the military, how do these changes affect your process?
There is a great responsibility when we recreate real incidents on-screen like we did in Avrodh. The legitimacy lies in the details and we thrive to get it right. The NOC criteria have come up quite recently, in the interest of the image of the defense forces being portrayed on screen and to protect the sentiments which we respect. We understand the responsibility and sensitivity and would await formal guidelines in the matter.
How did you arrive at the cast for Avrodh? Do you think your cast was pivotal in giving Avrodh this impetus?
Avrodh is a story of our military 'brave hearts' and to execute this masterpiece with utmost authenticity and accuracy we had to put together an ensemble cast. Samar Khan was the showrunner from our side, he brought value with his expertise in this genre as he actively took part in the casting process as well as research with the team Applause. The way the cast has pushed their physical limits while shooting in the freezing terrain with heavy weapons, also brought the authenticity in the final product we see now. Yes, they were pivotal to the success of the show.
As a producer what is the biggest investment in any production? Is the cast or the story?
As a producer, our biggest investment in terms of time is in the concept of the story which should be able to connect with the audience. Our significant time and efforts go in shortlisting the right content. Once we find the right content, we set up the right team to execute the project. As a producer and production house, once we finalize story and our talent for any project, we back their vision and stand rock solid with them on any adversities. We don't micromanage; our motto is to give them all the creative and administrative freedom they need to excel.
Avrodh faced a lot of comparisons to URI? What is your take on this?
Avrodh tells our audience the story of how our forces planned and executed the surgical strike on September 29, 2016, and it is different if compared to the film. What an audience will experience by watching Avrodh will be completely different from the film Uri.
Some critics titled Avrodh as a propaganda show, as a producer what is your perspective?
This is the story of India's most-successful surgical strike and we thrived to take it to our audience with the utmost authenticity. There was a burning desire to showcase the military prowess of our forces, the efforts of our soldiers, the meticulous planning, and the seamless execution carried out by our forces. There was content at the heart of Avrodh and not propaganda.
How does a fresh writer approach you? Do you welcome inexperienced talent too?
Fresh artists bring a fresh approach and that is crucial to deliver good entertainment. In case we have a new director, who is promising and talented, we create the right support system around them to back them up. In the past, we have worked with new and relatively fresh talent and given them the right support. So yes, any writer with a promising content can reach out to us from any mediums available, and email or just drop a line on our social handles!
Image source: imdb