'Devi': First Look Of Kajol Devgn, Shruti Hasan, Neha Dhupia, Mukta Barve, Neena Kulkarni Starrer Short Film Out Now
Check out the first look of this multi-starrer short film showcasing the best talents of the industry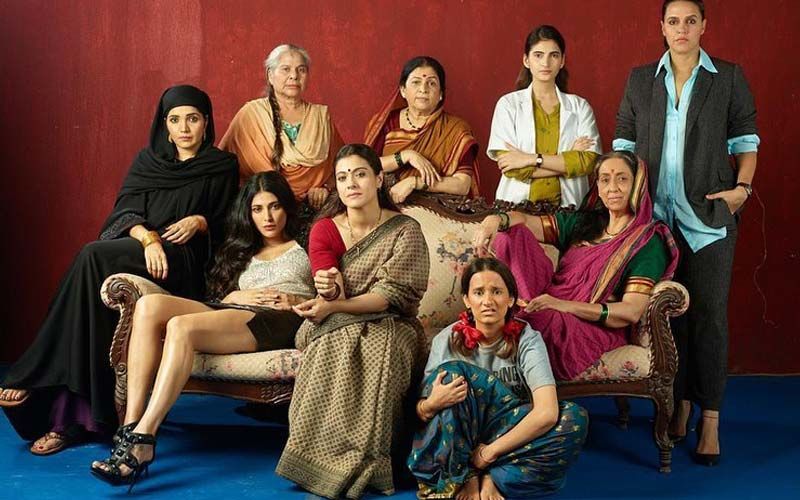 Finest actresses from Bollywood and Marathi industry are roped in for the upcoming short film, 'Devi'. The makers have shared the first look from the film and the picture is breaking the internet. A powerful cast of women who have individually contributed a great share of good films is seen in one frame. The look in their eyes is powerful and dominating.
Mukta Barve took it to Instagram to share the post on her Instagram. She writes, "Happy and excited to share this picture @filmfare with @get_repost
Here's an exclusive picture of the cast of the short film #Devi starring @kajol, @shrutzhaasan, @nehadhupia, @neenakulkarni, @muktabarve, #SandhyaMhatre, #RamaJoshi, #ShivaniRaghuvanshi, and @yashaswinidayama. This powerful short is produced by @ashesinwind and @ryanivanstephen's Electric Apples Entertainment (@electricapplese) and written and directed by debutant Priyanka Banerjee."
The short film, which will be directed by Priyanka Banerjee and produced by Electric Apples Entertainment for Large Short Films. The film stars 9 leading ladies Kajol, Shruti Hassan, Neha Dhupia, Neena Kulkarni, Mukta Barve, Sandhya Mhatre, Rama Joshi, Shivani Raghuvanshi, and Yashaswini Dayama. It is a story of nine oppressed women, from different strata of society, living together sharing their lives, their pain, their struggles and a fuming intolerance towards the society that tolerates this abuse.
This film is Kajol and Shruti Hasan's debut in short films. Talented Marathi actresses like Mukta Barve, Neena Kulkarni, and Rama Joshi who have previously worked on films portraying strong female characters in 'Bandishala', 'Uttarayan' and 'Dowry' respectively. The audience can expect a fine performance by the actresses and a great narrative in this upcoming film.



image source:-instagram/muktabarve