'Iblis': Apurva Nemlekar Goes Green In This Scintillating Gown For Promotional Event Of Her Upcoming Marathi Play
Apurva Nemlekar in a shiny green gown for promotion of 'Iblis' on 'Chala Hawa Yeu Dya'.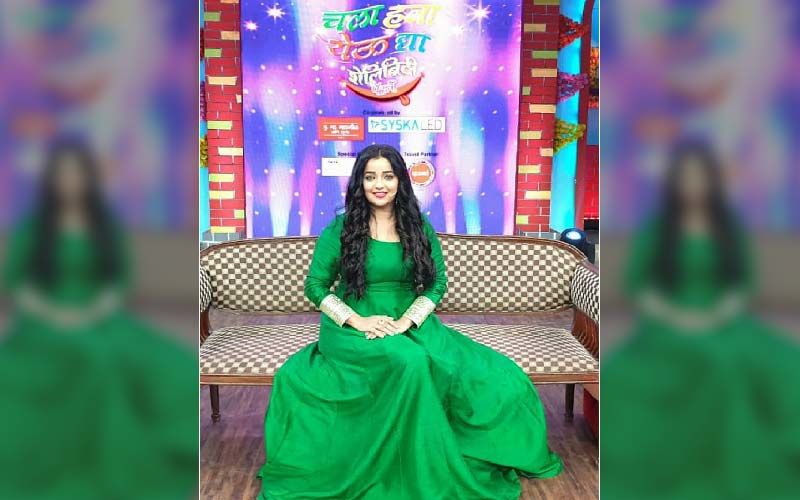 The legendary, Sultry Shevanta, Apurva Nemlekar, is known to stir up quite the conversation in Marathi television industry. She impersonated a bold new type of character on Marathi television which was never dared before by directors. She played the role of a mistress to a powerful and wealthy man in the village who was a murderer. The path-breaking character then becomes a ghost who haunts the generations of the man's family.
This storyline would have seemed like a stunt 5 years ago, but today that's the trendsetter Apurva Nemlekar. Now Apurva Nemlekar will also be a part of the play 'Iblis'. Vaibhav Mangle, Rahul Mehendale, Rahul Ranade, Milind Shintre and Apurva recently shared the stage of 'Chala Hawa Yeu Dya' while promoting their upcoming play.
Apurva's outfit of the night was a green ethnic gown with a flowy finish. She let her long and beautiful hair open and wore minimal makeup. With minimal accessorization, Apurva chose to let her personality do the talking in this simple yet stunning attire.
'Iblis' is a story about a house set in Konkan, the arrival of a handsome young man in this house and the creepy turn of events that unfold after he encounters an old man, an estranged young woman, and their monstrous servant. The play promises to keep you on the edge of your seats during the presentation.
Apurva has become a renowned celebrity after 'Ratris Khel Chaale'. The fans who were eager to see Shvanta's new look are now happy to see her in the new avatar that can be a reminder to her unique character.



image source:-instagram/