Aai Kuthe Kaay Karte, August 16th, 2021, Written Updates Of Full Episode- Arundhati Feels Happy As Anagha Brings A Job Opportunity For Her
Aai Kuthe Kaay Karte, August 16th, 2021, Written Updates Of Full Episode- Arundhati feels happy as Anagha brings a job opportunity for her. Meanwhile, after checking her reports, Dr. Vasudha asks Arundhati to get her surgery done the next day.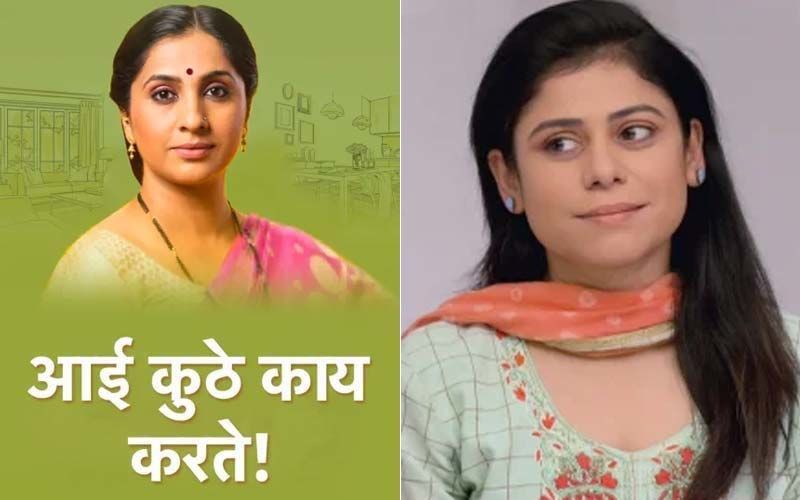 Now, Aniruddha and Sanjana, both are divorced from their previous partners. Unlike Aniruddha, Sanjana seems to be too much excited about her marriage with Aniruddha. Quickly after her divorce, Sanjana decides to confirm the day of their wedding. She also decides to go shopping with Aniruddha to buy jewelry and clothes for the wedding. But as she visits the Samruddhi bungalow to see Aniruddha, Sanjana gets insulted by Kanchan and Avinash.
Now, in today's Aai Kuthe Kaay Karte episode, Kanchan asks Aniruddha if he is really going to marry Sanjana? As Aniruddha says yes, Isha asks him if he's going to stay with the family or not? Aniruddha tells her that everything depends on the behavior of the family. Hearing that, Yash tells him that if Sanjana enters this house, he'll be moving out. Aniruddha tells Yash that he doesn't want to support Sanjana and the family separately, so he'll be staying in this house only. The ones who don't want to stay with Sanjana can leave the house if they want. Kanchan yells out saying that Yash won't go anywhere and that she'll make sure that Sanjana won't come into this house. As Kachan gets upset Appa and Avinash calm her down.
Meanwhile, Arundhati worries about how she'd handle the economical requirements that she's facing. Knowing that the earnings from her singing classes won't be enough, Arundhati decides to find a new job. As she's about to call Devika to see if she has any job opportunities, Arundhati's mother enters the house, calling for her. Seeing how Sudhir is struggling with all of the responsibilities, Vidya Tai asks Arundhati to talk with Sudhir and make him agree to get married. Arundhati agrees to her idea and tells her that she will talk to Sudhir about this. Telling her that, Vidya Tai worries about Sudhir and Nihar's future. And while Arundhati and her mother are talking, Anagha appears in front of them. Welcoming her Arundhati asks Anagha why did she come without letting her know. Anagha tells her that she was gone for a meeting at Nashik. Further, Anagha surprises Arundhati as she offers her a job opportunity. Anagha tells her that the trust that they visited once, needs a person to do their clerical work. While the trust was asking for a person, Arundhati was the first person who came to her mind, says Anagha. And the job also has the advantage that once every week Arundhati will get an opportunity to give singing lessons to the women at the trust. Arundhati gets emotional and thanks Anagha for always having a solution to her problems. Arundhati quickly agrees to accept the job. Vidya Tai gets happy as well and asks Anagha where the office is? As Anagha tells her that the office is at Borivali, near her former in-laws, Vidya Tai worries about how Arundhati will travel this far every day. Arundhati tells her that she'll manage it like other women who travel far for their work.

At Gauri's place, Sanjana tries the clothes that she bought for her wedding. Being excited, Sanjana shows Gauri all the clothes and jewelry that she bought for herself. Gauri looks unenthusiastic about her wedding. But still, Sanjana tries to tell her how excited she is. She also tells Gauri that she'll buy new clothes for her as well. Saying no to her, Gauri tells her that she doesn't want new clothes as she won't be attending the wedding. She further tells Sanjana that no one from the Deshmukh family will attend the wedding as well. Sanjana gets upset with what Gauri said but she's firm on her decision.
Back at Samruddhi bungalow, Kanchan takes out Arundhati's jewelry and gets lost in her memories. Appa tells her not to think too much about it. Kanchan asks Appa to make Avinash stay with them. Further, when they finish their talk, Neelima enters the room and looks at all the jewelry. It seems like she has a different thought in her mind, as she looks at the jewelry with a greedy look. Meanwhile, at Dr. Vasudha's clinic, Dr. Vasudha tells Arundhati that her latest reports are normal and she should get her surgery done on the next day only. She further tells Arundhati what is she going to do in the surgery. Abhi then asks Dr. Vasudha to tell Arundhati what care should she take post-operation.




Image Source: Instagram/aai_kuthe_kay_karte_fc, hotstar