Aai Kuthe Kaay Karte, June 15th, 2021, Written Updates Of Full Episode: Sanjana And Shekhar Leave For Mumbai To See Their Son Nikhil
Aai Kuthe Kaay Karte, June 15th, 2021, Written Updates Of Full Episode: Sanjana And Shekhar Leave For Mumbai To See Their Son Nikhil - Meanwhile, something else is brewing with Isha, as she gets nervous after getting a call from Sahil.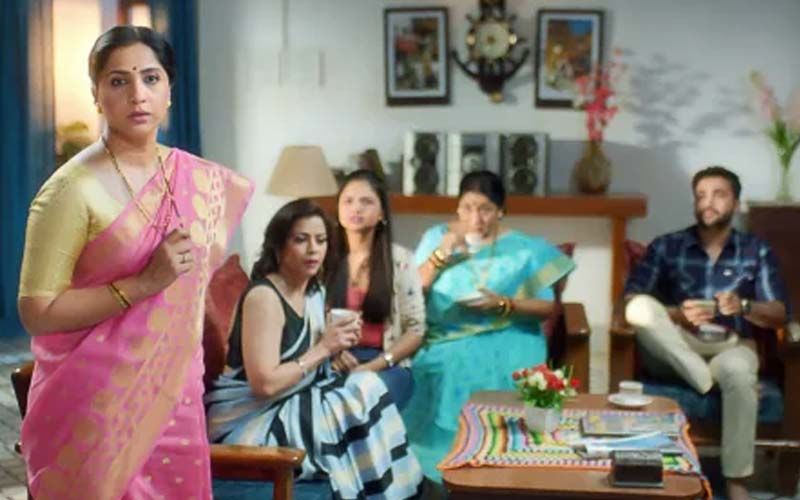 Yash finds out about Ankita's weird behavior and informs Abhishek. Seeing that he also had doubts about her, Yash asks Shekhar for his help in this matter. After knowing that Abhi was tricked to marry Ankita, Shekhar agrees to help him in finding the evidence against her.
Now, in Today's Aai Kuthe Kaay Karte episode, Aniruddha and Ankita discuss the developmental plan for their hospital. While they are discussing that, Sanjana barges into the room. Talking with Aniruddha she tries to convince him to return to Mumbai with her. But showing his concern about Arundhati's health, Aniruddha tries to deny Sanjana. Taking it like he's just making an excuse, Sanjana tries to convince him but fails to make him agree.
While Kanchan, Appa, and Arundhati are having a casual talk in front of their door, Shekhar appears in front of them. Vigorously calling for Sanjana, Shekhar looks panicked. Everyone asks him but he doesn't answer them. But when Sanjana arrives, Shekhar reveals that their son Nikhil fell and hurt his head. Telling Sanjana about their son, Shekhar pleads her to return to Mumbai. But taking it as a lie, Sanjana refuses to return. Shekhar makes her realize that it's true and tells her that their son is injured and he needs his mother. Having the heart of a mother, Sanjana gives in and leaves for Mumbai. While she sadly looks at Aniruddha, Arundhati assures her that she won't be changing her decision to divorce Aniruddha. Saying that now she trusts her more than anyone, Sanjana leaves without a doubt in her mind.
Further, Isha, Gauri, and Yash exercise in the garden. While they are exercising, Gauri gets a call. Seeing that it's from Sahil, Gauri secretly hands it over to Isha and Isha goes somewhere else to talk with him. Noticing a change in their behavior, Yash asks Gauri about the call. Yash gets furious after hearing that it's a call from Sahil, but Gauri stops him from creating an issue. After finishing her conversation, Isha looks nervous and goes inside the house.
On the other hand, Kanchan and Appa are worried about Nikhil. Appa constantly tries to contact Shekhar but fails to connect. Kanchan asks to try again but Appa and Arundhati tell her not to worry. Appa then asks them what if they get Yash and Gauri's engagement done in the village too. Kanchan denies the idea on the spot and everyone fails to convince her.
Image source: Hotstar