Aai Kuthe Kaay Karte, September 29th, 2021, Written Updates Of Full Episode: Sanjana Slaps Mehta When He Tries To Assault Arundhati
Aai Kuthe Kaay Karte, September 29th, 2021, Written Updates Of Full Episode: Sanjana Slaps Mehta When He Tries To Assault Arundhati. Further, Mehta gets exposed, as Yash makes the video go viral.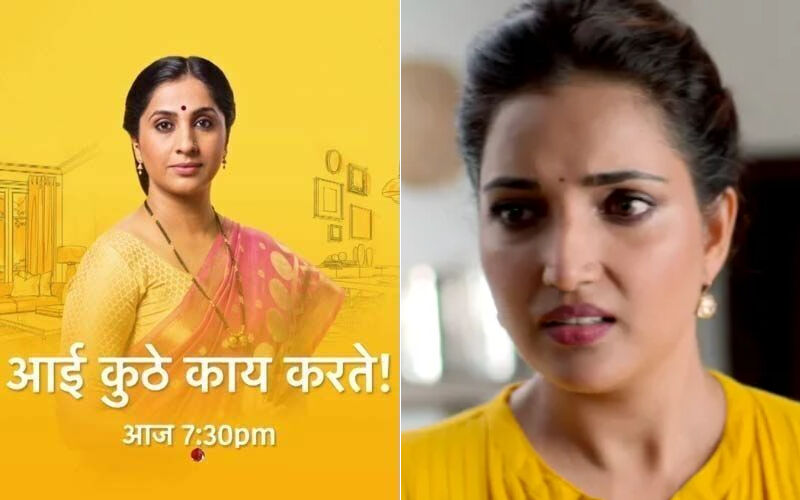 Arundhati empowers Sanjana and asks her to a stand against harassment. As Arundhati vows to support Sanjana, all the Deshmukhs join her hand in it. On the next day, Sanjana visits the boss again and acts like she's agreed to his terms. But without him noticing, Sanjana records her conversation with Mehta, gaining proof of the harassment. Then Arundhati and everyone enters the meeting room and lash at Mehta.
Now, in today's Aai Kuthe Kaay Karte episode, Mehta feels afraid and asks everyone to stop recording. As Mehta tries to escape the situation, but Anagha tells him that they're going to file a sexual harassment case against him. And when he tries to say that he has never touched Sanjana, Anagha makes him realize that speaking in an indecent manner is also harassment. Then Mehta tries to threaten Sanjana with his status, saying that he'll ruin her career and will make sure that she never gets a job in any company. But everyone lashes at him one by one. Then Mehta tries to tell them that Aniruddha is also like him, but Aniruddha makes him realize how they are different. Anagha also backs him up by telling Mehta the meaning of two words Consent and Molestation. Further, when Arundhati tries to warn him, Mehta loses his control and tries to lay hand on her. As soon as he moves his hand, Sanjana grabs his hand and slaps him. Arundhati then asks him to change and then Yash and Anagha finish the video by giving a message to the women.
Returning home, Isha checks the reach of their video and tells everyone that it has gained more than 50 thousand views. Everyone then has a nice talk, but Sajana worries about her job. Then Appa assures her that she won't lose her job. Sanjana then thanks Arundhati and everyone for helping her. Further, Anagha tells everyone that she needs to leave. Abhishek says that he'll give her a lift. As he says that, Yash and Isha tease him, saying that they'll give a lift to Anagha, but at the end, Anagha leaves with Abhishek and everyone goes to sleep. While everyone else leaves, Kanchan suspects that Sanjana's good behavior is temporary. But Appa and Arundhati try to tell her that she might change. Further, Arundhati asks Kanchan about Avinash and gets to know that Avinash came and gone in the evening. Kanchan also tells Arundhati that, Avi told her to call him if she gets a call from an unknown number. While Arundhati and Yash look worried, Appa catches their reaction and suspects that something is going on.
On the next day, while Appa and Kanchan are talking Sanjana brings them their tea. After a while, Arundhati also arrives there and Sanjana asks her for tea. While talking, Arundhati mentions that she's decided to go to her mother's place as it has been so long. Hearing that Sanjana gets happy and Kanchan's suspicions about her behavior come true and she starts arguing with Sanjana. Fortunately, Appa interrupts her and asks Sanjan to go check on Nikhil. After that. While talking about Arundhati leaving home, Kanchan doesn't force Arundhati, as she knows that Arundhati also needs peace, even though she doesn't intend to let her go.



Image Source: hotstar