'Apsara' Sonalee Kulkarni's Looks Truly Like A Stunner Beauty In A Sheer Saree
Stunning beauty Sonalee Kulkarni's sheer saree look reveals her beauty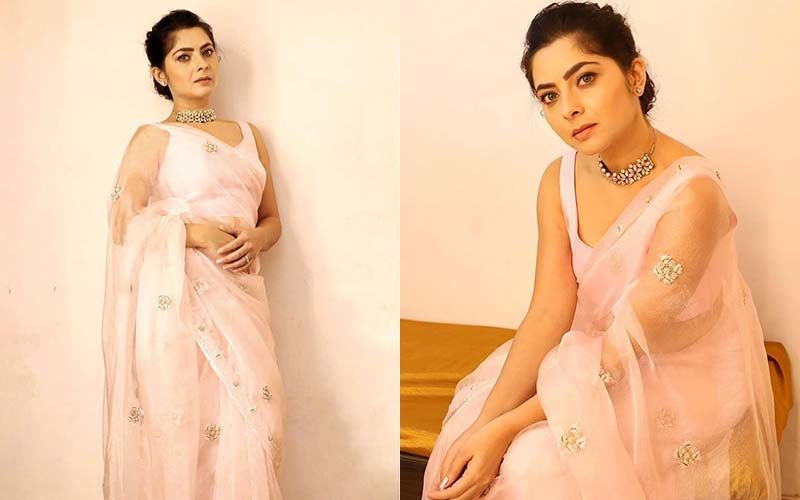 Sonalee Kulkarni's out-worldly fashion sense is always the talk of the town in the Marathi Industry. Her glamorous appeal, grace, eloquence and dazzling beauty, is what gives her the title of 'Apsara' of Marathi film world. She always shares her fashion extravagance with her fans to keep them updated. Fans too, eagerly look forward to Sonalee's posts.
Recently Sonalee took it to Instagram to share her attire for the night on 'Chala Hawa Yeu Dya'. She will be representing the Yuva Dancing Queen team on the show.
Sonalee is wearing a pastel shade of pink. Her saree is completely sheer and reveals her natural beauty with simplicity and grace. Her minimal accessories and neat hair-do just adds to the elegance of her ensemble. Sonalee's attire is very contemporary and redefines the standards of elegance. The diva will be seen wearing this in the 'Chala Hawa Yeu Dya' this week.
Sonalee can carry any outfit with the right style. May it be a saree or a swimsuit! In her ongoing movie 'Vicky Velingkar' you can see her in a tom-boy look. She is seen mostly wearing cargo pants and tank tops in her film. In her previous films, she has dressed like heavenly beauty 'Apsara' in Natrang as well as a cave girl in 'Ajintha', her simple village girl look too in her film 'Bakula Namdev Ghotale' was also adorable.
This gracious beauty will be hosting this season of Yuva Dancing Queen on Zee Yuva. Her presence itself will enhance the beauty factor of the show! She will be seen promoting the show on 'Chala Hawa Yeu Dya'.
'Yuva Dancing Queen' is a dance reality show starting on Zee Yuva, where 12 gorgeous industry divas: Shaila Tike, Purva Shinde, Neha Khan, Ayli Ghiya, Dhanashri Kadgaonkar, Krutika Gaikwad, Breshna Khan, Girija Prabhu, Deepali Naigaonkar, Shama Deshpande, Gayatri Datar, and Ankita Bhagat will be competing for the title of winner.


Image Source:- instagram/sonalee18588