Avadhoot Gupte's Selfie That Includes Every Marathi Musical Genius Goes Viral Across Media
Marathi Cinema industries one of the best and popular singers and music composers Avadhoot Gupte shares his selfie from Zee Gaurav award's nomination party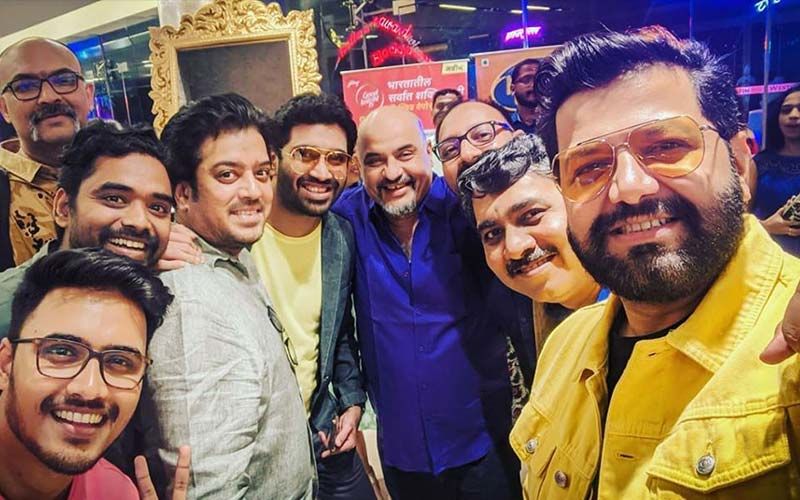 Musical genius Avadhoot Gupte only clicked a selfie with other musical geniuses while he was at the Zee Gaurav award's nomination party. The picture went viral across media, newspapers and social media platforms. Why? because there is hardly any picture by any journalist or photographer where almost every Marathi musical mastermind is in one frame!
Avadhoot has written very touching lines in his caption saying, "Pan, otherwise suddha marathi sangeet srushtit kaam karnare amhi sagale gayak sangeetkar he ek moth kutumb suddha ahot aani katta gangahi ahot!! Bass… kisiki najar na lag jaaye!!". This shows the bond family between the musical gems of the Marathi Cinema Industry.
Avadhoot posted this selfie on his Instagram last week. This selfie includes Kaushal Inamdar, Rahul Ranade, Kamlesh Bhadkamkar, Nilesh Moharir, Avadhoot Wadkar, Samir Saptiskar, Mangesh Borgaonkar and Pankaj Padghan who are music composers, singers, and music directors.
All these expert musicians were in one picture but still, some were missing. Avadhoot also tagged missing musicians. And for them, he added a funny but sweet caption and tagged them with #missedyou for Amitraj, #wherewereyou for Ajit Parab, and #gayab for Rohan Gokhale, and Rohan Pradhan.
This selfie has gained more than 3,800 likes in just a day but Avadhoot tagged Zee Marathi and Maharashtra Time's Instagram page saying thanks for making this awesome gathering possible.
image source:-instagram/avadhoot_gupte