Devmanus Success Party: Actress Shweta Shinde Shares A Glimpse Of The Starry Night, Fans Speculate A Season 2 Will Come Soon
The producer of 'Devmanus', Shweta Shine holds a small party with the team of the popular Marathi show as it completes its first season.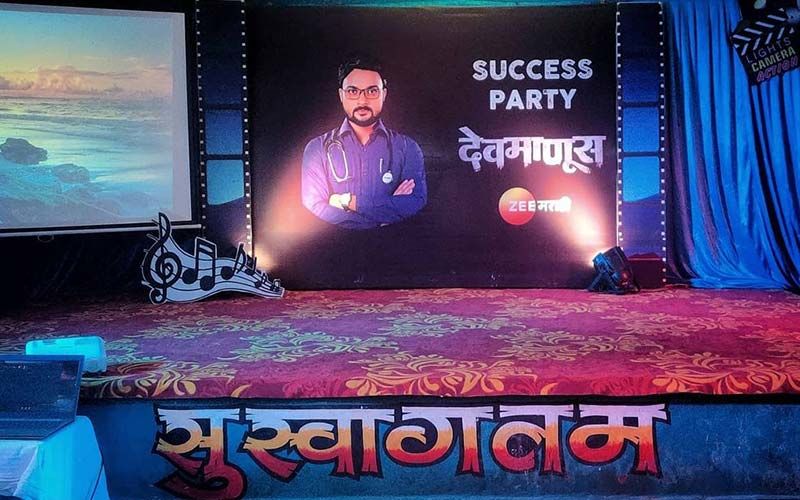 Zee Marathi's most popular serial ''Devmanus'' which started airing on 31st August 2020 and went off the air on Sunday (15th August 2021). Devmanus had made a special place in the audience because of its story and characters and many shared their disappointment on the show ending too soon. The crime thriller tv show's makers aired a 2-hour long episode to show their gratitude towards everyone who has been supporting towards ''Devmanus'' since the start and bid goodbye.
After completing the tv show, the Devmanus cast took to their social media and shared a post thanking the audience and the team on their respective accounts. The producer of Devmanus, Shweta Shinde also took to her Instagram and shared numerous posts party of Devmanuse. The producer shared a picture a gorgeous picture with the actor, Kiran Gaikwad. In one of the pictures, Shweta was seen receiving a special gift from the ZeeMarathi team for the completion of the show. She received an illustration of all the characters from Devmanus. The Devmans team celebrated its farewell by holding a small party.

Many of the fans who have following the show since the beginning congratulated the team but it seems like some weren't satisfied with an ending which leads them to wonder if the second season of Devmanus is coming soon. Talking about the last episode of the Devmanus serial, the 2-hour long episode ended with a huge twist as some of the viewers were waiting for Dr. Ajithkumar Dev to get hanged up till death but to everyone's surprise, the last episode ended with some unsolved questions and mysteries which lead everyone to believe that the second of the series is going to be happening sooner or later.
Devmanus was a crime-thriller Marathi serial based on the true story of a serial killer compounder and doctor Devi Singh who pretends to be a doctor and works in a clinic while extorting money from his patients.



Image source: Instagram/shwetashinde_official