Happy Gudi Padwa: Marathi Glam Divas Spruha Joshi, Sayali Sanjeev, Neha Shitole, Vaidehi Parshurami, And Sonalee Kulkarni Wish Fans
The stars wished fans a Happy Gudi Padwa and made an important appeal to stay at home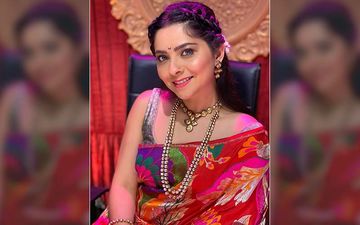 Gudi Padwa is the festival that marks the New Year according to the Hindu calendar and is celebrated across Maharashtra with a lot of fun-fare across Maharashtra. This impact of Coronavirus seems to have shown on the Gudi Padwa celebration. Gudi Padwa is all about sharing love, meeting friends and family but due to the outbreak of Coronavirus in Maharashtra, the state which used to celebrate festivals with high energy had a deserted look.
The Marathi celebrities tried to cheer up fans by pouring in wishes from every direction. The scintillating divas took it to Instagram early in the morning with posts. From Spruha Joshi, Sayali Sanjeev, and Neha Shitole, to Vaidehi Parshurami, and Sonalee Kulkarni the Marathi divas came forward to wish their fans a very happy Gudi Padwa.
The actresses have shared pictures of themselves in traditional attires that are raising the glam quotient even in the lockdown! The stars wished fans a Happy Gudi Padwa and made an important appeal to stay at home.
Spruha writes "कोरोना मुक्तीच्या संकल्पाने नववर्षाचे स्वागत करूया, यावर्षीचा गुढीपाडवा, घरात राहून साजरा करूया 🙏 गुढीपाडव्याच्या व नववर्षाच्या शुभेच्छा!! 😊🌿". Her look in a nauvari and Marathi is gorgeous!
Sayali Sanjeev who is known as a fashion icon now after giving back to back hits and stealing the show in every photoshoot, wishes fans saying, "कोरोना विरूद्ध लढाईच्या विजयाची "गुढी" आत्ताच उभारू. कारण आपण हा लढा नक्कीच जिंकणार आहोत. आपल्या घरी छान गुढी उभारू. काहीही खरेदी करायला बाहेर पडू नका.. घरातल्याच काही सुंदर वस्तूंनी गुढी सजवूया आणि या लढ्यात विजय मिळू दे , सगळ्यांना निरोगी आयुष्य लाभू दे अशी प्रार्थना करूया. गुढीपाडवा आणि नववर्षाच्या मन:पूर्वक शुभच्छा..! #gudhipadwa #newyear #newlife #coronaindia #fight #wecandoit #healthylife #stayhome".
The runner up of Bigg Boss Marathi Season Two, makes a a bold fashion statement in a blue silk daree and statement neck piece, the actress writes "तुम्हा सर्वांना गुढीपाडव्याच्या खूप शुभेच्छा... काळजी घ्या... घरीच रहा... ह्या वर्षी गुढीला नैवेद्य नसेल गाठी, कडुनिंबाचा...नसू दे... गुढी उभारायची तर काठी नसेल उंच च उंच... नसू दे… सुट्टी असते दर वर्षी तशी वाटत नसेल ह्या वर्षी... नसू दे... शोभायात्रा, भेटीगाठी, पंचापक्वांन्न काही काही नसेल… नसू दे... येणाऱ्या वर्षात आरोग्य मात्र असू दे... येणाऱ्या वर्षात समाधान भरपूर असू दे… येणाऱ्या वर्षात आप्तेष्ट मित्रमंडळी खुशाल असू दे... येणाऱ्या वर्षात लवकरच भेटू की एकमेकांना... आत्ता असू दे... ~ नेहा".
The Aani Dr. Kashinath Ghanekar star posts an ethereal picture of herself in a demure Marathi traditional look, she wishes her fans saying, "गुढी पाडव्याच्या व मराठी नूतन वर्षाच्या हार्दिक शुभेच्छा!!! मागचे वर्ष आपल्याला खूप काही शिकवून गेले...या नव वर्षांत निसर्गाने शिकवलेले धडे गिरवण्याचा प्रयत्न करूया! 🙏🏻 हा सण यंदा आपण घरी राहून आपल्या कुटुंबीयांबरोबर साजरा करूया"!
You cannot miss the ever-so beautiful Sonalee Kulkarni who shares the happiness with her fans on this auspicious day. She posted, "असं म्हणतात की कुठली ही जुनी सवय मोडायला किंवा नवीन सवय करून घ्यायला २१ दिवस द्यावे लागतात आणि त्या सवयींमुळे आपली जीवनशैली घडते. चला तर मग आजपासून एक नवीन सुरूवात करूया, एका नव्या जीवनशैली कडे. या चांगल्या कामाची सुरुवात आज गुढी पाडव्याला करू. प्रशासनाच्या सर्व सूचनांचं पालन करू, सगळ्या नियमांचा आदर करू. 😇आणि आरोग्याची गुढी उभारू😇 🙏🏻गुढी पाडव्याच्या हार्दिक शुभेच्छा🙏🏻".
With the post, the celebs have also requested the fans not to come outside on this special day.
Image Source:- Instagram/sonalee18588
They say the best things in life are free! India's favourite music channels 9XM, 9X Jalwa, 9X Jhakaas & 9X Tashan are available Free-To-Air. Make a request for these channels from your Cable, DTH or HITS operator.